Oh hell. This is already starting off exactly how I thought it would.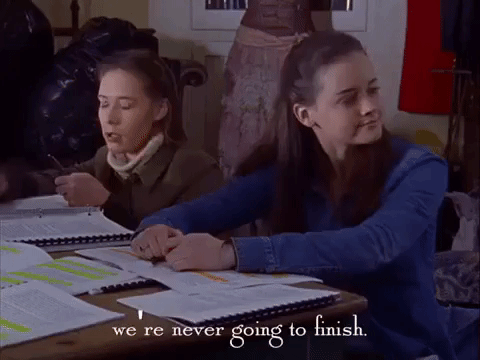 Not gonna lie, I'm not super confident in this year's NaNoWriMo. I said it in the announcement, and I've been saying it in all of my wrap-ups lately, but my writing has really suffered in the last few months. This is because of a lot of different things out of my control, and while things have, thankfully, begun to settle again, my brain has definitely taken a bit of a hiatus while I recover from a constant state of chaotically busy. However, it does seem like I'm slowly stepping back toward writing, and given that I'm handing off Andrew to one of my CPs next month, I'm going to strong arm myself back into writing regularly.
Oh look! We've already diverged from the plan! I just looked at my plan for last year, and I have to share it here just so we can all laugh:
I'm going to break down each day below, including a word count for the day & overall, and I'll post on Friday afternoon. I write in the morning M-F, from about 10AM-1PM, so I'm hoping to get this up right after lunch on Friday. I'm aiming for a chapter a day, which is about 3500 words, so my weekly count should be somewhere near 17,500, which, sim, will get me to 70k words. We'll see if it's actually going to happen, but fingers crossed!
10000000000% not happening. I no longer have a schedule of writing because I now have a job that keeps me consistently busy that I really love, and I am definitely not aiming for a full 3500 words each day. Truthfully, I've got about 20k on the brain because that's around how much I need to finish off the current lover for Andrew, and then it'd be truly amazing if I can somehow get another 50k and get all the way through his fourth lover. But that is a discussion for Monday.
Monday
Not me posting a link to my announcement with the caption: "Will I actually stick with my plan for NaNoWriMo? History says no, as does my recent writing, sooooo this is probably just an introduction to one of my new projects." I didn't do any writing today, but I did exclusively talk about Andrew all weekend after writing a single scene for him last month, so uhhhhhh, yeah, let's not even pretend I'm going to be writing Thornwood at all this month.
I've talked about Andrew on & off on the blog, but it's all scattered, and I don't know if I've ever directly said what I'm writing about, so here it is:
Andreas Leui, born in 356 BC as a vampire, tries to grapple with the startling loneliness of eternity. Told through the lens of eight different human lovers, this 2000-year history is often bleak, rife with war, and bloody at best, dismal at worst, and yet. Hope lies in the future in the form of a nameless ninth lover, a vampire to share eternity with.
You know all those "I hate summaries" people on AO3? It's not me, but it should be, that's so gross.
As of today, I've written lovers one (Alexander) & two (Philip), and I'm about halfway through with three (Aurelian), and my goal is to finish three so I can hand off the first third to Chelsea while I begin work on four.
And, like last year, I was in Maine visiting my friend for Halloween, so I didn't do any physical writing today, just brain writing.
Daily word count: 0
Final word count: 0
Tuesday
You know, I had a bad feeling going into this month, and that bad feeling is just increasing with each day. I don't know what to tell you guys. I haven't written much beyond a few spare thousand words since August, and it's starting to look like that may continue, and that's more than I'm willing to unpack publicly.
Daily word count: 0
Final word count: 0
Wednesday
Previously, I could depend on at least an hour during my work day where I might be able to squirrel away some writing, even if that hour was broken up across the day, but that was before we had thirty people, all of whom I'm responsible for. It's just about at the point where I can't do all the things, and I'm probably going to need another person to help me soon, but that's unlikely to happen anytime soon, especially because the person I had in mind just moved away, so I can't snatch her up and make her come work for me.
But I really don't have a lot of free time now, and any of the free time I do have, I've been devoting to work on blog posts, which I'm not mad about because I do genuinely enjoy writing posts for the blog. I'm not really into the idea of having to write at night, either, because that's the only time I have to read, and I really enjoy winding down with a book, but it may have to become the place for it.
I don't know. I do know, though, that if I don't get any words written this week, you won't see another NaNo post next week.
Daily word count: 0
Final word count: 0
Thursday
Look, I know I'm an overdramatic fool, and I should have known that the moment I said if I can't write, I'm quitting NaNo, that would obviously mean I'd immediately start writing, but ya girl needs to be a little ridiculous sometimes in order to get shit done. I like to panic about NaNo every year because why the hell not, and yes, I wrote today.
I was putzing around, bouncing between not wanting to write blog posts and not having a ton of work to do after this week finally started to calm down, and I finally just said enough is enough and started writing. I got about 1600 words done at work, but I was smack in the middle of a scene that I really wanted to finish, so I did what I haven't done in a while and wrote at night. It ended up being a long scene, too, which I'm happy about both to prove to myself that hey, you can still write, and because many of the scenes have been short for this lover, so this was some much-needed lingering.
Here's hoping tomorrow will be even better!
Daily word count: 3,105
Final word count: 3,105
Friday
Alright, y'all, I have got a weekend planned. It's finally November, which means it's finally not Halloween season anymore. Which I know sounds insane coming from me because Halloween is my absolute favorite, and Samhain is one of my most celebrated high holidays, but I cannot tell you how much I miss Salem in words that will actually make sense beyond just loud shrieking, and I'm spending the entire weekend there. I live in the city next to Salem, and my house is prime location for all of the entry points into the city, so it's always hell, and I always run away to Maine for Halloween so I don't have to deal with it. I usually stop going to Salem around the last week of September, and then don't go back in until November, and I am READY! We're hitting Jaho tonight, Jolie tomorrow, and Life Alive on Saturday. Let's goooooo.
Also, Fridays are usually pretty chill for work, so ya girl is gonna get some writing done, damn it.
I'm so pleased. I ended up writing 2,572 words at work, and it was a pretty solid scene. I'm officially ten scenes from the end of this lover, and I think I'm aiming to finish it next week because I also went out to Jaho and wrote another 1,507 words. Now that I'm back in this, I've got a hell of a lot of determination built up for wanting to finish this lover and finally dig into the next one, so maybe I'll even do a bit of writing this weekend.
Daily word count: 4,079
Final word count: 7,184
Which I totally did not do, and it's the start of the second week as I type this, so I'm going to close this week out by saying that it wasn't the best start, but it was far better than I was expecting, so I'm pretty pleased.