There are just so many reasons. I mean, truly, where do I even begin? With a bit of background, probably.
Seeing Love, Simon in theaters was probably one of the highlights of my queer life. I truly can't think of another movie, at that time, that was promoted by mainstream media, had a huge release in theaters, even had those giant posters up in the theaters, and was so well-received, to the point where I had to drive into Boston to see it rather than going to any of the theaters within a 20-mile radius. I remember walking into the theater and just stopping in disbelief at the sight of a larger than life Simon Spier banner hanging just inside the front doors.
It was monumental. For one of the first times ever, not only was a queer story being advertised, it was making waves in the box offices. We were finally being seen, and that is more important than I can put into words.
I might say, too, that Love, Victor means so much to me because of similar reasons, and it does, but that's not all of it. When I'm old and grey, and it's time for me to hit the grave, I'll still be bitter over the fact that Sense8 was cancelled purely because Netflix refused to advertise this queer af show, and so, it makes my little chaotic heart sing to see Love, Victor being renewed for a third season. But it's more than just being seen, it's the type of being seen that matters.
I will be the first person to say that I want more happy endings. I thrive on happy endings. Every single one of my books is not only going to end happily, but I'm probably going to pair off all of my characters with someone that they deserve to be in love with, and it's going to be gross in all the best ways. I love nothing more than a happy ending. But do you know what I need before we get to that? Reality.
Do I want Victor's mom to treat him the way she does? Of course not! One of the main things that makes me weep over Love, Simon is when his dad just starts bawling in the backyard because he's upset that he didn't see beforehand so he could be there to support Simon and then reminds him how much he loves him. And while that is beautiful, and it makes my heart sing, it's also not a lot of people's truths. I could point to dozens upon dozens of queer books that include horrible reactions from parents, but instead, I'm just going to give you this slice of life from a recent weekend of mine:
Mom: Why don't you wear that shirt on your date?
Me, laughing: I think a rainbow-patterned sweatshirt isn't the best idea for a first date on a 80° day.
Mom: Good point, you need to remind him that you're heterosexual.
I could go on, but why bother? We all know how this conversation goes from there. Awkward silence eventually broken by one of my siblings discreetly trying to change the subject. Because that is just the very tip of the iceberg, and the way that Victor's mom reacts to him coming out is so close to him that I had to walk away from my laptop when it first happened.
I wish that I could trust my parents with the truth of who I am, but I cannot tell you how validating it is to see that kind of reaction onscreen. I Wish You All the Best by Mason Deaver is one of my favorite books because I felt so seen by so many different aspects of it. And sure, maybe I'm wrong, and that's not at all how my parents would react, but given past indicators? I think I'm probably hitting the nail on the head.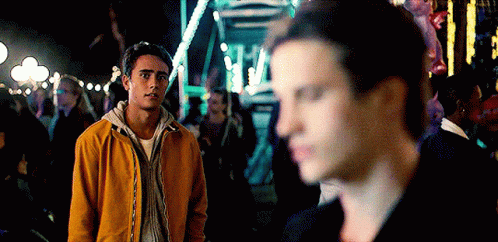 That's not all, either. The gif of Simon above saying that Victor is one of us is such a huge reason why I adore Love, Victor so much. Being part of the queer community is sometimes filled with not great moments, and there's a hell of a lot of gatekeeping from our own people, but there's also a lot of love. There's a lot of inclusion. There's a lot of acceptance. There has never been a community where I've felt more welcomed than by the queer community, and it gives me so much hope for when I eventually have my queer af books published.
And that's the kind of community found in Love, Victor–whether it's his best friend embracing him immediately after Victor comes out, or his school cheering him on doing its best to keep him safe, or just Simon & his friends giving him the space to figure out where his head & heart are at. There's so much community in Love, Victor, the kind of community that queer kids have so rarely been allowed to experience, and the kind that is still so hard to find. Many of my best and closest friends are queer, but it took us ages to find that out about each other because people are still so afraid to admit the truth of ourselves. But imagine the kind of world we might live in if queer kids were allowed to grow up with shows like Love, Victor, that showed them the possibility of an honest and happy life, that gave them hope that it was possible to be wholly themselves.
Love, Victor is not only realistic, it's full of hope, possibility, and joy. It's an important show, yes, but that's not why I love it. I love it because it's built on a story that already brought so much relief and pride to the queer community, and it's given us even more. I thought that nothing could be better than the experience of seeing Love, Simon in a theater, but hearing the news that Love, Victor was renewed for a third season is one of the best parts of 2021 because the queer community is not only finally being heard, but accepted.
We're here to stay.