Not gonna lie, I'm really sad this is the last week. I've had an enormous amount of fun with this readalong, and it's honestly made me love The Silmarillion even more. We've got the longest section for the last week, which I didn't really intend to do on purpose, but the last two sections kind of breeze right through, and we known everything in the last section, so while it'll be a lot of pages, it won't feel like a whole ton. And, well. We're starting off with one of the most difficult deaths in the book, so let's get to it.
Of Túrin Turambar
I truly cannot remember if I actually like Túrin, or if the death at his hands has forever shadowed all else about his character for me. I don't think I do like him. It's not like Fëanor, where I'm like wow dude's the worst, but also love reading about him. Túrin is the worst, and not in great ways. (Yes, I know, kinslaying is also not great, moving on.) Also, I feel like I should trigger warning this because there's incest, and it's between Túrin and his sister. We'll get into why it's not as bad as it sounds, but yeah, still incest.
Okay, so Morwen, who is an absolute badass, is married to Húrin, who Morgoth curses to be forever trapped on this giant chair up in Thangorodrim so that he can watch the downfall of his line in the best seat in the house, and they have three children–Túrin, Lalaith (which means Laughter, though she dies at age three), and Nienor (which I'm blaming Morwen for because it literally means Mourning, like you set your daughter up for failure). By the time Morwen is pregnant with Nienor, Túrin is eight and Húrin is in captivity with Morgoth, so Morwen is afraid that Túrin is going to be enslaved by some dude that used to work for Húrin and is now trying to be all I'm in charge now big strong man. Because people still somehow think Thingol's chill, Morwen sends Túrin with two guards off to Doriath to see if he can beg entry and hang there for a while. This is very soon after Beren, so Morwen thinks that Túrin will be well received due to Beren's marriage to Lúthien. LITTLE DOES SHE KNOW.
Look, the only time I actively like Túrin is when he's with Beleg, and the image of this tall, beautiful, incredibly strong elf, Beleg Cúthalion, who they literally nickname Strongbow, carrying on with this tiny eight-year-old trotting after him. Anyway, so Beleg finds Túrin, helps him get Thingol's blessing to stay in Doriath, and about twelve years passes in mostly peace. Túrin hears from Morwen for about nine years, but then Thingol gets all "nahhh it's too scary out there no more messages", and three years pass in utter silence before the true shittiness of Túrin's character begins.
Enter Saeros: a hoity-toity elf bitter about Túrin's favor with Thingol, who decides he's going to provoke Túrin until the two of them are running–naked, mind you–through the woods, and then, as luck would have it, Saeros just happens to accidentally leap off a cliff?? A bunch of nearby elves quickly say it's not Túrin's fault (technically not, but, like, he was chasing after Saeros, who was naked, and thus extra terrified, with a sword and murder in his eyes, sooooo), but Túrin is almost as dramatic as Fëanor, so he decides he can't stay in Doriath anymore, and he sets off with "a band of such houseless and desperate men as could be found in those evil days lurking in the wild."
Thingol decides–after some time, of course–that he doesn't want Túrin to be gone, and that he does truly love him, despite cutting off all communication from his home because all Thingol really wants is all his ducks in a row and everyone bowing to him, so he sends Beleg off to find him.
'I will seek Túrin until I find him, and I will bring him back to Menegroth, if I can; for I love him also.'
Don't even get me STARTED, I love them almost as much as Maedhros & Fingon.
Ah! Túrin's second name has arrived: Neithan the Wronged. (Like, dude, fucking chill.)
And here continues Túrin's terrible deeds: he & his companions stumble across a group of dwarves, and instead of just giving them a casual wave, they massacre all of them, decide to "take pity" on one of them, and then demand entry to his house. Not to mention, Mîm's son is dying by an arrow that Túrin & his men shot, so, obviously, the only thing that makes sense is that when Beleg finally shows up, Túrin doesn't once ask him to heal Mîm, and instead the dwarves start to hate the elves.
Third name: Gorthol the Dread Helm. (Who just constantly renames themself for no reason?)
Ughhhhh, and Beleg just stays with Túrin, happy as a clam, despite being far from home, until a bunch of orcs descend, and Mîm, pissed at Túrin for all the horrors he's brought upon his family (rightfully), leads the orcs directly to the company of men. Many are slain, a great battle is fought, and Túrin is kidnapped. Mîm tries to kill Beleg, who is lying wounded, but Beleg is Beleg Cúthalion the Strongbow, duh, so he just bounds away. And he STILL freaking chases after Túrin!
I live in this fantasy world where Túrin, Beleg, and Mîm are actually bffs, and they go around hunting orcs together, LET ME LIVE!
And now we have arrived at possibly the worst thing Túrin's ever done. After Beleg saves his damn life, squirrels him away from the enemy in the dead of night, in the midst of a thunderstorm, and is in the process of cutting his bonds, Túrin leaps to his feet, thinks Beleg is the enemy, and grapples the sword right out of Beleg's hand so he can kill him.
YUP YOU READ THAT RIGHT
TÚRIN KILLED THE SWEET ELF THAT WAS IN LOVE WITH HIM
AFTER HE SAVED HIS DAMN LIFE
Thus ended Beleg Strongbow, truest of friends, greatest in skill of all that harboured in the woods of Beleriand in the Elder Days, at the hand of him who he most loved.
Fingolfin's death definitely hurts me, and we literally only know Beleg for a few pages, but I just love him SO DAMN MUCH, and I'm never going to forgive Túrin for this grievous error.
Oooh, fourth, fifth, and sixth name all at once! He names himself Agarwaen the Bloodstained, the son of Úmarth of Ill-fate, and then elves decide to call him Adanedhel, the Elf-Man, for whatever dumbass fancy dancy reasons they've got going. And, finally, at the end of this psycho paragraph in which Túrin gets so many names, I can't remember them all, he becomes known as the Mormegil the Black Sword, for he is so fearsome to behold in full battle regalia.
Speaking of battles! Glaurung has been reintroduced (he was briefly in the story before, though he did a quick about face when the elves tried to kill him previously because he wasn't full grown, and he was feeling a little anxious about that), and he's got a whole lot of anger stored up over the last few centuries. Nargothrond falls, Glaurung torments Túrin with lies, and there's some strange love triangle thing happening in the background that I'm mostly ignoring.
Seventh name: Wildman of the Woods, again given to himself.
Annnnnd, eighth name: after Túrin pulls a Fëanor and falls into a death swoon upon learning that even more people are dead because of him, he's rescued by a small village of men, who restore him to health, and when he's in fighting form again, he decides to start going by Turambar, Master of Doom.
It's fitting, too, that name since it's right around the time that Morwen hears news that the Mormegil has been slain, and she deduces that that is, in fact, her son, so she quickly sets out to find him. Nienor, despite having literally never met her brother, and thus having no connection to him whatsoever, decides she's going to put herself in mortal peril to find him, too. Like, honestly, these two dramatic idiots deserve each other. And then, like all good things in the world that Túrin ruins, Morwen dies.
We don't get much information about how Morwen dies, just that she was never heard from again, and that's due to Tolkien's shifting focus to Nienor, though I just want to remind all of you that Morwen is definitely one of the most badass women in this story, and she deserves a standing ovation. Anyway, after Nienor has a long and arduous encounter with Glaurung, the dragon enchants her with "darkness and forgetfulness", so this is where I come in to say that the incest is about to happen, but since a) Túrin has never seen Nienor and b) Nienor currently doesn't know who she is, it's not intentional incest.
Not only is Túrin great at renaming himself, he also renames his sister, Nienor, to Níniel, which is super original of him because it means Tear-maiden, and she's crying when he gives him the name.
Every time I think of Túrin, I just go into a rage.
At least we've got Glaurung? Because when Túrin tries to go up against him, he's super prideful about the whole thing, which means his conceit bites him in the ass via Glaurung's venomous blood.
'And now thou shalt know him: a stabber in the dark, treacherous to foes, faithless to friends, and a curse unto his kin.'
HELL YEAH GLAURUNG YOU TELL THEM
Oh look, Nienor just jumped to her death. What's even better is that when people try to explain to Túrin what's happened, he either a) kills them or b) curses them. What a dude.
I think part of why I don't like Túrin so much is because there's not only just death & destruction all throughout his story, but he's always the cause of it, and he always makes it worse. It's not like Fëanor, who you can argue has a reason for setting out and declaring war. Yes, Fëanor is still The Worst, and he definitely does a lot of similar horrible shit as Túrin, but Túrin just stirs up trouble where there is none while Fëanor just adds to the trouble that's already there.
I dunno, I'm tired, hope you enjoyed the story of Túrin, the son of Húrin, Neithan the Wronged, Gorthol the Dread Helm, Agarwaen the Bloodstained, the son of Úmarth of Ill-fate, Adanedhel, the Elf-Man, the Mormegil the Black Sword, Wildman of the Woods, Turambar the Master of Doom.
Of the Ruin of Doriath
Morgoth decided he was going to release Húrin because he's a genius, and he knows that Húrin will inevitably wander off toward Gondolin, seeking his people, and thus give up the location of the long-hidden land that Morgoth wants to destroy, the last great stronghold. And guess what?
That smug little asshole got exactly what he wanted. It's occurring to me that I really haven't talked about Morgoth as much as I meant to? I feel like a lot of my Morgoth knowledge came from Unfinished Tales, and just the initial seed of love was born here. Huh.
I forgot I didn't like Húrin, either, which shouldn't surprise me considering his children, but he literally just murdered Mîm when he finds him in the ruins of Nargothrond and Mîm apologizes once he realizes who Húrin is, but that's apparently not good enough for Húrin. This whole family sucks except for Morwen.
…and so ended the mightiest of the warriors of mortal Men.
I BEG TO DIFFER, TOLKIEN
I was going to put an entirely different picture here, but this has utterly broken my heart, Beren & Lúthien growing old together, and I am going to quietly go sob into my book right now, wow. Beren is definitely the mightiest warrior of mortal Men, and perhaps Tolkien just discounted him since he gets to live FOREVER, IN PEACE AND HAPPY WITH HIS LOVE, I AM CRYING. This is just the most unexpectedly beautiful thing in the world, and I want to stare at it all night.
OH SNAP
I totally forgot that Thingol asks the dwarves to put the Silmaril in a necklace (idiot), that the dwarves then get real possessive and decide they want the Silmaril for themselves (duh), and there's an altercation between them that leads to Thingol's death.
SUCKS TO SUCK
The sons of Dior and Nimloth were Eluréd and Elurín; and a daughter also was born to them, and she was named Elwing, which is Star-spray, for she was born on a night of stars, whose light glittered in the spray of the waterfall of Lanthir Lamath beside her father's house.
Dior is Beren & Lúthien's son, and their granddaughter, Elwing, is about to become hella important. After Thingol dies, Doriath is left open, and the dwarves ransack it, so, naturally, everyone goes to Beren & Lúthien for help. Beren goes to war, gets the Silmaril back, and Lúthien wears it for a time. Eventually, they finally pass beyond the mortal realm, and the Silmaril returns to Doriath. Inevitably, battle ensues again once the Fëanorians (we haven't heard about them in a while!) hear that a Silmaril has been found. Dior is slain, along with a few of the Fëanorians, and–
But the sons of Fëanor gained not what they sought; for a remnant of the people fled before them, and with them was Elwing Dior's daughter, and they escaped, and bearing with them the Silmaril they came in time to the mouths of the River Sirion by the sea.
Keep this in the back of your head.
Of Tuor and the Fall of Gondolin
I've made a decision, and that decision is that I either a) need all of you to promise that you're going to immediately go read Unfinished Tales (I even have helpful reviews of the First, Second, and Third Age!), or b) I'm going to have to reread it. It's so good! I know that we're all here reading The Silmarillion because it's this huge daunting book that makes LOTR somehow even better, but promise me when I say Unfinished Tales does that for Silmarillion, and you deserve all that extra knowledge.
This opening scene, when Tuor is confronted by Ulmo and basically given a prophetic vision–it just seriously pales in comparison to the long, incredibly descriptive several pages that Tolkien devotes to it in Unfinished Tales. I'm realizing, actually, that while I love The Silmarillion, I also adore Unfinished Tales, and that a lot of my freaking out excitement comes from the additional knowledge in there, so although that's not a finished story, thus why The Silmarillion is my favorite, you should do yourself the favor of reading it. It's not like the Great Tales of the Elder Days, which are just repetitive and the same story six different times with small variances. Unfinished Tales are, yes, unfinished, but they're comprehensive individually, and they're really excellent.
Also, like. Not that I'm encouraging you to join me on this read everything ever journey, but if you love the small tidbits of Gondolin that we get here, you should totally read The Fall of Gondolin because it's epic and glorious, and I'm going to start shouting in a second.
In the spring of the year after was born in Gondolin Eärendil Halfelven, the son of Tuor and Idril Celebrindal… Of surpassing beauty was Eärendil, for a light was in his face as the light of heaven, and he had the beauty and the wisdom of the Eldar and the strength and hardihood of the Men of old; and the Sea spoke ever in his ear and heart, even as with Tuor his father.
Yes, this does connect to the thing you're supposed to be remembering right now, but hold please.
FOR NOW, WE GOTTA TALK ABOUT SOMETHING ELSE
Yeah, y'all really need to read Unfinished Tales to get the full glory of the BALROG SLAYING BOIIIIIIIIS, even Tolkien agrees:
..much is told in The Fall of Gondolin: of the battle of Ecthelion of the Fountain with Gothmog Lord of Balrogs in the very square of the King, where each slew the other…
(the most fun part about me talking about these two right now is that I'm notorious for spelling Ecthelion's name wrong every time I type it)
Okay, so since it's not here, I'm going to regale you with why these two are so epic. Ecthelion is one of the great wardens of the gates of Gondolin, and his bff is Glorfindel. They're hilarious together in the usual Grade A Drama elves style, but they're also 100% in love with each other, I mean come on. So when Morgoth sends his army to Gondolin, after he's finally got the secret of its location (from Maeglin, though it was initiated by Húrin being a dipshit), Glorfindel & Ecthelion are, obviously, together the entire time. They battle the balrogs together, often back-to-back, just annihilating the enemy. They're being nifty, though, and they know that they've got to get as many people out of Idril's secret passageway as possible, especially because Maeglin doesn't know about it, and thus can't report back to Morgoth.
When they're finally close enough that all it's going to take is one last distraction to get everyone safe, Ecthelion goes up against Gothmog, lord of the balrogs, while Glorfindel quickly hurries everyone toward the passage, keeping them safe all the while. Just as he's turning back to help his beloved, Ecthelion goes tumbling off the edge, entangled with Gothmog, and they plummet to their death. Though Glorfindel is impossibly distraught, he uses his friend's sacrifice to get everyone safe, and he goes on to fight many more balrogs and be a straight up badass.
Then dreadful was their plight, and hardly would they have been saved by the valour of yellow-haired Glorfindel, chief of the House of the Golden Flower of Gondolin… Many are the songs that have been sung of the duel of Glorfindel with the Balrog upon a pinnacle of rock in that place; and both fell to ruin in the abyss.
Glorfindel is also one of only very few people to have ever died and be brought back because the Valar knew that his kickass balrog-slaying skills would be needed again, and my headcanon is that, while Glorfindel spends most of the Third Age utterly bereft at the loss of Ecthelion, when all is said and done, and he's finally able to retire to Valinor, they spend the rest of their lives together.
And now, because we all deserve it:
Okay, we're coming to it. Tuor has escaped with Idril & Eärendil, joined up with Dior's people, thus officially introducing Eärendil & Elwing. They live along the sea, where Ulmo bestows much power and grace on them. Eventually, the great mariners & shipwrights of Círdan join forces with them, as well, and so we've got three great households combining all to equal one thing.
Of the Voyage of Eärendil and the War of Wrath
So much happens so quickly, I'm gonna summarize:
Eärendil & Elwing marry, and they have two children, Elros & Elrond (yes, that one)
Eärendil builds a great ship, Vingilot, the Foam-flower, because he hopes to either find his parents, who sailed into the horizon and never came back (on purpose) or to find the shore of Valinor and plead with the gods for help
while he's gone, the Fëanorians decide they want to take part in more kinslaying to try to get the Silmaril back that Lúthien gave to Dior, who gave it to Elwing, who now wears it
Elwing, bereft of her husband and her people, throws herself into the sea
Ulmo turns Elwing into a bird, and she takes flight until she finds Eärendil
they decide to sail the seas together & look for Valinor once more because they both believe there's no hope left on Middle-earth
SURPRISE THEY ACTUALLY FIND IT
not only that, but when Eärendil begs the Valar for help, THEY ACTUALLY AGREE TO DO SO SHOCKING I KNOW
the War of Wrath begins, and all hope is seemingly lost as Morgoth goes batshit and just releases every dragon he's got, including my fave, Ancalagon the Black, and then, out of fucking nowhere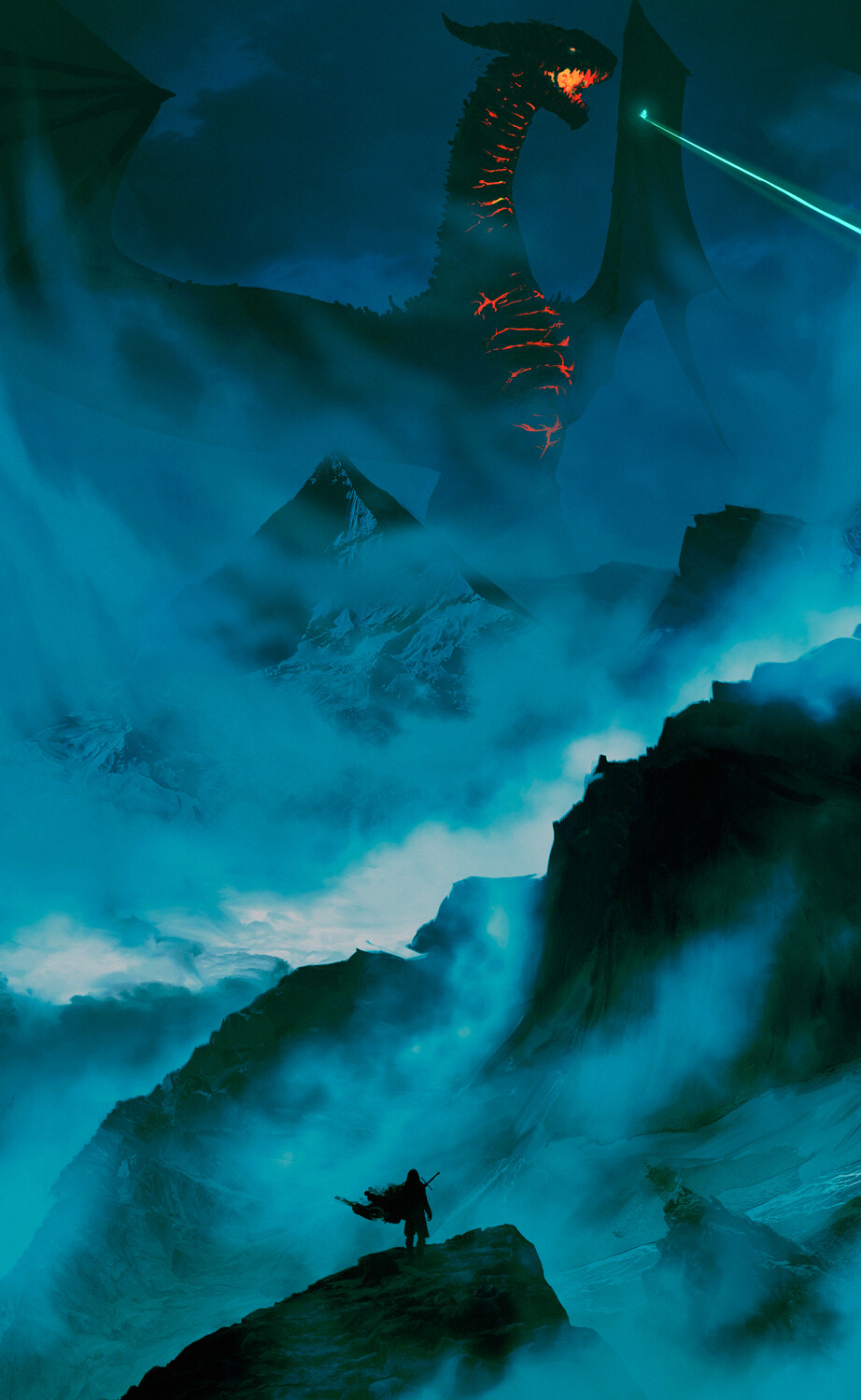 Eärendil's just like, "You know what's cooler than a giant ass dragon? A teeny ship defeating said giant ass dragon. WATCH THIS MOTHAFUCKAAAAAAS."
We're nearly at the end, which I'm really finding hard to believe. After Morgoth is defeated (my poor, sweet boy), there's a final moment of drama with Maedhros & Maglor, who are still, idiotically enough, determined to get the Silmarils, even if that means stealing them from the Valar. When they ultimately get them, the pain is so great from trying to hold them–because they've committed so many incredibly evil deeds–that Maedhros ends up throwing himself into a deep chasm, and Maglor tosses his into the ocean and walks the seashore forever in pain. What morons.
And thus it came to pass that the Silmarils found their long homes: one in the airs of heaven, and one in the fires of the heart of the world, and one in the deep waters.
There are definitely way more detours than is probably necessary in this story for us to still say, at the end of the day, that everything is about the Silmarils, but they do definitely show up here and there, even if they're not directly related to the Fëanorians. Tolkien changes his MC several times, too, and it almost feels weird to see Maedhros' name here after so long since we last read about him. For me, hearing that he's died in this last passage, almost doesn't have a big sense of mourning because I think I've been grieving his loss for hundreds of pages now.
Also just love the super optimistic ending Tolkien gives us:
Yet the lies that Melkor, the mighty and accursed, Morgoth Bauglir, the Power of Terror and of Hate, sowed in the hearts of Elves and Men are a seed that does not die and cannot be destroyed; and ever and anon it sprouts anew, and will bear dark fruit even unto the latest days.
Long may they reign.
Akallabêth
Something I don't think I talked about at all, or, if I did, it wasn't often enough, is the way that the Valar deal with failure. Aulë wakes the dwarves a little too early? Put them to sleep. The Eldar don't do exactly what they're intended to? Sink half the earth. Morgoth is finally too evil for them to ignore? Lock him in a void. They never actually face any of their problems? They're just like
And Morgoth's over there, evil grinning
Anyway, so Akallabêth is just Tolkien being his usual self and wanting thirty-six endings, so he wrote a twenty-page epilogue that's followed by another epilogue because he can't contain himself. I know I've talked about it before, BUT NOT HERE, so let's please all remember that the dude wrote a TEN THOUSAND WORD SYNOPSIS when a potential publisher asked him to explain, in detail, why The Silmarillion and LOTR needed to be published together. Of course he has thirty-six endings, and I love every single one of them.
Say what you will about cliffhangers (the light of my life) and ambiguous endings, but I have never appreciated a piece of writing more than watching Tolkien tie literally every loose end up in a neat little bow.
So the Valar sink a bunch of the land because they're pissed at everyone, which is really just a cover for being pissed at themselves, and to compensate the loss or whatever they're telling themselves, they lead what will became Númenóreans north to a land of beauty. I appreciate how this isn't the nicest epilogue, either. Tolkien's not just like here's Númenór, yay! He lets them encounter suffering & grief, and, eventually, as happens to all people at one point or another, they start to want more, start to look toward Valinor and wonder why they should not be allowed to have such a glorious end.
WOW I AM SHOOK
'The Eldar, you say, are unpunished, and even those who rebelled do not die. Yet that is to them neither reward nor punishment, but the fulfilment of their being. They cannot escape, and are bound to this world, never to leave it so long as it lasts, for its life is theirs. And you are punished for the rebellion of Men, you say, in which you had small part, and so it is that you die. But that was not at first appointed for a punishment. Thus you escape, and leave the world, and are not bound to it, in hope or in weariness. Which of us therefore should envy the others?'
Wow, talk about the most perfect description of the double-edged sword that is immortality vs mortality. Like, damn. I may have to sneaky quote him in my vampire story.
As always, men are a little stupid here, and after a very long, winding detail of all the kings of Númenór, one of them decides he's going to offend the Eldar, the Valar, and Sauron all at once. Like, dude. I'm not even going to tell you to chill because you've clearly got a death wish.
I just love these two idiots. Sauron basically pulls a Trojan horse, lets the Númenóreans take him back to their land so he can be a "ward" since the current king wants to be king of all, but Sauron's plan is to just find out everything he can, plant a few seeds of weakness, and let the poor will of man do all the rest. However, because he just can't resist, he starts spinning stories about a Lord of the Darkness that they must honor, and the second that someone even shows mild interest, there's Sauron, 'But he that is their master shall yet prevail, and he will deliver you from this phantom; and his name is Melkor, Lord of All, Giver of Freedom, and he shall make you stronger than they.'
Sauron, your crush is showing.
Is it even a crush at this point, or, you know, does creating a cult for someone move you a step beyond even love, however toxic? And boy, what a true cult. It makes me wonder–if Sauron's power was increasing just by the worship of his single temple, could he have eventually brought Morgoth back to life? Morgoth isn't dead, technically, just banished into the void, so it stands to reason that, if Sauron could create enough energy & worship for Morgoth, he'd eventually be strong enough to break out of the void and conquer Middle-earth again. And, truly, he would actually conquer it if he managed to come back. He was so close at the end that I think it's reasonable to believe he'd just go hard and defeat everyone and everything in a matter of weeks. Screw millennia, he's probaby thinking, the long game didn't work, so I'm just going to kill everyone.
Also, quick aside because I know I was redoing the math in my head again, yes, Aragorn & Arwen are related. Very distantly, by about 2690 years, but still, it's a thing. What makes it even weirder is that, technically, despite the years, they're first cousins of a sort because Elros & Elrond were brothers, but since Elrond is immortal, Arwen is his child. I mean, not really first cousins because there's a whole lot of ancestors between Elros & Aragorn, but yeah. Enjoy that crisis.
The Valar quickly sink a whole bunch of Númenórean land, everyone but Elendil, Isildur, and Anárion drowns, and Sauron finally descends from still-lovely Maiar to absolutely hideous evil lord. Phobs actually does a really wonderful rendition of his transformation over time.
At this point, the Valar have done two important things:
made the world round, huzzah!
said peace the fuck out and left
Of the Rings of Power and the Third Age
And now we come to the super fast summary of all of the Third Age. I know what you're thinking, too–oh, I'm just gonna skip this and considered it finished since I've already read Lord of the Rings. WRONG, YA FOOL, the events of the final war against Sauron take place at the end of the Third Age, and there's so much that happens before that.
Most importantly, we learn about the creation of the rings. Celebrimbor, who was estranged from his father, Curufin, who died with Celegorm in one of the many battles previously, falls for Sauron the hardest. To his credit, Sauron dons a fair look, sneaks past Gil-galad & Elrond, who don't trust him, even without knowing who he is in truth, and whispers sweet nothings to the elves that do let him in about how they should create wondrous things together. The rings can only be created under the combination of Sauron's lore & the elves' skill, which they learned from the dwarves of Khazad-dûm, who they also had a great relationship with at the time. Trust Sauron to be the one to sour that relationship. Once the elves realize what he's doing, though, they quickly banish him, hide the three rings they manage to keep hold off, and open war begins between Sauron and legit everyone else, including poor Celebrimbor, who wanted nothing more than to help and make something worth remembering.
It is said that the towers of Emyn Beraid were not built indeed by the Exiles of Númenór, but were raised by Gil-galad for Elendil, his friend.
Yeah, I usually show my love for "friends" by building them towers, too, makes total sense. And then, just to drive the point home, Tolkien makes sure that Gil-galad & Elendil are slain together in the Battle of Dagorlad.
From here, we pretty much know everything that happens:
Isildur is an ass & doesn't give up the ring after Sauron's defeat
Mirkwood is the result of Sauron's return, and thus the White Council is formed
(Mary goes on to include a council in every single one of her books for about a decade, and council chapters are her favorite to write)
Curunír (Saruman) has let a shadow creep over his heart until he now desires the ring
Mithrandir (Gandalf) knows something is up, but can't quite pinpoint it
Sauron finally returns to Mordor
Gollum finds the ring & Bilbo steals it years later
And because everyone, truly, deserves to see the hilarious three-paragraph summary of the entire trilogy, here you go:
But those who saw the things that were done in that time, deeds of valour and wonder, have elsewhere told the tale of the War of the Ring, and how it ended both in victory unlooked for and in sorrow long foreseen. Here let it be said that in those days the Heir of Isildur arose in the North, and he took the shards of the sword of Elendil, and in Imladris they were reforged; and he went then to war, a great captain of Men. He was Aragorn son of Arathorn, the nine and thirtieth heir in the right line from Isildur, and yet more like to Elendil than any before him. Battle there was in Rohan, and Curunír the traitor was thrown down and Isengard broken; and before the City of Gondor a great field was fought, and the Lord of Morgul, Captain of Sauron, there passed into darkness and the Heir of Isildur led the host of the West to the Black Gates of Mordor.

In that last battle were Mithrandir, and the sons of Elrond, and the King of Rohan, and lords of Gondor, and the Heir of Isildur with the Dúnedain of the North. There at the last they looked upon death and defeat, and all their valour was in vain; for Sauron was too strong. Yet in that hour was put to the proof that which Mithrandir had spoken, and help came from the hands of the weak when the Wise faltered. For, as many songs have since sung, it was the Periannath, the Little Pople, dwellers in hillsides and meadows, that brought them deliverance.

For Frodo the Halfling, it is said, at the bidding of Mithrandir took on himself the burden, and alone with his servant he passed through peril and darkness and came at last in Sauron's despite even to Mount Doom; and there into the Fire where it was wrought he cast the Great Ring of Power, and so at last it was unmade and its evil consumed.
I just had a moment of oh should I have some kind of discussion at the end of this? But y'all, I'm so tired, this has been a month of reading, and you've got four full posts of me discussing this, so I'm simply going to end this was gratitude. Thank you so, so much, whether you read along or just read the posts. It means the world to me that you come back, time and time again, for these insane and unpredictable reviews. Until next time!
Final thoughts?