This is going to be purely movie lines, and if any are similar to the book, that's only because Peter Jackson pulled it directly from the book. Ideally, I should have kept track while I was rereading the trilogy last year, but I'm the worst, and I didn't, so you're going to have just deal with it. I did, however, rewatch all three movies in December, so I made sure to keep track then! A lot of these lines have made me cry in the past, one has made me cry every single time it's been uttered, and one is tattooed on me!
"All we have to decide what to do with the time that is given to us."
I've been thinking about this line a lot in the last year. 2020 was a year of utter chaos, and I'm not sure 2021 is going to be much better, but it's made me–and I know it's done the same to a lot of people–reevaluate what should be given importance in my life, and this line from Gandalf says it best. Of all the horrible things to have happened in the last year, one of the best things to come out of it was restructuring my life in a way that made sense for the things I hold most dear, for dedicating the time I have to things that don't bring me stress.
"There's some good in this world, and it's worth fighting for."
IT FINALLY HAPPENED!
I recently started my LOTR sleeve, and I'm so hyped about the whole thing, but particularly getting Sam's famous line on it. I can't even tell you the amount of times I've read this entire quote during yoga, or whispered it to myself in difficult times, or just wept randomly over it. And, because it is actually my favorite line of all time, my best friend, when she was doing the unthinkably wonderful thing of requesting a Cameo from Sean Astin, asked him to quote this line for me: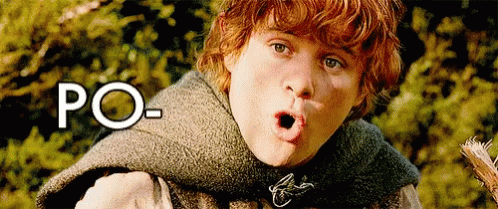 "PO-TA-TOES!"
My mom doesn't like anything more intense than Hallmark or General Hospital, but she knows this line from LOTR for the amount of times we shout it at dinner! It's one of my favorite Sam lines, too, especially because it's taken straight out of the books, which really just makes it one of my favorite Tolkien lines, and it is one that solidifies my belief that he's 100% a hobbit.
"You bow to no one."
I have never not cried over this line. Truly. Every time this scene comes around, I can feel myself getting weepy, and then I just bawl my eyes out every time the hobbits start to bow, and Aragorn gets all GET READY FOR THE WATERWORKS. I mean, seriously, is there a more heartbreaking scene in this entire trilogy? (Yes, the Grey Havens, hush.) This is just so powerful, and see the King of all Men, last of the Númenór line, bow before these four hobbits so that basically everyone in the world also bows down to them?? Bury me with this scene.
"Put aside the Ranger. Become who you were born to be."
Someday, I'm going to get Andúril tattooed on me, and if I wasn't already convinced of that before this scene, this would have done it. The insanely long pan all the way up the insanely long sword is just gold, and Elrond showing up on the eve of battle, all hidden beneath his cloak and trying to be angsty & secretive, with the blade that was reforged is never not going to make me scream with delight.
"I'm going on an adventure!"
Look, the only The Hobbit line on the entire list! This isn't my favorite book by any means, and it's definitely not in my top five Tolkien ones, but I do love this line of Bilbo's a lot. That, and his you never know where you feet might take you line are just things that I think about offhand all the time. Literally any time I'm going somewhere, it's I'm going on an adventure!, and it just feels so appropriate for all times, even when I'm only going to Target.
"I want to hear more about Samwise the Brave."
I always want to hear more about Samwise the Brave, given that he's my favorite character in all of literature, but the reason I love this line, in particular, is because Frodo always does this. Whenever Sam is trying to be down on himself, or whenever things seem a bit hopeless, Frodo swoops in and reminds him: Frodo wouldn't have made it far without Sam. AND IT'S SO TRUE, I WILL DIE ON THIS SOAP BOX! But I just love how Frodo constantly reminds Sam that he's worthy, that he's necessary, that none of this, truly, could happen without him.
"For Frodo."
This is also always one that makes me cry. Not just because they've literally decided to go to their death to give Frodo a chance–because there's not a chance in hell that they're going to survive Sauron's armies right now if Frodo doesn't succeed–but because, when Aragorn steps forward, he's being lulled by Sauron, and him turning away to say for Frodo is him saying that no matter what, any promise that Sauron can make is never going to be good enough for him to not choose what is good and right.
"I'm glad to be with you, Samwise Gamgee, here at the end of all things."
I've been thinking about this line a lot lately, as the year of 2020 comes to an end, and realizing that I've let go of a lot of people over the year, people that were negatively effecting me or just people that I didn't want to be in my life anymore. And now, as I look forward with a bit more hope–not that a new year suddenly makes anything different–I'm looking around at all the people that are still in my life, and I'm glad for them. And for Frodo, I love that he finds that bit of hope again at the end, that, with the ring's destruction, he finally finds a bit of peace again.
"Forth Éorlingas!"
I MEAN DUH! I love this moment so much, and it makes me well up with tears every time, and I love every single utterance of Forth Éorlingas!, and I will forever scream about the Rohirrim. This calls back to the earlier ages of Middle-earth, too, and it's become such a staple of the LOTR fandom, even for people who don't understand totally where the words come from, and I love that threading of knowledge so much.
What is your favorite Tolkien line?