Well, I've already got two bookish cats, so I'm definitely going to cheat on two of these, but I've thought of so many different characters for my future cats, so this is also going to be a ton of fun. This week's That Artsy Reader Girl topic is definitely something I think about a lot, particularly because I'll always have cats, no matter what, and they're pretty much always going to be bookish.
Also, I'd like to note that I do not support She Who Must Not Be Named in the slightest, but one of my current cats was named over six years ago, and there are two other characters that will make an appearance on here because, for as long as I've loved cats, I've said I'll someday name them that, so. There's that, and I apologize.
We'll start with my current best friends, Lily & Grace! They're sisters from the same litter, and they're six & a half years old.
Grace (left) is named after Grace Brisbane from Maggie Stiefvater's Wolves of Mercy Falls series, and she definitely suits her character, at least in the first book, Shiver. She's very independent, likes to love on her terms, does not, at all, ever, want to be mother henned, and would really like it if everyone could just keep their distance. She's become a super snuggle bug over the years, but she still gives me the look of death sometimes when she's not about the hug life.
Other names she has: scooch, Grace ahhhh savior of my universe, tough kitty, little queen
Lily (right) is named after Lily Evans, Harry Potter's mother, and she also definitely suits her character, albeit only in a few ways. She's the sweetest girl in the world, and she's always yelling at me to pick her up and give her snuggles. On the flip side, she's also a complete loon, likes to sprint at the speed of light, and will just as readily lick your hand as try to bite it off (in a good way). She's kind of dumb, super slinky, and just all around fun.
Other names she has: scooby, Willy, Lil Bill, bean, boogy, munch
Would I be me if my next cats weren't named after Frodo & Sam? NOT A CHANCE. There's a zero percent chance that my next cats–after Lily & Grace, who I assume will live for another 10 years, minimum–will not be named Frodo & Samwise, and I cannot freaking wait. I feel like I should also note that I grew up with boy cats for the longest time, but switched over to girl cats with my current ones because I wanted two, and that was what was available (also, they were hella cuta), and I've always said that I'll go back, but I really enjoy having girl cats, so we'll see.
But yeah, that's where we're headed next. I'd really like a black & white cat again since I seem to have a pattern of b&w and then tabby and then back again, but they're just so damn cute!
James Potter & Sirius Black have been some of my favorite best friends for as long as I can remember. When I first started writing, it was Harry Potter fanfiction, and it was always, always Marauders era. I never shipped them together, though I can certainly see it now, as an adult, but as a wee child just discovering the world of writing, I lived for their friendship. I sleep with a stuffed bear that I've had literally since I was thirteen, that I got from a lake vacation in Maine, and that I have no memories of, but I do know that that bear looked more like a dog, so I named it Snuffles, and I take it everywhere.
Admittedly, I'm not sure that I'd name pets after James & Sirius after everything in the last few years, but it's always been something I wanted to do, so I'm including them on this list. Sirius would obviously have to be a black cat, and I kind of see James as an orange tabby, which I've never had before, so who knows, maybe someday.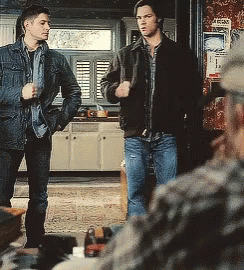 Realistically? This, somehow, might happen before Frodo & Sam. Particularly because I don't know if I'll have the gumption to name two cats Sam, and watch a cat named Samwise pass, soooooo yeah, I'll probably name my next cats Sam & Dean from Supernatural. I'm currently in the middle of rewatching the entire series to properly amp myself up for the finale, though, at this rate, I'll be watching the finale next year, but I'd totally forgotten how much I truly loved this show, and it's definitely going to stand out in my heart for a long, long time to come. Plus, I know neither of these two are cat people, but how perfect do their personalities fit for two brother cats? I'll probably have to get them a tiny car to speed by on, too.
I haven't really thought far enough ahead in my life to figure out other bookish cats, but if I had to pick a last two, I might be swayed into naming them Karou & Eugenides. I usually like to stick within books, but I can't think of another duo that I enjoy enough, and those two would make hilarious best friends. I'd end up doing my standard Karou thing whenever calling the cat, probably a calico, Karouuuuuuuu, and Eugenides would only get his full name when I was shouting. It'd mostly be Gen, or just oh you little thief because iykyk. I don't think either of these are likely, and by the time I've worked my way through all the others, I'll probably have changed this thought, but this is where I'm at for now.
Annnnd, because you deserve it, one last shot of the cuties!
What bookish character would you name your pet after?