HAPPY HALLOWEEN! I know it's not Halloween yet, but it really is because all of October is spooky season for me, so we're kicking off celebrations in the best possible way ever: Tim Burton. He is, for me, the father of all things spooky, and the reason that I started to look into more nontraditional fashion and media. The Nightmare Before Christmas is one of my all-time favorite movies, and it's one of the few that I've consistently watched every single year. Thus, when I first heard of the Burton theory a few years ago, I was immediately hooked. I love the idea of a larger universe, and since I'm writing one of my own and always trying to connect things where they don't connect, I thought I'd break down the Burton theory here. Which, uh, yeah, means I watched a lot of Burton movies in September instead of October.
There are a lot of versions of this theory–all of his original films are connected, every film sits in the same universe, only three are connected, etc. People have arguments for all of them, and many of those arguments make a lot of sense. My personal favorite, though, is the one that threads Vincent, Frankenweenie, Corpse Bride, and The Nightmare Before Christmas together, in that order, and thus, that's the order I watched them in.
jfc I forgot just how truly emo Burton was
I can't remember if I've ever watched Vincent, but I don't think so given how hard it made me laugh. It immediately kicked off my admiration for stop motion again because damn, not only is it amazing by itself, but Burton gives his characters so many little motions that must just take forever to film, and it's so impressive. Even if you're not going to watch the rest of these movies this month, I definitely recommend at least watching this. It's truly wonderful.
The dual stories in it were just adorable. I liked seeing it now for the first time because I had enough knowledge to really appreciate all the super Goth nonsense that Burton was spouting. Just the fact that Vincent bemoans his horrible life while his mom is like bro chill out you have it good, and then he'll just flop over and sigh loudly? High school Mary would have died. And that Edgar Allen Poe ending? DECEASED.
But as for the theory? Dude, this short itself just proves the entire thing by itself. There are so many characters dropped in the background from Nightmare, the MC has the same name as the one from Frankenweenie, and the timeline just works. (Okay, fine, it doesn't, Victor lives way too far back in time to make sense with the two Vincent's, but we'll get to that in a bit.) Vincent is at an age that seems just young enough to be before Frankenweenie's Vincent, and the path of their dogs creates a perfectly linear line between them.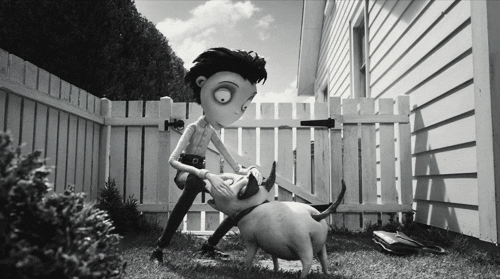 Don't even get me started on the fact that, while watching this, my dad said, "Oh, that teacher looks like Vincent Price," even though he didn't watch the short with me, so he could have had no idea what a good connection that was. Not only that, but Vincent and Victor literally look identical.
Even before this started, I was having a great time. The way they change the Disney castle to be all spooky is just delightful. It's been a while since I saw this, too, and my dad had never seen it, so this was definitely our favorite of this three-day event. It's such an adorable beginning to what becomes a fairly dark journey. After Vincent, in the short, has essentially experimented on his dog and had it taken away, Vincent in Frankenweenie is at a point where he absolutely adores his dog, and he goes everywhere with him. When, sadly, Sparky dies, well–there's only one option left, considering where Vincent's relationship with his dog eventually ends up (ie: as a skeleton & ghost dog).
Not only did this movie jump on the Frankenstein train, but there were so many Dracula references, as well as several other big horror monsters, and it was so fun to hunt for them. And speaking of references, though I only watched Burton's stop motion films, you really can't ignore the similarities to Edward Scissorhands. Not only does the neighborhood look nearly identical, Winona Ryder plays a character that looks startlingly similar to her character in Scissorhands. The mayor also looks like the dad from Corpse Bride, which I learned was a nod to a character from The Year Without a Santa Claus.
This is, obviously, Vincent's childhood, and there's no denying the very stark similarities between Frankenweenie and Corpse Bride. I don't have an explanation for why Vincent lives in more modern times and Victor in the past, but perhaps the spooky nature of his eventual skeleton life, which is clearly steeped in magi, means that his soul/spirit/whatever travels to wherever makes the most sense?
Corpse Bride is definitely my least favorite of these three, and I think I'm just about done watching it every year, but it's still such a sweet, enjoyable movie. And, really, all you've got to do is look at the two gifs of Vincent & Victor to see the truth in this. I find it interesting, too, the journey that the dog has taken. From weathering abuse at Vincent's hands, to be brought back to life by another Vincent, returning as a skeleton with Victor, and eventually becoming a ghost dog with Jack. I think the dog, really, is why I believe this connection so strongly. The different time periods don't make sense, but neither does a Frankenstein dog becoming a skeleton becoming a ghost, soooo?
And though Victor has a different, albeit similar, name in Corpse Bride, there's a moment where his father-in-law to-be calls him Vincent, and if that's not a nod to his previous life in a modern time period, I don't know what to tell you. The other thing that doesn't always match up, either, is Sally. She's obviously not present in Sally or Frankenweenie, and I'm going to shoot my own timeline argument in the foot by saying that I don't think she's Emily, but I think she could be Emily in the future. Because though we're seeing Vincent age into Victor, eventually die and become Jack, I think Sally's going in reverse order. She's obviously alive when we meet her in Nightmare, albeit stuffed with leaves and sewn together, but given that Emily's actually dead and made out of bones, I think Sally becomes Emily and that's why she's so forward with Victor. She's gotten over her initial nervousness with Jack, and now I'm thinking about when River Song meets the Doctor when he's still Ten, and I've got to move on before I start crying.
Also, the skeleton song? Don't even get me started.
Jack is definitely a step above Victor with his exuberant, extroverted personality, but I think Victor's got it in him, with enough time spent being goaded into more by Emily (and Victoria!), that, by the time he dies and is reawakened as the bone daddy himself, he's definitely got it in him to take on the mantle of Pumpkin King. And also, duh, Zero's there, and if nothing else, at least his timeline is linear.
Also, The Nightmare Before Christmas is just so good? It's both a Halloween and a Christmas, and I watch it twice a year because it's just so well done. I listen to the soundtrack periodically from January to September, and it somehow makes me more and more excited every year. As I watching it this time, too, I couldn't help but laugh because doesn't everyone have a phase in their life where they want to be either Jack or Sally for Halloween? Like, this movie has such a large following for a reason.
Now, I know that Henry Selick directed Nightmare, and though Tim Burton produced and wrote it, I've got to point out that the cat that follows Sally around reminds me very strongly of the cat from Coraline, which Selick also directed, sooo maybe I should have watched that, as well? Nah, there's no way that I can figure out how Coraline exists in the same universe, and I think I've already done a poor enough job of explaining how Burton's three stop motions do, so I'm going to cut myself short and just leave you with: