When I was considering posts for pride, I was originally going to scrap this one for later, but, in all honesty, fanfiction is what first opened up the queer community for me, so it feels like the perfect discussion post to kick off celebrations. I'm going to talk a bunch about my history with fanfiction since it's intertwined so intimately with why I think fanfiction is a worthy form of writing, and I'm definitely going to link some of my old stories, so buckle up, friends!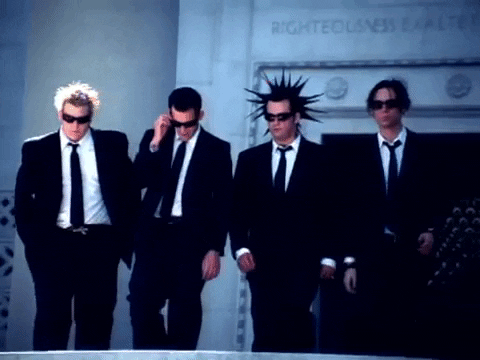 Hell, we're not holding anything back because where would be the fun in that? In truth, the first time I ever wrote something, I was in the fifth grade. My English teacher, Mrs. Ryan, had given us homework where we had to finish a bunch of sentences with something that made sense. I loved it so much that I asked her if I could write paragraphs instead. She was thrilled, and the next thing she knew, I was handing in a completed story with a promise for several more sequels.
I was also reading Harry Potter at the time, and so, once I discovered that I loved writing, I immediately started dreaming up some self-insert stories set in the Marauders era. I begged my parents for extended computer time in the meantime, and, when it was granted, I opened Microsoft Word for the first time in my life, and I got to work.
Thus, we should start this with Harry Potter, but, if we're actually being honest here, my fanfiction career began with Good Charlotte. I wrote a couple insanely long, very bad stories that no longer exist anywhere for Harry Potter (seriously, they were removed from the Internet when that was still a thing you could do, and I threw away the physical copies), but those first Good Charlotte stories are still up there. This is not an instance where I'll share a link because nope, but I'll share the experience.
I so vividly remember the first time I stumbled across a queer story on gcfanfics.com (lordddddd), back when we just called it slash, and I'll admit that I was shook. I was raised in a white, cisgender, Episcopalian, straight household. I was taught that it was wrong to hold my best friend's hand when we were out in public because we "looked like lesbians," and I was given funny looks for enjoying Will & Grace. This is–well, it's a whole other discussion in itself, but the context is that I didn't even know this community existed before Good Charlotte, and I don't think I would have for a long time still if fanfiction hadn't opened my eyes.
I was thirteen the first time I started writing my own novel. I'd written a fanfiction for Good Charlotte pairing one of the band members with an original character, and though it was a very toxic and strange relationship that I quickly abandoned, I'd realized something.
There were way too many straight characters in the world.
Good Charlotte fanfiction was 100% responsible for Walk Among Us, the novel you'll never see. It's written in its entirety, and it's polished into a first draft, but I realized pretty quickly after letting a friend read it that I never wanted it to be out in the open. It's very personal, and it's too deeply rooted in my heart for me to let go of it. I'm totally happy with this decision, I've got tons of other books that I want everyone possible to see.
But it was the first time I'd written something that had a queer main character, and that is entirely due to the fanfiction I was reading and writing. It was also just the first time I had written a novel, and that is also entirely due to fanfiction. I got started writing through homework, but what really opened the doors for me was fanfiction. Thousands of people were writing Harry Potter and Good Charlotte fanfiction back then, and I wanted to be part of this community. I wanted to create my own stories and read everyone else's. I wanted to get better at writing so that I got more comments, so that more people read my stories, so that maybe, someday, I could write a story completely my own and people would want to read it because they would just know.
I didn't stick around in the Good Charlotte community for long. I would continue to write it here and there during my first year of high school, but I was already beginning to shift toward Harry Potter, and by the time I was about fifteen, I had officially switched to a new fandom. I published my first story in 2007, a soft romance oneshot about James & Lily living in an old cabin in the woods. I would continue there for a little over four years, and, honestly, looking back, I know exactly why I finally left.
Somewhere around seventeen, I fell in love with Avenged Sevenfold, and while I wrote primarily straight stories in the beginning, that quickly began to shift. Once again, I had discovered a queer community, and as I started to peel back the topmost layer, it was almost like rediscovering slash fanfiction. I only ever wrote straight stories for Harry Potter, and the second I started writing queer ones for Avenged Sevenfold, my interest began to wane.
And this, really, is the start of it all for me.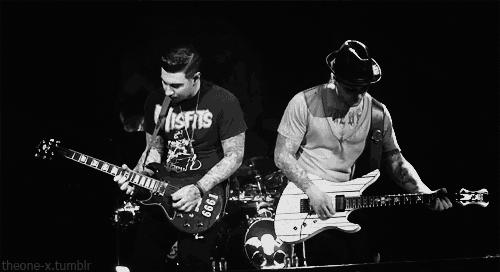 I AM BEING TRANSPORTED THROUGH TIME RIGHT NOW
My goodness, just look at those two. OF COURSE I WROTE ABOUT THEM IN LOVE! I mean, seriously, can you blame me? They play guitar back-to-back, it practically writes itself, WOW.
Anyway. I've talked about it before, but I wrote the same series of novels over and over and over again for twelve years. After I finished the first (and terrible) draft of Walk Among Us, I finally started writing about dragons, and I continued to write the same damn story for over a decade. Thus, if we think about it, the thing that sustained me creatively, that helped my writing skill grow, that taught me everything I know–well, of course that was fanfiction.
It's definitely not the same poorly written story eighteen times in a row. Nah, if there's a reason for why I'm a fantastic writer today, it's solely because of fanfiction.
I stayed in the Avenged Sevenfold world for a couple years. My livejournal is gone, which was a dumb thing for me to do, but it is what it is, and now I can't give you actual stats or specific dates. I don't know when I stopped writing bandom fanfiction, but somewhere in the very beginning of college because, well, it was time for something else. Really, Good Charlotte and Avenged Sevenfold fanfiction did a lot in helping me figure out myself, as a person and as a writer. Harry Potter fanfiction helped me realize that magic was the thing that I wanted to write about. But what came next?
Well, Marvel fanfiction taught me literally everything else.
Now, The Weight of Us will actually get seen by people beyond myself someday. But it's important to mention here because it was originally fanfiction. Well, fanfiction of fanfiction? Jeez, this is convoluted. I loved the bookstore scenes in Maggie Stiefvater's Wolves of Mercy Falls trilogy so much that I wanted to write a Tony Stark/Bruce Banner story that had that soft, quiet, bookish aesthetic, and then I loved that fanfiction that I wrote so much that I wanted to write a novel that followed a similar arc, and Will & Émilien's story was born. It's so far removed from that original story now that I don't feel like I'm having a 50 Shades moment, but this story literally would not have happened without fanfiction.
And hell, you want to talk about learning how to write? Wade Wilson taught me what kind of style I would enjoy employing in sister witches. Tony Stark taught me complex, weird dialogue combined with deep, hidden emotions that I would utilize for Saintsverse. Steve Rogers gave me an example of the kind of character I love most, and that I would feature primarily in the Pen boys. The romances between Tony & Bruce, Wade & Peter, and Tony & Steve were so wildly different from each other that I was able to explore different kinds of people and how they explore love so that, when it finally came time to write something that was not dragons, I had an entire arsenal of knowledge at the ready.
I wrote Marvel fanfiction for so long. My first story, which was horrendous, and it's still there, so please avoid it at all costs, was written in 2011. It got 6 comments, 55 kudos, and 9 bookmarks. It was viewed 2030 times. It was 7308 words, and it was the beginning of something insane. I'm giving you these stats because, if nothing else, I am going to prove that fanfiction is worthy through freaking math.
In 2013, barely two years after I'd started writing for the Marvel community, I wrote this little story called you are the space in my bed. It was weird, full of inconsistencies with the comics, and the gayest thing I had ever written. It has, since its publication, accumulated 321 comments, 5647 kudos, 1370 bookmarks, and 142,972 views. It was 18,689 words, and it was the first in a five-part series that would continue to wrack up these totally out of this world stats.
Look, math doesn't lie. Fanfiction turned me into the successful writer that I am today. I could have just stuck to my little PC computer, writing my own stories and never letting anyone see them, and sure, the more you write, the better you get, but the process of publishing stories, of giving them to other people, of receiving feedback and comments–that's what actually does it. Because you learn what people like, you learn by reading what other people are writing, you learn by exposing yourself to this truly bizarre thing that is fanfiction.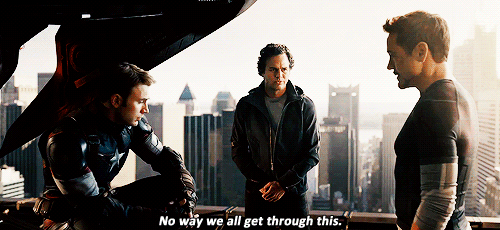 (okay but this is my real otp)
I could go on forever. I could tell you about oh mercy, I implore, which I STILL get insanely long reviews for to this day, despite the fact that it was written four years ago. (Look, I'm not saying that I'm going to write another James Bond/Q fic come fall when No Time to Die releases, but I'm not saying I'm not.) I could tell you about how I daydream about a heartbeat drives you mad, and how mad I am that I never finished it. I could tell you about all the weird things I tried in between–Teen Wolf and Supernatural and The Almighty Johnsons. I could do an entire separate discussion on why I love fanfiction so much, and all of it would just boil down to because it gave me the space to write, it gave me a community that I was longing desperately for, and it gave me stories.
So many damn stories.
I could read published books for the rest of my life, and I guarantee I'll still die having read more fanfiction. That kind of speaks for itself, don't you think?