Well, this month proved to be fortuitous in a lot of different ways. I read a heck ton of books, and out of 15, 11 of them were five star reads, which I think is pretty insane. I actually accomplished my OWLs TBR, I started rereading a book I've been trying to for two years straight now, and I got a lot of writing done. I'm still working remote, much like the rest of the world, and while that's not exactly going well, I'm trying to focus on the good parts–I still get to teach, my cats are digging the extra snuggles, and I can wear jeans every day. That, and I watched King Arthur: Legend of the Sword so many times that it's all my brain can think about, so uh, positivity is working? Let's get into it, this promises to be long.
Mini Book Reviews
Legend
🌈 LGBTQPIA+ characters
🔥 BIPOC authors
🌑 BIPOC characters
Emergency Contact (reread) | Mary HK Choi 🔥🌑
(4/5-4/8) ★★★★★
I mean, honestly, if you're surprised I reread this in these batshit times, you clearly aren't paying attention. I've now read this book three times in just under two years, which doesn't sound like a lot, but there are a ton of books that I've wanted to reread over those two years and reread absolutely none of them, so this is very telling. I just can't get over the fact that this book was almost as amazing the third time as it was the first time??? And I say almost because nothing beats a first read. I just LOVE Sam and Penny so much, and even though I know exactly every facet of their relationship, it never gets old. I still find myself giggling, blushing, gasping, and crying at every turn of the page. It's just so good. If you need a contemporary romance that takes place in college, is mostly centered around a texting relationship, and contains the two most highly strung awkward emos ever, this is it. Also, Choi writes Deadpool comics, and I know I say it all the time, BUT IT SHOWS AND IT'S GLORIOUS.
I Am Her Tribe | Danielle Doby
(4/7-4/8) ★★★★★
Huzzah, a birthday book! My book haul went up about halfway through the month, and I literally have so many new books that I have ZERO room on my shelf to store them all, so my current goal is to just read read read so I can get them off my floor, haha. This was going to be a five star read pretty much right from the dedication. It's reminiscent of The Lioness Awakens and The Holy Wild in that it's fierce, unapologetic, and so powerful. I had to bookmark a lot of the poems, and found myself sitting back to just breathe through others. I've already read two of them to my yoga students, and I will certainly be reading more.
The Magic Misfits | Neil Patrick Harris 🌈🌑
(4/7-4/9) ★★★★★
THIS BOOK IS ADORABLE I NEED TO READ THE SEQUEL RIGHT NOW. I was biased going in, yes, NPH is the best, and I definitely just assumed I was going to love this, but to the extreme that I did! Honest to goodness, it seems like I've only read amazing middle grades this year, and I am so happy. This is literally everything ASOUE tried to be and failed at. The Magic Misfits is an outstanding success, and I just want to cry about this sweet found family. Not only does it have gay magic dads, it represents mental health in children, disabilities, diverse race, and classism. Oh, and magic. But that felt like an added bonus on top of the best birthday cake ever.
Sword in the Stars | Amy Rose Capetta & Cori McCarthy 🌈🌑
(4/9-4/10) ★★★★★
My review for Once & Future is here. This was honestly exactly what I was hoping for out of this sequel. Actually? More than what I was hoping for. I've literally written and rewritten this review so many times because I can't put my thoughts into words. I could write a full 20-page research paper on this book and still not have enough room. The characters? Phenomenal. My love for Ari continued to skyrocket, and I would literally follow her into a field of flames. Even the characters I wasn't overwhelmingly in love with originally, like Gwen, who I still liked a lot, just wasn't also ready to charge into battle after, well! Now I'm ready! Let's do this! Tell me where to swing my sword! Merlin?? UGH MY GOD I CANNOT WITH THIS BOY. He made me cry so many times. SO MANY TIMES. Especially that ending. Gosh. I'm just in ruins. The story was everything. I loved being able to step back into time in Camelot and see the original Arthur, and my goodness, he was just adorable. I loved the timey wimey Doctor Who-like plot that had me screaming with joy at every plot twist and crazy thing that suddenly made sense. It was just so expertly crafted.
Gosh, okay. It was somehow more unabashedly queer and diverse than the first one, it was full of found family and real family, it was overflowing with hope, and it just made me so happy. I was smiling the entire time. I didn't want to do anything else but disappear into it because it was such a powerful book, especially right now. There is nothing I didn't love about this book.
Serpent & Dove | Shelby Mahurin
(4/12-4/15) ★★★★★
WOW OKAY. I binged the last 300 pages in one day because I just had to find out how all of it was going to unfold. I've also preordered the sequel because damn. This was so well written, and particularly the romance. It was such a good slow burn enemies to friends to lovers. Normally, that goes the way of insta-love so fast, but Mahurin really took the time to explore the different facets of Lou and Reid's developing relationship. The plot was super interesting, and I loved the lore behind the magic and the world. This reminded me a lot of A Discovery of Witches, but in a darker, high fantasy kind of way, and it was wonderful. I can't wait to see what happens next.
Red, White & Royal Blue (reread) | Casey McQuiston 🌈🌑
(4/12-4/17) ★★★★★
Can you really blame me? This month has been weird and uncomfortable and all the bad things that make you want something warm and cozy that feels like home to snuggle up in, so here I am with RWRB. I've been feeling the rereading itch a lot lately with everything going on, and this was exactly what I needed right now.
The Magic Misfits: The Second Story | Neil Patrick Harris 🌈🌑
(4/18-4/21) ★★★★★
Gosh, I'm usually so bad with series, but I just could not stand the idea of not immediately diving into this. It was just as outstanding as the first one, if not more, and I spent the entire last 100 pages of it taking turns between gasping and shouting. NPH is a fantastic writer, and he's crafted not only a story of diversity and inclusion, but one of hope and magic, and I'm just so in love.
Ruthless Gods | Emily A. Duncan 🌈
(4/18-4/23) ★★★★★
Hell, this was good. Like, way more than I could have possibly hoped for. This was such a fantastic sequel, and I am now going to die while I mourn the months in between now and the third one. I just? 10/10 would die for Serefin in a heartbeat. He had my heart and soul this entire book, and I am just so overwhelmingly in love with him. He doesn't deserve any of the terrible things that come his way, and I want to scoop him into a heap of blankets, stuff him somewhere warm, and fend off anyone that even thinks about coming near him. Of course, with the exception of Kacper, but he's going to be at my side, blade in hand, ready to destroy anything and anyone. UGH THOSE TWO. I wished and I hoped and I dreamed AND THEN IT HAPPENED, and I am just alight with joy.
Nadya was fantastic. Her character grew so much, and I saw someone say somewhere that they hadn't realized they wanted Nadya to be able to swear until she finally started, and DAMN GIRL GET IT. She was such a badass. 10/10 would fight for her, as well. Malachiasz had me sighing ruefully or shaking my fists at the sky, there was no in between. Serefin has my heart, but Malachiasz–damn, okay. I just love these characters a lot, and the development they've undergone since the first book is incredible. The writing was fantastic, the gore level was insane, and I am so, so ready to be ruined by the third.
On Earth We're Briefly Gorgeous | Ocean Vuong 🌈🔥🌑
(4/17-4/24) ★★★★★
Wow, this destroyed me? This was so not what I expecting, and I just felt devoured whole by it. It was powerful and poetic. The writing was absolutely gorgeous, and though it wasn't full of magic and adventure, there were still twists that I didn't expect and moments of absolutely heart-wrenching pain. This was truly an incredible piece of work.
The Merciful Crow | Margaret Owen 🌑
(4/24-4/26) ★★★★★
I mean, look, I was about 10 pages in when I knew I was going to preorder the sequel, so I did it at page 92, and I regret nothing because from the very first word, I knew this was going to be a five-star read. This is such a Mary book. Dark, romantic, full of fierce characters, excellent lore, and a fantastically well-built world. I wanted to just drown in all the tooth magic and deep-hooded cloaks. UGH. Is it July yet? I need The Faithless Hawk now because that title? That "there's always the sequel" in the acknowledgements about killing off the love interest? I WILL DIE LEAVE TAVIN ALONE. In the most unexpected twist ever, I totally thought I was going to love Jasimir because, duh, prince fakes his own death and then makes an oath with a band of ragtag misfits to help secure his throne? That's my jam. But the "too clever bodyguard" who's charming as hell and 10/10 would die for a lot of people, ohhhhhh boy, thank you for that. Anyway, this was just so good.
The Magic Misfits: The Minor Third | Neil Patrick Harris 🌈🌑
(4/26-4/27) ★★★★★
Gosh, this series is just so important. Not only is it fantastically written, but it covers topics I've never seen in middle grade before. This one discusses the difficulties that friend groups are going to experience, and how much more awful that can be than fighting with your significant other. Like, friendship breakups in a middle grade? Hell, I needed this book when I was younger. Now, I'm not saying the friends breakup, there's still a fourth book, they're going to be fine (hopefully), but there is definitely some tension in this one, and it was so wonderful to see that in something geared for preteens and younger. It also briefly touched upon first crushes, jealousy, and fear, and like? YES! Kids experience these, too! I'm just so insanely impressed with NPH for everything he's done in this series, and the only thing I'm sad about is that I have to wait until September to read the finale.
The Letters of JRR Tolkien | Humphrey Carpenter
(4/2-4/28) ★★★★
This was an absolute delight. I've got a longer review coming out in a couple weeks, so keep an eye out for that, but this was so full of Middle-earth lore, discussions on fairy-stories, a love of family and words, and so much hope that I'm going to be thinking about it for a long time to come. I definitely recommend it for anyone who adores Tolkien, though it may be a bit of a tome for those who are just passing by.
Spellhacker | MK England 🌈🌑
(3/25-4/7) ★★
Talk about disappointment of the year. My rating just progressively went down as I read. I was so hyped about this book because I loved The Disasters a heck ton, so I had this preordered, but probably won't do that again. It was just nothing. A whole lot of nothing. There was no character development except for the MC, but their development was of the insta-love variety where there's a sudden 180 turn about 3/4ths the way through, but there's no explanation for why that 180 happens, and then they've suddenly decided they're not going to be the most self-deprecating narrator ever. Like, seriously, five stars to making me absolutely not care about a character at all. Every other paragraph was "I'm disgusting," "I'm just dirt on their shoe," "they deserve to leave me," "I'm the worst person ever." Look, bro, that whole fake it til you make it thing works in reverse, too. If you repetitively are shitty to people and tell other people that you're shitty, they're going to believe you eventually. I just had zero empathy for Dizzy, and it's really unfortunate. The other characters not only had no development, they just had no personalities. They were archetypes at best. There was no description of setting, character, or much of anything besides what color the magic was, not even what it truly looked like while being wielded. Weld? It's wielded? Ew. I wasn't rooting for anyone because they were either obnoxiously repetitively self-loathing in the whiniest way possible or just nonexistent. I should stop while I'm ahead.
The Gravity of Us | Phil Stamper 🌈🌑
(4/26-4/30) ★★
Man, I'm so upset. I was so hyped about this. I mean queer contemporary romance set around a future space program to Mars? That's basically everything I've ever wanted out of a book! I'm not even sure why I'm giving this two stars instead of one. I guess because at least it shouted about why science and space exploration is so important. But there are two parts that I just couldn't get past, and one of them will really only apply if, like me, you're a bit psycho about space. The entire book literally just shits all over NASA, talks about how all they want to promote is drama instead of focusing on the actual science, trashes the space program in general, and just made the astronauts out to be jokes or jerks, no in between. This is particularly sad because the author's note discusses how Stamper has been a space nerd all his life, and how all he wanted growing up was a queer teen in love with space in a book, and yet? Dude, it really doesn't sound like you want space exploration to happen at all. This was such a bitter book. It read like Stamper had a huge grudge match he wanted to start with NASA & space exploration in general, and it was really upsetting. The other bit? Well, the two main characters confess their love for each other two weeks after meeting. This is the biggest instance of instalove I've ever seen, and it was even worse when you combine it with the fact that neither character had a personality outside of one's depression and the other's chaotic need to plan. Like, that was it. Leon was his depression and nothing else. He had zero personality. I remember absolutely nothing about him, and I'm writing this review literal minutes after finishing the book. Cal admitted to trying to fix people, to not being okay with everyone not having their shit together, and was constantly trying to force them into his little boxes. He admits at the end that maybe that's a little overboard, but he mostly says he's gonna keep on keeping on. They were the flattest characters ever, and they were in love 50 pages into a 300 page novel. Also? There was no conflict. I have to stop writing this review before I turn nasty. I'm going to go watch the Neil Armstrong biography now, bye.
The Last Wish | Andrzej Sapkowski
(4/9-4/15) DNF @ 100 pgs
Yeah, I'm sorry, but this is just not my kind of book. It's just bad dialogue and disjointed plot with no description and poorly done characters. It was a struggle to get through the first 100 pages, and then, as I was trying to force myself to read another 50, I just wanted to throw it at the wall. And right now, when I literally have so many amazing books to read, I have no desire to read something I'm not enjoying. I wouldn't be surprised if you see me reviewing the show down below, though.
April Statistics
Books read: 15
Pages read: 4,919
TBR: 3/3
(I've passed my OWLs & am now on my way to becoming an Astronomer!)
Backlist progress: 21/80
Monthly TBR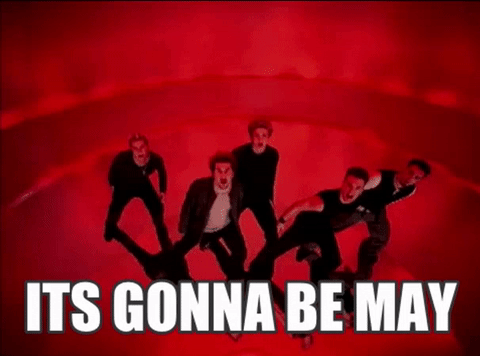 Look, I'm excited. It's almost summer, which means I'm just jonesing for fantasies all over the place, and we're officially one month away from the release of Utopia Avenue AND The Empire of Gold, so like? So many good things are coming, thus my May TBR is KILLING IT.
Kingsbane by Claire Legrand
Beowulf: A Translation and Commentary OR Fellowship of the Ring by JRR Tolkien
A Spark of White Fire by Sangu Mandanna
Circle of Shadows by Evelyn Skye
Wayfarer by Alexandra Bracken
Also, not gonna lie, I have a stack of other books just lounging on my TBR cart that I've been trying to read for a while now, so this TBR is, in reality, about 10 books long, but shhhhh.
May Goals
First, let's check in with my April goals!
Write the first act of sister witches 3. (~30k words)
Read 50 pages a day.
Watch season 2 of Sabrina.
Watch season 2 of Lost in Space.
Lollllll, so I finished my writing goal on April 5th? When April started, I already had a little over 15k written from the previous month that I hadn't anticipated, and so the next 15k happened so fast, and uh yeah, I decided to remedy that by writing 16,337 MORE words, so my grand total for April is 34,111. Thus, yes, I met my April goal, but I also technically exceeded it since those 30k were supposed to be for the first act, and instead, I'm halfway through the second one. I'm stoked.
Somehow, I again failed at the 50 pages a day by TWO DAMN DAYS, but they were both days that I wrote somewhere around 8k, and I was exhausted by the time I finally finished around 11PM & 1AM (respectively), so I decided to go to bed.
Annnnnd, May goals!
Complete a Duolingo lesson every day!
Read 50 pages a day.
Finish the second act of SW3 & get halfway through the third act. (~30k words)
Clearly, making it a goal to watch TV is not helping me, it's doing the opposite, so we're officially stopping that. Thus, I've only got three goals for May. I started learning Portuguese around my birthday, and I'm still going strong, so I'd like to keep up my streak of a lesson every day. A sneaky part of me wants to finish up the third act of sister witches next month, but since that's an insane idea, I'm not making it a goal, I just want to get halfway through. But also, like, this is the end, and I really want to write vampire detective, so 100% would not be surprised if this wraps up sooner than planned.
Favorite Posts
Margaret @ Weird Zeal talks about all the ways you can support your local bookstores so that they make it through these crazy times, and there are a lot of great ways to help!
Kim @ Traveling in Books wrote up a wonderful list of different places you can find science fiction & fantasy books that are not written by straight white men, and I am here for it!
Writing Updates?
Okay, can we just talk about what a ridiculous month I had? Specifically, can we please talk about Sunday, April 19th, in which my writing research was the most bizarre thing in the world? I started out the day trying to decide what a vampire tasted like. Yes, you read that right.
And then, because I hadn't had a strange enough day to begin with, I had to research the difference between whole blood, plasma, and platelets. (My vampire is currently starving, and we want to get him back up to speed in the healthiest way possible because we are wholesome and kind over here.)
Also, hi, please enjoy this:
To wrap it all up, I got stuck in a wicked hole. We're seeing my vampire's apartment for the first time, and obviously, I'm going to lean into the aesthetic a little.
Look, I definitely fell down a Gothic interior design Pinterest hole, and now I am cackling at the idea of a future where I get to write in the most posh af over the top b&w vampy manor, GIVE IT TO ME. Follow that up with some very fast Greek food research for my eight millionth dinner scene, and in conclusion, my writing went something like this throughout the month, and it was great:
Look, I definitely fell down a Gothic interior design Pinterest hole, and now I am cackling at the idea of a future where I get to write in the most posh af over the top b&w vampy manor, GIVE IT TO ME. Follow that up with some very fast Greek food research for my eight millionth dinner scene, and in conclusion, my writing went something like this throughout the month, and it was great:
What I've Been Watching!
Me watching Wolf of Wall Street was one of those instances where my brother just decided that's what we were watching, and so that's what we watched. I don't know how he gets away with it? I want my dad to watch the next movie on this list so bad, but I can't just put it on and get away with it? Must be only son syndrome. Anyway, this was a really excellent movie and also hella vulgar, but it worked? I dunno, it's one of those ones that's going to surprise everyone I super enjoyed.
HOLY SHIT KING ARTHUR: LEGEND OF THE SWORD I LOVED IT SO MUCH THAT I WROTE A REVIEW ABOUT IT in which I somehow didn't swear or scream at all? I'm so impressed. I rented it on Amazon, and then IMMEDIATELY purchased it and plotted how I was going to watch it again in the next few days. I just can't with how much I loved this. I mean, I was biased going in because King Arthur, but also, I know this movie got so much hate that I really need you to go read my review in case you also hated it or weren't going to watch it because everyone else did because you're all wrong, it's fantastic.
Update: I watched this a second time, and I have not stopped listening to the soundtrack on repeat, and I started reading damn fanfiction, I AM IN LOVE.
Erin decided one day that we just had to watch The Secret of Nimh. I couldn't remember if I'd ever seen it (I definitely had), and she was determined to make sure I had, so we had a long distance movie night. It was actually a lot of fun–we both hit play at the same time and made our video chat screens these tiny little squares in the upper corners of our laptops so we could see each other, make it like we were actually together. The movie was adorable, despite the fact that it's riddled with plot holes, and it made me want to watch Thumbelina so bad.
The Gravity of Us pissed me off so much that I needed a little space therapy, so I watched First Man. I forgot how stressful that opening scene was, and just how much I loved every single moment of this. I definitely started this way too late at night, and I don't regret a single thing. If you want more of my thoughts on this, I wrote a review on it when I first saw it in theaters, and everything is pretty much the same. I still wish there was more Mike Collins.
LIFE
Um, okay, April, what the hell did I do? I started really getting into my groove with teaching yoga virtually, which was stressful af to figure out, but also a lot of fun to experiment with. I've found that my dining room works best once I shove the table out of the way, and even though that means literally everyone can hear me teaching, it's working out. I taught my first funky flow class, which I haven't since we closed our physical doors, and it was a ton of fun. I miss this class so much, which is a mash-up of dance, advanced yoga, and falling over a lot, and I really, really needed it back right now.
I've been doing a lot of yoga. Like, way more than I was before, and I teach five times a week normally, so yeah. My body is very happy.
I also made artisan garlic rosemary bread and vegan mushroom barley soup, and they were amazing together! I made rye bread for my dad's birthday, as well as a particularly delicious pizza crust.
I got a lot of books, wrote a lot, and generally tried to keep my spirits up as much as possible. The girls had their sixth birthday, too! I cannot believe that next year, they'll be out of the standard adult cat food, it's absolutely bonkers. It's been a very fast, and very weird month, but I'm keeping my chin up, quoting a lot of Sam Gamgee, and piling on books for May.
How was your April?