As usual, we're going to start this review with the tl;dr–I LOVED THIS MOVIE. It was absolutely amazing, and I'm going to prove to you why below, but I just wanted to get that out of the way so you didn't think I was about to agree with this being a flop because y'all are wrong, and if you hated this movie, you should probably go watch it again. After you read why it's a fantastic Arthurian adaptation, though.
And, if you don't know what the hell I'm talking about, here:
Arthur
I'm gonna discuss the big one right out of the gate.
I should note that I was already a Charlie Hunnam fan going in. I'm an old, old fan of Sons of Anarchy, and I'm always down to watch something with him in it. Granted, I was a bit afraid of what the hell his accent was going to be after SOA completely ruined it, but apparently, he employed a speech therapist to help him stumble his way back to his original British accent so he could play our beloved once and future king.
I'm also an old, old fan of Arthurian legend. It probably started around the age of Sword in the Stone, though who really knows. It kind of feels like Bohemian Rhapsody. Just as I was born a fully-formed Queen fan, I was also born with an undying love for our legendary king.
Does the movie drift from canon? Oh, hell yeah, quite a bit, so you've got to remember that going in. You're not going to be watching a sweet blonde boy growing up in a castle, pampered by his father and being groomed to become king. Nah, that's not who this Arthur is, and honestly? It fits so much better.
Hunnam's Arthur is an orphan. He grows up in the streets of Londinium believing he's a bastard born out of wedlock and left to die in a brothel. He has no family, so he creates one. He pieces together friends over the years, insinuates himself in the heart of his local martial arts master, and slowly starts to find his footing and create something that feels like home. He saves women from being wrongly treated, he gives shelter and safety to those in need, and he is respected not because he commands it, but because he has earned it by sweating and bleeding and crying right alongside every single other commoner around him.
This Arthur is not a prince. He's not been raised wielding a sword, with servants to help him dress, and a father to coddle him. And I'm not saying that the Arthur of legend was, but he definitely wasn't a grubby orphan running through muddy streets and learning how to fight with his fists. He definitely lived in a castle and not amongst his people.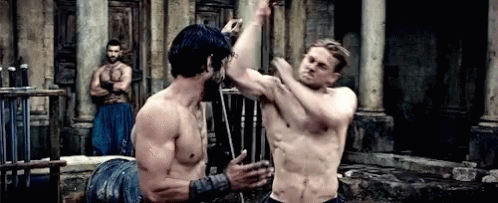 In truth, we're setup to love Arthur. We all do. I'd say about 98% coming into an Arthurian retelling are doing so because they've enjoyed another Arthurian retelling and are here for a good time. Are there academics out there who probably wanted to crawl into a hole over the inaccuracies to canon? Sure. This completely laughs in the face of canon half the time. I mean, look at him.
But also, look at him.
At the end of the day, I could honestly not care less about the fact that Merlin isn't in this movie. He's referenced a bunch, and I have some serious thoughts about the eagle that follows the mage that does make an appearance. But as much as I'm a hardcore Arthur fan, well, I'm also here for Merlin.
I'd also say about 98% of people going into an Arthurian retelling have done so because they're madly in love with BBC's Merlin, and can you blame us? Young adult Merlin and Arthur going from enemies to best friends to lovers? It's a tale as old as time, and we're here for it. Merlin is easily one of my favorite characters ever, and if my flailing review about Sword in the Stars in a few days doesn't prove that, then I'm doing something wrong.
But Merlin isn't in this movie, and I don't care?
I really, really don't. That's how good Arthur is. Admittedly, I'm always going to fall for the "doesn't want to be a king, but does it anyway because it's right" character.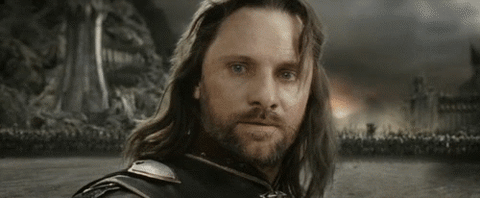 It's practically in my lifeblood. (Oh, Beowulf.) Not only is Hunnam an excellent Arthur, but Ritchie has created an Arthur that we haven't seen yet. Someone who grows up with his people so that when he must inevitably make the decision to fight evil, it's not just because it's the right thing to do. It's not just because he's the born king. It's not just because he's a Pendragon, and only he can wield Excalibur.
It's because he knows how this ends if he doesn't. He's lived that life. He's been stepped on and walked over. He's been the gum on the bottom of someone's shoe. He's been looked past and ignored. He's been the lowest of the low all his life, and when it finally comes time for him to say okay, I've got to do this, it's because of his friends. His people. His found family.
Ritchie has not only given us a different Arthur, but a relatable one. He's still a prince. That doesn't go away just because he's grown up on the streets. But he's way more down to earth in a way that makes me root for him immediately, and that's some powerful storytelling. Yes, we're setup to root for Arthur from the get-go. That's how this works. But instead of just leaning on that, Ritchie decided to take it a step further.
"So you want a king you can follow?" he said, "Great, here's someone who has lived with and cared for and wept over and protected and loved his people every day of his life."
Also, he's a bit of a punk, and we're always going to fall for that.
Lore
Alright, y'all. Get out your favorite young adult and adult high fantasy books. I'm talking City of Brass. Grishaverse. One Dark Throne. Furyborn. The Shadow Game. DOSAB. An Ember in the Ashes. There Will Come a Darkness. Pile them all up, and let me tell you about the Darklands.
Goddamn.
And this is just the icing on the cake at this point. Obviously, Ritchie's not got a lot of time. Two hours really isn't a lot in the grand scheme of things, particularly when you've got a massive story already of (1) get your audience comfortable with your brand of Arthur (2) set the stage for Arthur vs Vortigern (3) something epic with Excalibur. IE: the Darklands.
I know it doesn't sound like a lot, but when you think about it, covering those three bases + some epic fight scenes because, after all, this is an action fantasy movie, well. There's your two hours. But Ritchie is a clever writer, so it's not going to be just cut and dry. He's also a clever director, so he knows how to work the right amount of lore in.
Honestly, someone write me a 700 page high fantasy based on this movie so we can actually explore the wealth of lore that Ritchie has gifted us. Maybe I'll do it. I'm going to watch this movie 85 more times anyway, so might as well.
Seriously, though, this movie is overflowing with untapped potential. And not in a bad way. Ritchie does a great job of going: "Okay, here's this thing called the Darklands. Here's everything you need to know about it for it to make sense in the story, but done in a concise and intriguing way. There's obviously so much more beyond what I'm telling you, but I want you to focus on what I'm telling you." And we do because we have exactly the information we need to follow Arthur through this absolutely badass monster montage scene. But, as a reader of high fantasy, when I pause to scream into the void about how much I love this movie, it occurs to me that I want to know literally everything there is to know about the Darklands. It's that interesting.
Diversity
Don't get me wrong, we've come a long way from all-white Arthurian casts. BBC's Merlin took some steps. Capetta & McCarthy's Once & Future duology absolutely knocked it out of the park. And while King Arthur: Legend of the Sword is over the top and ridiculous in a lot of ways, it is unapologetically diverse.
Part of the reason I don't mind Merlin not being in this is because he's replaced with a very capable woman. Not only that, but there's not just one token POC character. There's a lot. Do the white characters outweigh the POC ones? Yes. And I'd like to think we're still moving forward in that respect, but this is one of the most diverse fantasy casts I've seen in a long damn time.
And not only is it full of people of all shapes and colors and abilities, it doesn't lean into stereotypes in the slightest. These are just characters. Maggie is not simply a willowy pawn. She's a fierce, unrepentant woman who will threaten Vortigern to his face. Bedivere is not simply muscle to move the story along and eventually die. He's an irritated, persuasive, powerful leader that helps shape the future. George is not simply a martial arts instructor. He's a stubborn, loyal man who will hold his family together through sheer force of will. And Vortigern is not simply the villain. He's also a conniving, incredibly intelligent asshole.
At the end of this movie, I love it for a lot of reasons. Slow motion fight scenes and thunder right before important moments is always going to be a win for me. Battle montages and oliphaunts are always going to work in my book. An insanely powerful sword on the level of Mjolnir and gratuitous shirtless scenes of Charlie Hunnam are going to sell me every time.
This movie is wild, there's no ignoring that. It's over the top. It's really requires some suspension of disbelief as far as canon goes. It's quite a bit silly and cheeky at times. But I'm all good with that because it tells an outstandingly compelling story about hope and family and strength. And, when all is said and done, that's what we want out of Arthurian legend. We want a story that we can cry over, that we can pledge our sword to, that we can see a bright future in.
Guy Ritchie's King Arthur: Legend of the Sword takes what it needs from Arthurian canon–hope, family, strength–and gives his own spin on that. Hope can be found in the darkest of places. Family doesn't end in blood. Strength isn't always about the sword. Yes, they're in every story ever, but this is a version of Arthur's story that I haven't seen yet, and I'm impressed.
I'll leave you with one last clip because I'm still baffled at them including David Beckham somehow? And also because you know you loved how epic this scene is, even if you're trying to pretend you don't.
And, in case you still don't believe me after all this, look, a real medievalist also enjoyed it, and echoes (albeit a lot more eloquently) quite a few of my points. See, I'm onto something. This movie is top notch.
(Okay, this post was drafted on 4/11, and I'd like to note that five days later, on 4/16, I watched this movie again. I made my dad watch it, and he liked it, so that actually means it's good since he pretty much dislikes everything I'm over the moon about, and he has good taste normally. Also, I've started reading fanfiction, so, um. Please go watch this movie right now.)