Okay, this post is definitely going to be all over the place, but it's St. Patrick's Day, so this feels like the absolute most appropriate post for today. This is kind of a top ten, but it's going to be broken up into sections, so it might just equal ten at the end or be ten per section? I have no idea, let's see what happens.
Here are my top favorite Irish/Scottish books, films, and music!
Books
Talk about starting with the hardest hitting one of them all. P.S. I Love You by Cecilia Ahern nearly killed me, and I thanked it for that after. It's one of my favorite love stories of all time, and it absolutely makes me weep. Set both in Ireland & America, it'll fulfill your Irish wishes while also taking you on a sweeping tale of loss and love.
I'm always all about learning more about the Fae, and D.J. Conway's The Ancient Art of Faery Magick is one of my favorite books on the topic. It delves into every aspect of the Fae that you could possibly imagine, but my favorite part of it might be the index at the back that lists every single type of faery. Each section on them also dives into what they like & dislike, how to honor them and get them the heck out of your house, and what to do if they're trying to pull one over on you. Or, you know, murder you, as they do.
Look, I know a lot of people have issues with James Joyce, and for good reason, but he's an excellent author when he's not being a punk (ie: I still haven't finished Ulysses), and Dubliners is my favorite work by him. I still vividly remember reading the last short story, The Dead, in high school and desperately wanting to write a paper on it. It was also one of the few times that my fellow classmates were actually passionate about what we were reading.
I love John O'Donohue more than I can express, so there are two books by him on this list, but the first one, Anam Cara: A Book of Celtic Wisdom, is one of my most beloved books. It truly changed the way I look at life and death and the earth as it correlates to both, and it's a beautiful book. It reshaped my belief system, and it's something I'm going to carry in my heart always.
Not only was O'Donohue an extraordinary Irish philosopher, he was also a poet! Conamara Blues is just the sweetest volume of poems in the world, and if you want to just sigh contently while reading about the Irish countryside, do yourself a favor and read this.
I feel like I've been talking a lot about The Call by Peadar Ó Guilín recently, and that just makes me so happy! Not only is it set in Ireland, but the backdrop is murderous faeries, which I chatted a bit about last month, and it has a disabled MC! This book is seriously the best, and the sequel is just as wonderful.
And rounding out this motley crew is the book I saved for St. Patrick's Day a few years back–Into the Dim by Janet B. Taylor. It takes place in Scotland, it's got time travel, the romance will knock you off your feet, the MC has anxiety, and it's so damn good. Why are more people not talking about this?! Please, please talk about it so we can finally have a third book.
Films
Every St. Patrick's Day, no matter what day it falls on and what time I get home, I always, always watch at least one of these films, and usually the No Tomorrow episode of How I Met Your Mother. You're going to roll your eyes at the first one, but as you'll see below in music, too, I'm from Boston, so this should be expected.
The Boondock Saints
Boondock Saints is one of the best movies ever, fight me. I can quote the entire thing at you. I'll cry at all the same parts. It was the first time I ever fell in love with Norman Reedus. I've read fanfiction for it and watched every single BTS thing I could ever find.
"On the streets of Boston," oh wow this is such a 2000 trailer, I feel like I should be apologizing. Honestly, this whole movie is questionable, but I'd like to point out that, in 1999, not only was a movie released in which one of the main characters is in an on-screen gay relationship, but he dresses up as a woman and enjoys doing so, AND we get a pair of brothers who hug, openly weep, and are super softies when it comes to each other. Hang this movie all you want, but it did a lot of amazing things, particularly at the time of its release.
Brave
Y'all, come the heck on! This movie is the best! This is everything I've ever wanted in my life. Truly. I dyed my hair bright firetruck red for eight years, and when Brave came out, I was right in the middle of that and I tried my damndest to find a way to get my hair to curl like that.
Also, this movie is just beautiful. There's no love interest. Merida is the most badass independent Disney heroine ever. And it's a story about a mother and daughter. TAKE MY MONEY.
Snatch
Oh boy, I vividly remember the trailer for this also being chaotic 2000 wonderfulness.
I was correct. This movie just nuts, too. Don't talk during any of the Brad Pitt scenes because you will 100% not be able to understand him unless you're paying attention.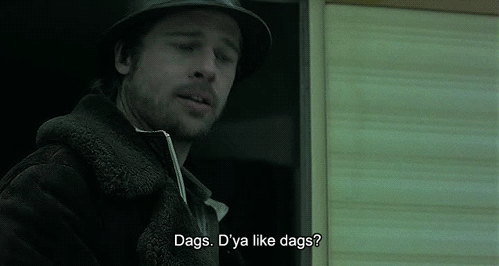 Man, don't even get me started, I'll quote this whole scene at you. This movie is gold. It's got the weirdest cast ever, and a crazy plot, and you're just kind of stumbling along like now WHAT is happening???
Waking Ned Divine
Oh, it has been truly forever since I've seen this movie! That's just a downright shame. I first watched this in college when I met one of my best friends, and who had an overwhelming plethora of recommendations when I said I wanted to watch & listen to more Irish stuff.
Ahahahahaha, I love the plot of this so much, and the drama in this trailer is amazing. This is literally just a bunch of old dudes fighting over lottery winnings, and it's incredible. Not to mention the chaotic music.
P.S. I Love You
Why yes, I am rec'ing both the book and the movie! I watched the movie first, and I thought the book couldn't possible destroy me any further, but oh, let me tell you, the book is far, far worse. But the movie. Ohhhhh.
This is probably up there with my favorite movies of all time, and I'll someday end up in Galway just so I can find that road they walked along and met on because come on.
Music
Alright, let's kick things off in my favorite section with my favorite rendition of Amazing Grace!
Seriously, is there anything better?
Julie Fowlis
You know Julie Fowlis best by her songs featured in Brave, but my absolute favorite song by her right now is:
She sings mostly in Gaelic, and a lot of her music is very similar to this. Soft, lullaby-esque, and sweet. However, she's got some pretty stellar jigs & reels on every album, and what I wouldn't give to be able to see her live. Of course, she's traveling while I'm in Scotland, damn it, but I'm going to find a way!
The Pogues
Ah yes, my favorite Irish punk rockers. Every year, I host a themed class on St. Patrick's Day, and every year, you can guarantee at least two Pogues songs, one of which is usually:
Don't even get me started on how much I love Oretown. I love how much lower and fiercer it is than a lot of their other music. And if you're scratching your head right now like wait a minute I know that voice, they also had a song in P.S. I Love You, which is 100% how I found them.
Runrig
There's so much to love about these wild, old-school Irish boys, and I've definitely given myself some kind of Pavlov reaction to:
Back when I used my phone as a clock, I switched between this and a Julie Fowlis jig as my alarm for a long time, and every time I hear it now, I feel like I should be jumping up and doing something, damn it!
Lord of the Dance
The man himself, Michael Flatley! One of my novels features a faery king, or something of a very similar ilk (they don't always call him a faery, but he's got all the aesthetics of one), and whenever I need to get in the mood for it, all I've got to do is put on this album. I wasn't able to find one with music & taps for Michael Flatley, so you can have Feet of Flames:
This is my jam, you guys, this is so fun.
Dropkick Murphys
Look, I'm from Boston, if you thought I wasn't going to talk about my boys, you've got another thing coming.
There are a ton of incredible songs I could have featured, and while my favorite way to start my themed yoga class is with Cadence to Arms because it kicks you in the ass halfway through when it switches from bagpipes to punk, Johnny, I Hardly Knew Ya is, hands down, my favorite Dropkick Murphys song.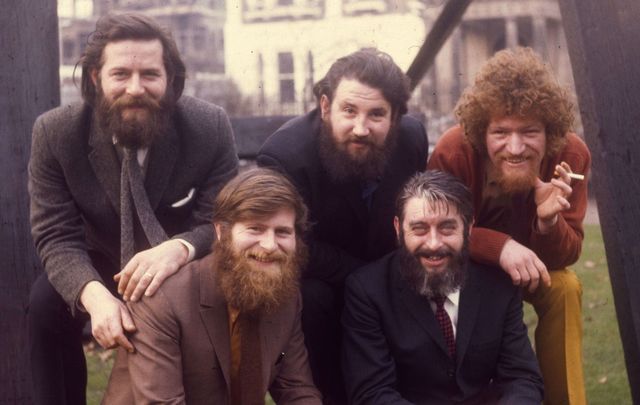 The Dubliners
And last, but certainly not least, it wouldn't be a true Irish post if we weren't talking about the OGs themselves.
I mean, duh. You aren't living if you don't pass out trying to sing this entire song in the right beat.
We'll end things with one last song, too, because I wouldn't be me if I didn't cry over Fields of Athenry today.