Today is my favorite day of the entire year. I don't know what it is, but the day after Christmas is just the absolute best to me. I always take it off, my family always has it off, and we always just lounge and do absolutely nothing. No shopping, no leaving the house, nothing. We all just pile onto the sofa, five humans, two dogs, two cats, and have a family snuggle sesh all day long, and it's just wonderful.
This year, it's even better because of lots of changes going on in my life. I wasn't going to say this publicly yet, but I quit my job, and they said I could take Monday as my last day, so cat's out of the bag now. Because they let me go earlier than planned, I now have a week and a half off instead of just a few days. My life has probably been more stressful right now than it ever has before, so I'm really happy to have that time off. It's been a chaotic, not fun, degrading, and all around bad month. There have been some really, really high highs, but the lows have been very difficult to navigate, and so I haven't really felt like celebrating those highs. I will come the new year, when all of the bad is behind me, but for right now, I'm letting a deep breath out and saying fuck it.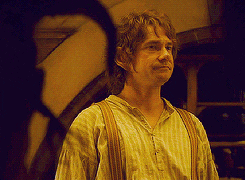 Yup, that's where I'm at.
(I try really hard not to swear on here, I do, but Tolkien for some reasons = my complete and utter disregard for professionalism.)
All that said, I've been off since Monday and until the new year, which is a grand total of nine days (oh my god I almost just literally fell off my chair with relief typing that). I have a lot of baking to do, but I also have zero plans and zero will to make any plans (if you know me IRL, sorry, but no thanks), SO. I'm going to read a lot of books. I'm going to finish writing a book. I'm going to write about eight thousand Tolkien-related posts.
Look, this is supposed to also be a secret, but I have hinted so directly on my Instagram about it that if anyone is surprised by me doing Tolkien-themed posts for the month of January, that's totally not my fault. It's his birthday, we should all be prepared for me to scream into the void obsessively. But, you still don't know what the posts are about, so ha, some secrets shall remain my own.
I am exhausted, can you tell?
ANYWAY
Here are my plans for the next week!
reading
I've got a few preorders left that I want to get to before 2019 ends (ie: any 2019 preorders leftover), as well as some other books that have just been staring me down lately, so these are all of the books I'm hoping to read in the next week:
YES I KNOW THIS CAME OUT IN SEPTEMBER, I HAVE BEEN AVOIDING IT. Five Dark Fates by Kendare Blake is the end of the series, and I am SCARED. I have legitimately said "nah" every time I tried to pick this up in the last few months, but enough's enough. I need to know.
I'd really like to go into the new year actually having accomplished my goal to read either TID or TDA, and since I haven't even started TDA, but I'm at Clockwork Princess by Cassandra Clare, I have to finish TID, guys. I just gotta. One of my 2020 goals (spoilers) is also to catch up to all currently published Shadowhunters novels, so it'd be cool to go in with only one trilogy to read.
I literally had to force myself into bed the night that I finished Amberlough, and then I IMMEDIATELY went out the next day and bought Armistice by Lara Elena Donnelly, so yeah, I'm finishing this series this year because it blew my fucking mind.
Nocturna by Maya Motayne IS SO PRETTY I'M GOING TO DIE. A surefire way to hook me with your novel is to list out character archetypes like that (a faceless thief a desperate princes a darkness unleashed A MARY IS SOLD), and combine that with Latinx inspiration and that deadass gorgeous cover, and I have been pining after this book for so long, the only thing standing in my way was other deadass gorgeous books.
The Merciful Crow by Margaret Owen is another deadass gorgeous book, and I'm here for it. Crows, hooded girls, a castle on fire–GIVE IT TO ME. I gave up on reading books in chronological order of when I bought them, so this list is a lot of books I just want to damn read and not give any hecks about anything else, which is 100% what this book is.
Sorcery of Thorns stole my soul this year, so I thought it was only appropriate to buy An Enchantment of Ravens by Margaret Rogerson as soon as I'd finished it, and now here I am, wistfully sighing at it on my shelf. It's so small, I feel like I'll whip through it, particularly because I had to pry Sorcery of Thorns out of my cold, dead hands so I wouldn't read it in one sitting.
I was supposed to read Salvaged by Madeleine Roux in October, and I did not because I'd read another two Roux books that month, and I just didn't feel like it, but it's one of my last 2019 preorders, and I feel bad when I don't read preorders right when I get them because what is the point in preordering (I know it's to help sales, but also, I should be utilizing buying something on release day), soooo.
Apparently I want to read seven books in seven days? And that's while still being in the middle of two others. Sure, whatever. I am putting absolutely no weight whatsoever on these, they're just what I've been staring at, or what I'd like to finish before the end of the year. Who knows, I may drop three of them and read something else entirely!
writing
Not only am I going to have waaaaaay less time for reading coming up, I'm also going to have way less time for writing, and my anxiety-riddled brain has told me that I need to finish writing my current novel before the end of the year. That might be literally impossible considering I have about 30-40k to write, but there's nothing quite like trying!
(chants I will not put a Yoda gif here)
Realistically, my goal is to finish this book in one week, though, so um, pray for me?
Tolkien
ahahahahaha I love that he gets his own section I FEEL SEEN
It's Tolkien's birthday on the 3rd, and he would've been 128, but he's peacefully resting in the Undying Lands, and as I've been slowly falling more and more in love with his writing over 2019, I'm dedicating the first month of 2020 to him. The world of Middle-earth honestly feels like a hot mug of tea, a snuggle from my cats, and a really stellar quilt blanket all at once, and so I want to share the love.
I've got 12 (I know) posts planned for January, three for each week, and I've written 3. Oh, why did I just admit that? That's so much more stressful seeing it written out like that, good lord. Yikes. Okay. Of those 12, four are discussion posts, and I've only written one, and it took me literally all day, so I've really got to get cracking. Another three, I actually can't quite write yet because reasons, but then there are three whole others that I totally can write, so. Before my life is turned upside down (in a good way!), I want to write out those six posts that I can write in advance. It'll just take so much stress off of me if I can have a nice clean slate going into 2020.
Alrighty, so that's my next seven days planned out. Read seven books, finish writing a book, and write six blog posts. I know it sounds like a lot, and like I'm probably going to overwhelm myself instead of relaxing like I should, but honestly? This sounds like a goddamn dream come true. I can't wait. Expect a wrap-up post about this whole week-long challenge maybe Friday after the new year? And until then, HAPPY HOLIDAYS!