Of my ambitious 10 TBR books for this month, I've already four, and I've begun a fifth, so I'd say I'm right on track considering I've read five in the first two weeks, and one of those would have been another TBR book if I didn't go off the rails for a second. I've got three of my standard TBR left, and three preorders, plus I've got to finish Unfinished Tales, which is only taking me a bit because I'm having such a good time. Definitely expect another review this week (or next, at the very latest). I've been having a jolly good time with reading, too, so let's get into it!
Mini Book Reviews
🌟🌟🌟🌟🌟
Song of the Abyss | Makiia Lucier (11/23-12/3): This may have taken me a week and a half to read, but that was not at all the book's fault. It took me a moment to fall back into this world, and I really wish I'd reread Isle of Blood and Stone again before this. Speaking of, while this is labeled as a standalone (and it is), there are some pretty big romantic spoilers for the first one in this one, so I wouldn't recommend reading them out of order. Other than that, I loved being with Reyna as the narrator, getting to see her piratical adventures, and obviously falling in love with Levi. I mean, duh, did we expect anything less from me? I sped through this once I finally had a moment to sit down with it instead of being murdered by NaNo, and it was wonderful.
Between Shades of Gray | Ruta Sepetys (12/5-12/9): This broke my heart in all the expected ways, but also in a lot of unexpected ways, and I was not prepared for that. I knew that I was going to cry going in. Duh, it's a Ruta Sepetys book, that's practically a given. I'll always adore her short chapters and incredible writing because it makes me just fly through her books. It was nice to have read this after Salt to the Sea, too, because I fear I may have been even more upset reading that had I met Joana first through this instead. This was equal parts gut- and heart-wrenching, and I can't wait to read more by her.
Amberlough | Lara Elena Donnelly (12/12-): I am a shell of my former self, and it is because of these two:
Why are more people not talking about this book? How is this not on every single rec list ever? Do you know the kind of willpower I had to employ not to immediately purchase the other two in the trilogy before I'd even gotten halfway through the first? Hi, yes, I'm in love with Cyril and Ari, and I need more of them forever, please and thanks. I DON'T KNOW WHAT TO DO WITH MYSELF RIGHT NOW. I knew this had been described as gay James Bond, but I was not prepared for how gay James Bond it was, and I am deceased. I literally almost went out at 10:30PM at night to go buy the second one after I finished the first. I'm just? What am I supposed to do with my life now?
🌟🌟🌟🌟
The Gentleman's Guide to Vice and Virtue| Mackenzi Lee (12/2-12/4): This was such a delightful little romp. It was so silly, and so full of pining and chase, and just UGH. I giggled a lot, I very much appreciated the predictable scenes, and everything about this was just so much fun. It didn't wow me, but it was a nice break from my fantasy-forward mood right now, and I really had a lovely time reading this.
🌟🌟🌟
Diamond & Dawn | Lyra Selene (12/5-12/10): "I tasted the words on my tongue–tasted the bright peaks and shadowed valleys of the memories behind him. Moments strung like jewels on a chain–a cold, handsome boy with anguish in his eyes and razors in his mouth–snow on my tongue and the chilly promise of something I hadn't known I'd wanted–the burn of bright green liquor and pain-racked condemnation." Look, the writing in this is gorgeous. It's flowery and overdone and wonderful, and it's what holds this together. I'm still as in love with the characters as I was before, and I would do just about anything to take away Sunder's pain. But the plot is so bad. It jumps and sprints off in the weirdest ways, and I spent a solid 30 pages at the end really expecting a "and then she woke up" twist to happen because what was happening made absolutely no sense. It's still predictable, which I actually like for this book, but the actual things that are happening predictably aren't great. I love that this leans hard into tropes and celebrates how great they can be. I love that Selene just unabashedly went as hard as she could with this book. But my goodness. The plot in this is awful, and it really got to me at the end. I was mostly enjoying this up until about the 300 page mark, and then I just had to drag myself through the last 70 or so pages so I could call it done. I'm honestly so conflicted about this book. Huge parts of me loved it. But that ending was awful. I don't know.
Favorite Posts
Kal @ Reader Voracious discussed ways to make your blog more accessible for National Disability Day, and it's honestly the best thing ever.
Marie @ Drizzle & Hurricane Books dropped a rec list of 28 (!!!) anticipated contemporary releases, and wow, my Goodreads is on fire.
Writing Updates?
Look, don't even start with me, but apparently, I thought it'd be fun to write 19,712 words in one week despite NaNo being over? ONE WEEK. I took the first week of December off, and then one of my writer friends, Chelsea, asked me if we could take a moment to scream about how badly we wanted writing to work out for us, and after several epically long paragraphs of said screaming, I felt inspired and dove headfirst back into sister witches. It was insane, and it gets worse.
So I've reached the part in sister witches where the end is in sight, so I have to re-plot the last act with very specific details, which, in my life, usually means I'm about to buckle down and finish my novel in a week. I don't really want to do that since I have, like, nearly 40k until the end of the book? Ugh, we'll see, pray for me.
What I've Been Watching!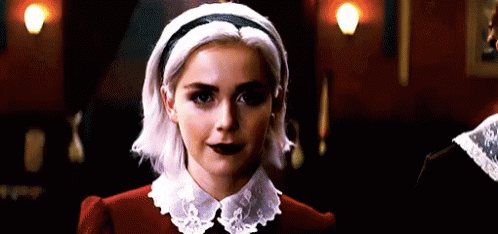 Believe it or not, I'm just now getting in on the Sabrina hype? I watched the original show, obviously, and I was excited about the Netflix reboot, but it didn't quite catch my attention when I watched the pilot forever ago, but I was feeling under the weather the first weekend of December and in the middle of writing sister witches, so I felt drawn to it, and well, I binged the first season in a week, which is more impressive when you realize I have two jobs and one day off a week, soooo.
LIFE
It's been a mostly quiet month so far. I've been focusing on reading, spent a weekend bingeing some TV because I wasn't feeling fell, and only went to one event:
The Where the Questions Live exhibit at the Peabody Essex Museum in Salem, MA is absolutely stunning. Alex & I went for a New Earth Ceremony, which was whatever, but this exhibit was right outside the room we were in, so we decided to check it out. We intended to spend some more time wandering the museum, but were so mind-blown by this exhibit that we left to get tea immediately after. Truly, this was one of the most incredible experiences of my life. The artist of the exhibit is Wes Sam Bruce, and if you live in the area or are traveling here soon, go check it out.
Other than that, I had a much-needed haircut, confirmation that my IUD is in properly, which was nowhere near as terrible as actually getting it, and we're about to embark on my second favorite holiday of all time! Erin & I are exchanging gifts on the winter solstice, which I'm very excited about, and I'll be baking this weekend for a few other gifts, and I've got a new recipe I can't wait to try out. I have a lot of posts planned for the end of the year, and a crazy announcement for January, but that's all spoilers for now.
oh I should start rewatching Doctor Who over the holidays, YOU'RE RIGHT