Happy December! It's officially colder than I normally like, but something this year is different. I've been really enjoying the quiet of a cold day. No one wants to go outside, so everywhere is sparse with people, muted almost, and I think winter is vying for a spot as my second favorite season. I'm not even mad about the potential of snow. It's taken my entire adult life, but I think I'm starting to love the winter again like I did as a child. The trees feel more inviting to me than they ever have, and I feel myself relaxing more and more every day, settling in to create.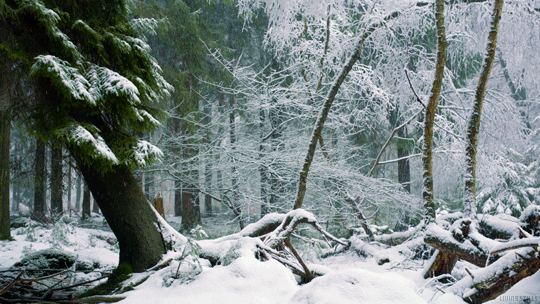 And so, I'm here today to drop some winter book recs. Whether you're looking to curl up next to the fire with something that makes you feel chilly, or that has the perfect winter backdrop, or maybe even something a little spooky, you'll find it here.
---
No one is surprised to see The Bear and the Nightingale by Katherine Arden on this list, I realize, but I haven't read the rest of the trilogy yet purely because I wanted to save it for colder weather. This takes place deep in a Russian winter where magic and fairytales come to life, where brothers battle for the heart of a witch, and where women do not bow to the men around them.
I've tried to fit The Wood by Chelsea Bobulski into a genre before, and I just can't? The summary does a poor job of preparing you for the fact that, in addition to a deadly forest that does not welcome strangers, there's also time travel and faeries. This has got all the elements of the perfect horror–cold weather, dark nights, bloodthirsty gods, and a secret buried deep.
I just reviewed Winterwood by Shea Ernshaw last month, and it's stuck with me. I couldn't get warm while reading it, and I mean that in the best way possible. I immediately wanted to go out under the moon and stand amidst the trees to howl my delight at being alive. This takes place on a mountain in the dead of winter, during a vicious snowstorm that has knocked out the power and blocked the road away from a frozen lake with mostly abandoned summer homes dotting the shore. But a few year-round houses and a boys' camp must survive a living forest that sleeps only during the fool moon, a bone moth following a young witch around and promising death, and ghostly stories over a bonfire.
The Paper Magician series by Charlie N. Holmberg is the only book on this list that doesn't explicitly take place in winter, but it's, hands down, the most adorable story in the universe, and so it's more of a cozy up by the fire and read something light and fluffy kind of wintry read. They're all only a little over 200 pages, contain the cutest Victorian London romances, and just make me sigh with delight. Plus, they've got apprentice magicians and some of the most unique magic I've ever read about.
Winterfolk by Janet Kolby was one of those books where I had no idea, going in, what it was about. This starts right on the edge of winter, when a homeless camp is starting to make the decision about migrating to warmer weather or hunkering down for the season. It follows a young girl who knows nothing about the real world, but not in a The Village kind of way. She knows it exists, but mostly has no interest in it until she's forced to step right into the heart of it.
Perhaps one of my favorite things is when one of my favorite authors gets all atmospherical in a standalone we never expected. The Near Witch by VE Schwab is that book. Told as winter winds are starting to settle in, it follows the winding tale of ancient secrets, a young boy appearing suddenly in the middle of the night, and children going missing one by one. It's chilly and spooky, and it'll leave you guessing right up until the end.
This is the winter book. I reread Shiver by Maggie Stiefvater every year around this time, and it's perfect. With an unique twist on the werewolf mythology, these werewolves only shift as the weather gets colder. The catch? Eventually, they'll stop shifting back into human form once it gets warmer and just remain a wolf forever. Most are okay with this terrible lot in life, but not Sam Roth, who wants one more day with his summer girl.
The Boneless Mercies by April Genevieve Tucholke has it all–female Beowulf retelling, snowy nights, and found family. Following a family of warriors and storytellers as they embark on a quest to help save a Viking village under attack from a monster. But first, they must weather an angry war between witches, decide if a life of death as a trade is worth living, and survive the coming winter. Plus, it's got a companion King Arthur retelling coming out next year!
Someday, I'm going to stop rec'ing Bad Call by Stephen Wallenfels, but today is not that day. It's easily one of my favorite winter reads because it has one of my favorite stories–stuck out in the wild during bad weather. When four teenagers embark on a mountain hike, they're not prepared for the monstrous snowstorm that descends upon them. And the quickly falling snow is dangerous holds more dangers than just hypothermia–it starts to play tricks on the mind, starts to unknowingly pit friend against friend, starts to dissolve all sense of reason.
---
I know this is only nine, but I literally cannot think of a tenth one! Help me out!
What are some of your favorite chilly reads?