I found this tag over on bookdragonism, and it was originally created by The Book Nut! I am a big Greek mythology fan, so this looks super fun!
---
Zeus (god of the sky) — Favorite book
You know, for a long time, I felt guilty about my answer because it wasn't a Harry Potter book, but I'm over that.
Shiver by Maggie Stiefvater is my most read book (seven times), the author I've met the most times (four), and one of my cats is named after the main character in this book (Grace), so I think it's safe to say that it's my favorite.
Poseidon (god of the sea) — A book that drowned you in feels
How many times will I talk about The City of Brass by S.A. Chakraborty this year?
AS MANY TIMES AS IT TAKES, GODDAMN IT
This book tried to kill me. It was the first book of 2019 that left me incapacitated with one of the worst book hangovers I've ever had, and I STILL find myself daydreaming about it.
Hades (god of the underworld) — Favorite dark book
You know, I paused for all of one second after thinking of The Wicker King by K. Ancrum because it's not your traditional "dark book," but it left me questioning my own sanity, so actually, I think it's a really good example. I read it in one sitting because every time I tried to put it away, it screamed at me that I was being unreasonable.
Hera (queen goddess of family and marriage) — Cutest couple
Damn me for already using Shiver for an example because holy shit Sam Roth and Grace Brisbane.
BUT if I'm not going to repeat myself, then I'd have to go with (shut up) Richard Campbell Gansey III and Blue Sargent. DON'T @ ME OKAY I CANNOT WITH THEM. Their relationship is honestly one of the first I think of when I think of something I swooned and sighed over big time. It's just so good.
Athena (goddess of wisdom and battle strategy) – Favorite intelligent heroine
Okay, so obviously, we all know what the answer is here.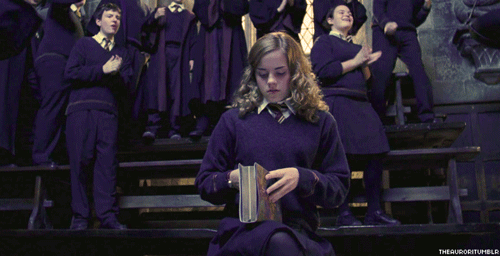 I mean, come on. She is the brightest witch of her age, after all.
Gaea (the Great Mother a.k.a Dirt Face) — Favorite world building book
BEST WORLD BUILDING YOU SAY?!
OH HI I'M BACK WITH MORE SHOUTING ABOUT STRANGE THE DREAMER
Y'all, this book and I have some history. I cover-love and title-love bought it because LOOK AT THAT THING, and then it collected dust on my shelves for who knows how long because I couldn't remember the summary, and honestly the summary is horrible, so every time I went back to figure out what it was about, I just kind of went whaaaaat and walked away. Eventually, I told myself I had to, and I struggled through about 80 pages, not really paying attention, AND THEN WHIPLASH I WAS IN LOVE.
Seriously, there was no warning. I wasn't sure if I liked it, and then suddenly realized I loved it. Can you instalove a book? Because I think I did. But, as for world building, it's, hands down, one of my absolute favorites. The world in Strange the Dreamer is unlike anything I've ever witnessed before.
Aphrodite (goddess of love and beauty) — Most gorgeous cover
This is so hard. I love covers so much. I cover-buy ALL THE TIME.
Okay. I can't pick most gorgeous cover because I've read so many books that I can't possibly remember them all, and I'm not going to look at every cover, even for this year, so I'm going with one that I bought purely by cover and without reading the summary at all until I got home because I am the worst:
But it paid off because I read Emergency Contact twice in eight months.
Ares (god of war and battle) — Most violent book you've read
I could go one or two ways with this, either a violent book that I didn't like because of the violence, or one that was super violent, but not in an awful way, and that's probably The Wicked King. I mean, Jude voluntarily poisons herself to build up to an immunity. This book is rife with violence, and while it's definitely not the most violent book I've ever read, its violence stands out to me.
Hephaestus (god of blacksmiths and flame) — Hottest book you've ever read
Oh man, hahahahahaha. It is, without a doubt, City of Heavenly Fire by Cassandra Clare because Clary and Jace spend the ENTIRE book trying to just even kiss each other, but they can't because Jace is literally full of heavenly fire and basically ignites and burns Clary anytime things get too passionate. But they keep trying!
Artemis (the virgin goddess of the hunt) — A heroine who doesn't need a man to save her
Y'ALL IT'S MY GIRL
whatever I'm using a Shadowhunters character twice in a row
I wrote a post about how much I love Clary Fray (and Alina Starkov) because I am sick to death of reading about how people think they're useless. Clary is, honestly, one of my favorite protagonists. Full stop. She is a goddamn badass, and anyone who wants to fight me on that can see themselves out.
Apollo (god of music, light, and healing) — A book that is the exception to a genre you don't like
Confession: I'm afraid of Stephen King. In general, I'm afraid of horror books. I've read, like, two horror authors and a few classics, but I'm honestly probably never going to dive deep into the genre. That said, when King's song, Joe Hill, had a book that was adapted into a movie that starred Daniel Radcliffe (wow that was a lot), I gave horror a try. Lo and behold, I quickly fell in love, though I was still nervous going into this 700 page monstrosity:
Why? Honestly, I really wasn't sure how Hill was going to handle a pregnant woman in an apocalypse as his main character. I was ready for some serious sexism in The Fireman. What I got instead was a heck ton of feminism, and it solidified me as a Hill fan for life.
Hermes (god of messages, travelers, and thieves) — A book that stole your heart
I was originally going to say Sorcerer's Stone because duh, but I used it for the next answer, so instead I'm going with another kind of stole my heart with The Paper Magician by Charlie N Holmberg. This is easily one of the most adorable series ever, and this first book just made me sigh in contentment. I throw them at everyone possible because they're quick and light and wonderful, and they remind me to be joyful about the little things and the big things all at once.
Hestia (goddess of hearth and home) — A book you go back to for comfort
So I wrote this 5000+ word review on why Sorcerer's Stone is my favorite Harry Potter book and why it works as well it does, and honestly, all of those reasons are also why I keep coming back to this story. Whenever I'm feeling any emotion on the spectrum, I turn to Harry.
Demeter (goddess of agriculture and fertility) — Favorite book setting
Hogwarts will always be there to welcome you home.
Nemesis (goddess of revenge) — Favorite revenge story
Oooh, this is a tricky one. Can I say The Queen of Nothing by Holly Black even though it's not out yet? Because I can guarantee Jude's revenge is going to be hellish in that.
Okay, no, a book I've already read, hm.
Actually, this is easy.
The plot of The Silmarillion is literally that the silmarils, these beautiful Elven jewels, are stolen, and one of the three main Elven brothers vows to fight literally everyone until he gets the silmarils back, and when he dies on that quest, all of his sons take up the vow, and it just continues in a cycle of doom and gloom and lots of death as basically revenge piled upon revenge, and it's fantastic.
---
If you feel called to do this, consider yourself tagged!