IT'S MARCH! YOU KNOW WHAT THAT MEANS!
It's my birthday!
Halfway through the month, I accidentally blacked out in Barnes & Noble and bought eight new books. I swear, I didn't mean to. Thankfully, most of them were sequels that were already in my cart. I only got one book for my birthday, too, so my TBR isn't doing too bad. It's been a pretty fun weekend so far. I went to my favorite yoga class with my favorite yoga teacher on Friday, and then it was off for some unfortunate errands. I thought having to go to City Hall to get a long birth certificate, then to the RMV to get a Real ID, and finally to the post office to apply for a passport would be horrible, but each errand took less than 20 minutes each and everyone was super efficient and nice, so we ended up stopping at Jolie since we had so much time. We went to A&B Burgers in Beverly (MA, so if you're local, definitely check this place out, it's amazing), which was a ton of fun and the first time in exactly one year that I've had ice cream. (Until next year, ice cream, I didn't miss you!)
Yesterday (Saturday), I taught both my classes in the morning, then had high tea at Jolie, spent a few hours reading Michelle Obama's biography, and then went to an evening performance of Boston Ballet's Coppélia at the Boston Opera House. Today, I'm spending most of the day on the couch with my girls reading, but tonight, I get to sit on the floor at the Garden for Fleetwood Mac with my oldest and dearest friend. I have Monday off, and then only a three-day work week because Erin arrives on Friday, and we'll be driving to NY on Saturday to see Lion King on Broadway, which I am beside myself excited about. I'm hoping to post a review for the show after the weekend, so keep an eye out for that!
Alright, enough of this, onto the books!
---
What: The Last Life of Prince Alastor by Alexandra Bracken
When: 2/27-3/4
Rating: ★★★★
Review: Alright, let's get a jumpstart on my preorders! This was adorable. I definitely liked the first one better, but I still really enjoyed this, and I found myself doing the whole "just one more chapter" a lot. This took place almost entirely in the Downstairs, which was pretty neat to see, and we got a lot of glimpses of Alastor and Honor Redding's friendship in the very beginning. It picks up exactly where the last one left off, with Prosper jumping through a Portal with Alastor to save his sister, Prudence.
I simply adored Prosper and Alastor's relationship, and I was so happy to see how it developed and ended up. Because seriously, that last chapter was so cute. Most of this is just that: cute. Though, there are also definitely some scary bits and some gross ones, like most of the descriptions of the other creatures in Downstairs. Overall, this was a fun, easy read, and definitely a satisfactory conclusion to the story.
What: Ulysses by James Joyce
When: 3/1-TBD
Rating: TBD
Review: The best way to tackle this, it seemed, was to start as early as possible and give myself as much time as possible to chug through it. Admittedly, I didn't get quite as far as I originally hoped, and while this post is usually my wrap-up review of books I've read, I wanted to include this on it even though I'm DNFing for now. I made it 300 pages in, which is almost dead center, and I just can't, guys. This book is a lot, and it's not always easy to read, though I did read a fair amount of it before deciding to call it quits. I intend to pick it back up someday, hopefully later this year, but for now, it's just weighing on me every single day like books I had to read in school used to, so check back in the months to come, and we'll see what happens.
What: In a Perfect World by Trish Doller
When: 3/1-3/3
Rating: ★★★★★
Review: Do not judge a book by its cover or summary, apparently, my friends. Because this is not just a fluffy romance in the summer. This is a political discussion, a story about family, and the power of faith. When Caroline is forced to spend her summer and last year of school in Egypt, she thinks it's going to be a disaster. Even when she meets Adam, a boy her age whose father drives the Kelly family around, Caroline is desperate to return home.
This is incredible. I went into this fully expecting Caroline and Adam to fall for each other, but to also discuss how women are treated in Egypt, the state of the political climate, and what it's like for a Muslim boy to date a Catholic girl? What. This book has so much packed into it, and it deals with all of those topics in a very real, honest way. It's also very well written, and the romance is so sweet. There is nothing I didn't like about this book. It's right up there in my top favorite YA romances.
What: First Man: The Life of Neil A. Armstrong by James R. Hansen
When: 3/4-3/24
Rating: ★★★★
Review: Can you tell by the TWENTY days it took me to read this that I could not convince myself to finish it? And I mean that in the best possible way because I just didn't want to leave Neil behind. Every chapter I read brought me closer to the end of his story, and I didn't want it. I wanted to live in Neil's world for as long as possible, so I spent almost all month reading bits and pieces of this. And honestly, I think this was even better because of that. I got to live with Neil for about three weeks, and it was delightful. He is delightful. If you're a space fan or want to learn more about the Apollo astronauts, this is a damn good read.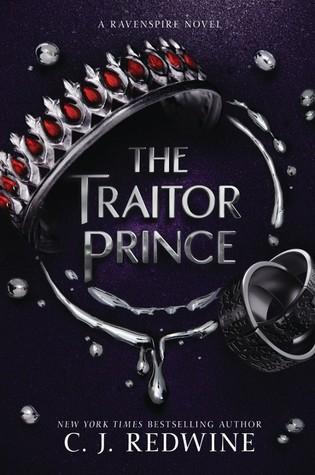 What: The Traitor Prince by CJ Redwine
When: 3/5-3/7
Rating: ★★★★★
Review: My review for The Shadow Queen and The Wish Granter are linked. I am determined to get through my whole monthly TBR this time, so starting early and back with another retelling! So I'm a strange little being, and I don't often reread summaries before I delve into books to remind me what they're about? When I picked this up, I was wanting to step away from the desert scene for a little because I'd just had a lot of it, and well, this is an Arabian folklore retelling, so apparently I was destined for the desert a little longer. Annnnnd a little longer below.
This follows Javan, the true prince of Akram. He's spent the last ten years at a boarding school, and so, when an imposter takes his place, no one is the wiser since no one in court has seen him since he was seven. What follows is a whirlwind adventure, in which Javan is imprisoned and forced to participate in a gruesome, cruel tournament just for the hope of an audience with his father, the king, if he wins. The king is the only one who might recognize Javan, and thus, Javan's initial goal is to do nothing but survive through the tournament. But every great future king must be knocked down a few pegs first and understand the kingdom he rules.
Man, this is good. I loved this one probably as much as I loved the first one. The dragons in this were the bad guys this time around, but my love for Javan outweighed my sadness about that. And Sajda! She was so much more than I first expected, and it was awesome. She was such a badass at the end. Like, holy moly. And that ending! Ugh, I'm so happy, and I can't wait to see them pop up in one of the next books.
What: The Steel Prince, Vol. 1 by VE Schwab & Andrea Olimpieri
When: 3/6
Rating: ★★★
Review: Preorder number two! I should honestly be reading this later in the month after I've wrapped up my other preorders, but can you really blame me? Alright, don't get mad at me. I've got reasons for why this got three stars. First, this is a sort of prequel to the Shades of Magic trilogy, which I adored. It tells the story of Maxim before he's king of Red London.
First: the art. I'm a huge fan of Locke & Key and The Dark Crystal universe, both of which use a lot of detail in their artwork. Clear facial expressions, really vivid images of the characters, incredibly detailed backgrounds–all of it. This did not. A lot of the time, I wasn't sure what Maxim or Isra's face even looked like. The most detail this got was in one of the alternate covers, which wasn't by the graphic novel's artist, and that was of Maxim's Red London uniform. It was a bummer to not really be able to see the world or its characters.
Second: the pacing. So we all know that one of Maxim's greatest adventures is his defeat of the Pirate Queen. I really thought that we'd meet her in this, and that they might even battle each other, but that he would defeat her in this one? Really? We're going to do that in the first volume? Like, what the hell else is there after that? It just felt so fast. We really weren't given a lot of time to sit with Maxim, and while I get that this is a graphic novel, so things do happen quicker, we also know that this is going to be a series, that it already is, really, and I've read a few graphic novel series that take time to delve into the big plot points.
I'm not saying I hated this. I'm happy to see Maxim, and I'll read the next volume, but I thought this could have been a lot better.
What: Vampires: The Myths, Legends, & Lores by Aubrey Sherman
When: 3/7-3/11
Rating: ★★★
Review: Ugh, this dragged toward the end. This is not the first in this series that I've read (I think I've also read the faeries and dragons one?), but I think it'll be the last. The first half of them is usually pretty good, delving into the origins, looking at where the mythical creature appears in different cultures, and taking about their traits. And then, for some reason, the second half just repeats itself? Like, honestly, it was talking about vampire hunters, and it would retell all of the previous stories, but from the hunter's POV, basically, so that we could see how the vampire was defeated. Like, my dude, we already did this. I skimmed a lot of the ending, and I wasn't all that impressed overall.
What: City of Lost Souls by Cassandra Clare
When: 3/10-3/14
Rating: ★★★★
Review: I totally intended to read this in two or three days, but something wonderful happened that I'll talk about at the end. Also, this was the first one in the series that I remembered pretty vividly? As I've talked about before, I read the first five in about a month, like, a million years ago, and while I've been rereading, I haven't really remembered anything past the big plot points, but this one, pretty much all of it has been familiar. Also, in case you're curious, here are my reviews for the previous books in the series: City of Bones, City of Ash, City of Glass, City of Fallen Angels. My plan is to finish up the last one as soon as possible and then either start The Infernal Devices trilogy or the two spin-off books I got for Christmas 2017 and still haven't read.
I'm kind of meh about this book. There's so much romance in it, and like, a lot of the times it's totally not necessary. I don't need to see literally every time Jordan and Maia have sex, I'm all set. This probably could have been a solid 100 pages shorter if you just got rid of most of it. I do really enjoy the plot, though, and Clary continues to remain one of my favorite characters (which I know is an unpopular opinion, I don't care, I also love Alina Starkov). This also does feel like a lot of build-up for a battle that doesn't happen until the following book. Like, most of this is just filler, and since we're at book five of six, it's kind of a little late for being mostly filler. I gave this 5 stars the first time around, but am dropping down to 4 this time.
What: The Power of the Dark Crystal, Vol. 2 by Jim Henson
When: 3/14-3/15
Rating: ★★★★★
Review: UM TALK ABOUT A CLIFFHANGER? I may have to read the next one this month because I have to find out what happens. This continues to follow the journey of Kensho and Thurma as they try to decide what's right–saving the surface of Thra, and all that live on it, with the crystal shard or saving Thurma's dying race of Firelings, who live at the heart of Thra. The first one, I felt, was very similar to the movie, plot-wise, but this one definitely took some turns I was not expecting, and it was excellent. The artwork is absolutely gorgeous, and I am so sad that it's almost over.
What: City of Islands by Kali Wallace
When: 3/15-3/18
Rating: ★★★★★
Review: This was SO GOOD. It followed Mara, an orphan, who works for a powerful mage diving into the ocean to find cool things for the mage's collection. While following a lead about some spooky bones, Mara tries to use a bit of magic to find the bones. Magic in the City of Islands is done through song, and so Mara sings an old fishing song her mother used to sing to her that has always been a comfort. Expecting nothing, Mara is rightfully shocked when the ocean sings back. Even wilder is that the bones she finds are not just ordinary bones–they're the bones of strange, hybrid animals that haven't been seen since the time of the founders.
Gosh, the lore in this is just so well done and so lovely. So much of it was fresh, too! There was never a moment where I kind of nodded, like yeah that makes sense, I've seen this bit of lore at work in other stories before. No! All of it was new and fun and exciting. The writing was really excellent, too, which I did know would be the case going in (I've read two of Wallace's YAs), but it was so lovely to witness. I adored every single character, from Mara as the MC to all of the well-developed (and diverse!) side characters. Everything about this was fantastic, and it's definitely gone into my favorite middle grades.
What: Geekerella by Ashley Poston
When: 3/15-3/17
Rating: ★★★★★
Review: This reminded me a lot of Fangirl by Rainbow Rowell, and by that, I mean that I felt that overwhelming sense of inclusion and welcome and rightness that I often feel in fandom. This is a Cinderella retelling, but for the geeks (as the title suggests, duh). Which, though I knew it was Cinderella, I still found myself absolutely furious with the stepmother and stepsister. Like, I wanted to go into the book and curb stomp them, I was so mad. You know the plot of Cinderella, so I won't rehash it, but add in a nerd convention, a Star Trek-inspired space show, and some serious fangirl/fanboy moments, and you've got Geekerella.
No one is surprised I loved this. It's right up my alley. And honestly, the writing was only average (plus, the amount of copy edit mistakes I found was kind of startling), so it's really the story and the characters that gave this five stars. It was such a breeze to read, and it was so adorable, so if you're looking for a little fluff that will also make you weep, here you go.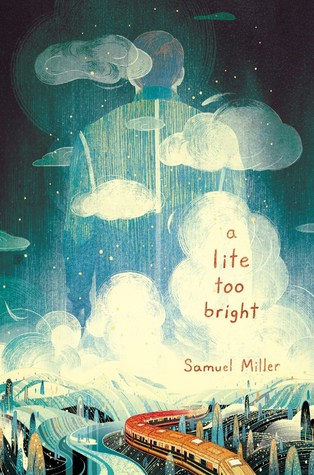 What: A Lite Too Bright by Samuel Miller
When: 3/20-3/22
Rating: ★★★★
Review: This is easily one of the most pretentious books I've read with the most pretentious main character ever, but I still loved it. It was engaging, the plot kept me guessing, and I liked being able to hang out with a writer for a few days. It's been a while since I read a book about a writer, and they're always familiar and fun. Still, this was pretty white guy wearing a fedora reads Jack Kerouac and thinks he's got the next Great American Novel in his soul. It was good. Flat, predictable, a good time. As long as you don't pay too close attention to the main character because he will definitely make you want to revolt.
This follows Arthur on a quest to find answers about his elusive grandfather, famous author Arthur Louis Pullman. His grandfather was a big fan of the Amtrak, so Arthur (the Third) sets out on an adventure led by what he thinks are clues left by his grandfather for him.
What: A Torch Against the Night by Sabaa Tahir
When: 3/20-3/27
Rating: ★★★★
Review: Man, this was good. I meant to read this last month and then let it fall by the wayside, which almost happened again this month, and now, I am itching to finish out this trilogy. This picks up literally right where Ember left off, and before I forget, here is my review for An Ember in the Ashes. Laia and Elias are in the tunnels below Blackcliff, fleeing from the Empire. Their flight takes them through the desert, into the Tribal Lands, and eventually, to the deadly Kauf, the high security prison where Laia's brother is being held (and tortured). Meanwhile, Helene is given an ultimatum by the new Emperor–either hunt and kill Elias or watch her family die.
Guys, do you remember in my review for the first book, where I was mad that there was a romance between Elias/Laia because I liked Keenan so much? I'm so upset. Like, come on. Not the redhead. Let me have just one redhead. Otherwise, though, I loved this so much. I definitely started slow with it, but then once I got back in the groove, I just flew through it. I adore Laia so much, and I really, really loved her story in this one, how much fuller she became as a person. I talk about this a lot more in my wrap-up for the Women's History Month reading challenge, which I've linked there. There were some parts that I was a little meh about, mostly with Elias and the Soul Catcher. All of that felt very superficial and not developed and sudden. I guess, with the efrits and whatever the other creature was, we were being subtly prepared for jinn, but it just came on so fast and then was never really discussed between anyone. It was just accepted. I feel like that happens a lot in these stories–we're dropped into this foreign world with all of these new terms and lore, and not a whole lot of it is actually given exposition time. Not to the point where it's confusing, just kind of leaves me feeling like alright I guess that's a thing. But! Don't let that dissuade you! These are still really excellent, and I am excited to be reading about another jinn.
What: Bloom by Kevin Panetta & Savanna Ganucheau
When: 3/24-3/25
Rating: ★★★★
Review: Okay, real talk, I actually didn't like this as much as I thought I was going to, and I'm pretty bummed about that. A lot of the characters in this rubbed me the wrong way, and the first kiss between Ari and Hector was so random and sudden. Like, I was expecting it, but the way it happened was very strange. The panels leading up to it did not feel at all like I was going to turn the page and boom, normally my favorite thing, boys kissing.
The artwork in this is fantastic. I still really, really enjoyed the story, and I would definitely recommend it. I think I just went into this expecting, like, a small beach town American version of Heartstopper, and it did not live up to those very high expectations. Still good, but it didn't make me flail quite as much as I wanted to. Or, really, at all.
What: Becoming by Michelle Obama
When: 3/25-3/31
Rating: ★★★★★
Review: No one is surprised that I absolutely adored this. My entire family has a serious crush on the Obamas, and I will slowly convince all of them to read this. The writing in this was so easy and familiar, Michelle's voice is hilarious, and I truly enjoyed getting to know her story. I heard so many of my own struggles as a woman in her story, as well as so many that I will never be able to truly understand because I'm white, and this book is so important for both of those reasons. Not only that, but she's let the curtain drop. She doesn't care about the "optics". She's here to tell a story, and to tell it true. I appreciated the honesty in this so much, and I am so grateful that she blessed us with her story.
---
My goodness, what a whirlwind month! The yoga studio that I work at had their fifth anniversary this month, it was my birthday, and I taught the spring equinox, so I have had literally something scheduled every single weekend. And April is starting off the same way because my best friend arrives this Friday! Which, uh, may mean some more book buying, so thank heck I read so much! Which, honestly, was a struggle because YOU GUYS! I STARTED WRITING AGAIN! I've been in a massive slump for the first two months of this year, and I don't know what changed, but I started churning out upwards of 10k a day suddenly, and it doesn't look like I'm stopping. Thus, my reading did suffer a little until I started taking specific time for both writing and reading.
Okay, let's look at some numbers.
Out of 6 preorders, I read 2. Wow, that's dismal. Out of my monthly TBR 5, I read 4. And for my additional goals, I smashed one and a half of them. I won't rehash Ulysses here, but it took some convincing to finally DNF it. But I did reread City of Lost Souls, and I am one book closer to finishing my reread of this series.
It was an okay month, and I've got a lot of catching up to do. In light of that, here's what I'm thinking for my April TBR:
Passenger by Alexandra Bracken
Nine by Zach Hines
Daughter of the Burning City by Amanda Foody
Carry On by Rainbow Rowell
The Extremely Inconvenient Adventures of Bronte Mettlestone by Jaclyn Moriarty
This will bring me up to October in my 2018 books, which is pretty exciting. My classic read for the month is going to be the entire Divine Comedy. I've only read Inferno, so I will be rereading that and tacking on the other two. Inferno will not count as my reread goal since I didn't have any particular designs on rereading it. Instead, I'm finally rounding out my TMI reread with City of Heavenly Fire. Which hopefully means that I will cross off the last of my 2017 books very soon. I have, blessedly, only two preorders for the month of April (Wicked Saints by Emily A. Duncan & King of Fools by Amanda Foody), so my goal is to just smash these 2018 books out of the park, catch up on all of my preorders, and hopefully read some sequels.
How was your March? Do you have any reading goals for April?