Hello, Earthlings! If you haven't caught on yet, I am major space nerd. Like, MAJOR. I wrote a post about my love for space last year. I took a picture of every space book I owned (I should do this again, it's definitely grown in the last six months), and talked about each book in the list. I love space so much. More than I can possibly describe to you. Wait, I have an idea.
hi yes I have an Apollo astronaut tattoo WHAT'S GOOD
So when I saw Shanah @ Bionic Book Worm do a Top 5 Books Set in Space, I knew I had to participate, so here are my Top 5fiction! Check back at a later date for Top 5 nonfiction since, yes, I can already think of all five.
---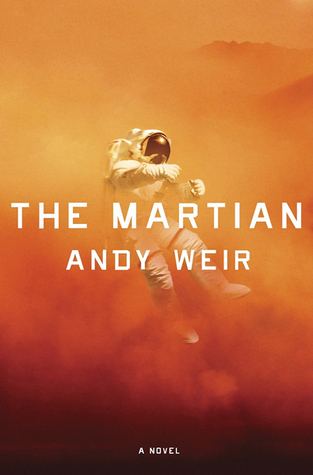 I mean, duh. The Martian by Andy Weir is where my space reading all started. This is easily one of the funniest books I've ever read. Like, if you thought Matt Damon was funny in the movie, just wait. And if you have no idea what this is, this book is about an astronaut who gets stranded on Mars and has to figure out how to survive (aka science the shit out of this) while waiting for his crew to figure out how to return to Mars to basically pick him up. It's dramatic, you'll gasp, laugh, and cry all at once, it's hilarious, and it's damn good.
Starflight by Melissa Landers was one of the first YA space books I read, and which quickly launched me into a buy every single space YA book ever if you see it in real life thing that happened while out bookshopping. Seriously, if I'm in a bookstore and I see a YA book that is even remotely space-related, it goes in my cart. I definitely loved Starflight more than I did Starfall, though both each have their merits. Starflight is more space pirates and heist-y and wild, though, and it's just so good. It follows Solara (what a name) as she wrangles her way onto a ship in the hope of starting a new life, which very quickly turns into an adventure she never saw coming. Also, again, SPACE PIRATES!
Empress of a Thousand Skies by Rhoda Belleza is amazing. It's diverse, it's political, and it's got planet-hopping. When an assassination to kill off the royal family goes wrong and Rhee survives, she has to flee her home planet and take refuge on a nearby moon, where she spends the next several years trying to find out who murdered her family and training to seek vengeance. At the same time, the government decides to pin an attempt on Rhee's life on an unsuspecting boy just trying to survive as a war refugee, and all hell breaks loose. In space. Much like the above duology, I liked this one better than the second one, but both are still fantastic, and they'll definitely get you riled up.
See You in the Cosmos by Jack Cheng is the sweetest thing ever, and in one of my reviews for it, I said that I related to the main character, Alex, more than most adult characters ever. Alex is obsessed with space, has a dog he named Carl Sagan, and is determined to launch a rocket at an annual rocket/space convention that I can't remember the name of. While this takes place firmly on Earth, Alex's whole life revolves around space, and he'll bring out your inner geek in full force.
Mirage by Somaiya Daud is the first in a trilogy, and I am anxiously awaiting the release of the sequel. Another diverse, politically-charged book that has lots of planet-hopping, this space adventure is about Amani, a girl from a small village with her head stuck firmly in the clouds who is kidnapped because her features are almost identical to the crowned princess, Maram. Amani is given two options: act as Maram's body double or watch her family die painfully. This has got romance, GIRL FRIENDSHIPS, class politics, so many planets and moons, assassination attempts, and something definitely hidden beneath the surface. It's fantastic, and it was such a fun read.
And one little bonus because I couldn't help myself!
Good Morning, Midnight by Lily Brooks-Dalton is a story told in two voices–Augustine, trapped in an Arctic research center at the end of the world; and Mission Specialist Sullivan, trapped aboard a ship returning from a mission to Jupiter. This is, amid all of my beloved fictional space books, one of the most realistic. The best part about it is that you never quite find out how the world ended because Augustine doesn't care and Sully is in the middle of nowhere space. And even though both stories intermingle toward the end, I was so happy with each of them individually. This is such a soft, slow little book about very big, loud things.
---
And that's space! There are a few more that I wanted to add to this list, but as I was gearing up to write this, I realized I had read less than 10 fictional space books that I would want to include on this list and what oh my god this is terrible. Therefore, I'm going to dive into the YA space books that are on my physical TBR very soon in order to remedy this, and if you have any other awesome fictional space books, send them my way. And thank you to Shanah for this fantastic prompt!