I'm participating in two reading challenges this year! The first is, obviously, my Goodreads challenge, which has been officially bumped up to 125 books. I also discovered the Beat the Backlist challenge, which coincides with one of my 2019 reading goals to read everything that I purchased in 2018. How many books does that mean? It isn't actually 60+ because there are a handful of 2019 releases on that list, but this will be a nice way to keep track of my 2018 purchases. And yes, I did purchase over 100 books in 2018, and I have a little over 60 leftover. I'm the worst, I'm aware.
But January started off with a bang! I got a lot of reading done, and it's looking like it's going to be a good reading year.
---
What: Jim Henson's The Dark Crystal: Creation Myths, Volume 3 by Brian Froud, Matthew Dow Smith, Alan Sheikman
When: 1/1-1/2
Rating: ★★★★★
Review: I'm both really sad that I've reached the end of the Creation Myths, but also super excited because that meant I got to rewatch The Dark Crystal movie! And, uh–well. That's a, uh–well, it sure is a movie. I definitely do not remember it being that weird, and I also definitely didn't remember a lot of it. That whole bit where they fuse back together at the end? That's in the first of the Creation Myths, and I totally thought that was a comic book thing, not a movie thing. It was still great, though, and I'm still super excited to keep exploring the world.
This was such a nice end to the trilogy, and I was actually really surprised by the plot twist at the end! I totally did not see that coming, and I enjoyed it a lot. As always, the artwork was simply incredible, and I'm just astounded at how well Brian Froud has brought the world of Thra back to life again. He has true talent.
What: The Holy Wild: A Heathen Bible for the Untamed Woman by Danielle Dulsky
When: 1/1-1/7
Rating: ★★★★★
Review: This is easily one of the best books I've ever read. I intended to write a separate (and longer) review for this, but that never happened, so you'll just have to deal with me flailing a little here. If you're curious about my reaction as I was reading, I have a highlight up on my Instagram page that are my genuine reactions while I was currently reading it. This is probably one of the few witch books I would actually recommend to non-witch friends because it's more about female empowerment than it is anything else. Actually–I think the best way to explain this book is to just gift you the opening paragraphs:
In the beginning, there was She.

She was nature's primordial pulse, the pan-elemental alchemy of birth; the fertile void of death; and the mysterious, enduring, and numinous cosmic infinite. All was She, and She was all. Her power pervaded the totality of existence and veiled all potential worlds in the name of holy manifestation. Her steady, purposeful rhythm pounded on, in, and through the stellar fusions, the planet building, and the great galactic swell. The universal dawn was a quantum prayer to Her, and SHe was dancing for us long before humanity's blessed inception, long before the glow of the primal feminine was eclipsed by modernity.

While the rhythm of Her hallowed drum has slowed and quieted to a barely audible, near-whisper beat, while humanity's spiritual landscape has been overbuilt and hums with man-made hymns, She can never be silenced. She is our elemental nature, the stuff of our souls, and we are She embodied. Every one of us could hear Her if we only listened, for She has sought safe harbor in our very marrow. She lives in us, and with Her genesis came our mandate to wholly and emphatically embody Her in the wake of the feminine's historical denigration. If we only put our ears to the ground, we would hear the promised pulse of Her return not as She descends from gold-and-diamond heaven but as She claws Her way up so ceremoniously through rock and stone, destined to erupt from beneath the very structures built to keep Her contained.
Yeah. This is a Book. It's unlike anything I've ever read before, and I'm still thinking about it in great detail long after I finished it. I ended up taking a full week to read it because I would get so overwhelmed by just half of one of the elemental chapters and had to take a hot minute to sit with what was rising. This is an important book for women. It takes the original feminine sins (think Lilith, Mother of Babylon, Mary Magdalene, etc.) and transforms them, telling the story from the woman's perspective. There are some chapters of rituals and magic in here, but even those are like an ode to powerful women. If you want to feel inspired or like you matter, this book is for you.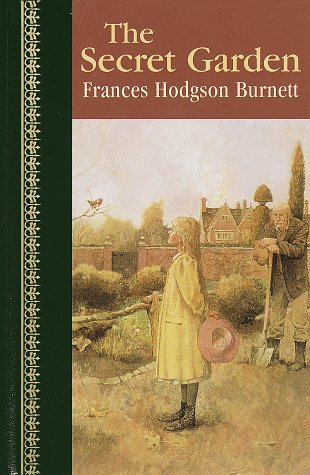 What: The Secret Garden by Frances Hodgson Burnett
When: 1/1-1/10
Rating: ★★★★★
Review: I have challenged myself to read at least one classic every month this year. I have a bunch of classics on my shelves that I bought when I was being pretentious and then never read, which is, honestly, even worse. Thus, I've decided to make a dent in them by reading one a month, and we begin with one of my favorite stories! Originally, I'd thought that I read this previously, but reading it now leads me to believe I definitely never did. I think my mom just rented the movie from the library, which I also rewatched recently and absolutely adored. This was truly such a perfect way to start off this challenge. I enjoyed this immensely, and it's left me excited for the classics to come.
The Secret Garden follows Mary, a small, sour girl who lives in India until her parents are killed and she's shipped off to England to live with an uncle who's away most of the time and doesn't care for her when he's around. Angry at the world, Mary leaves the manor to wander through the gardens and stumbles upon a secret garden that has been locked up for ten years. Combined with the forces of her animal charmer friend, Dickon, and her frail cousin, Colin, Mary learns to love, laugh, and live through the power of growing things.
What: Under Wildwood by Colin Meloy
When: 1/2-1/21
Rating: ★★★★
Review: My review for Wildwood, the first in the trilogy, can be found here. I don't know why this took me nearly all month to read. I really did enjoy it, but man almost 600 pages in a middle grade was a little draining. I thought about reading another ASOUE book this month, too, but nah, not after this. Under Wildwood is the second in the Wildwood Chronicles, and it's somehow more adorable than the first one. This picks up right where we left off–Curtis is in bandit training in Wildwood, and Prue is back in Portland trying to figure out how to live a normal life. Unfortunately, there are some new characters mucking things up, and it's down to the two kids, an army of moles, a bear with hooks for hands, and a talking tree to solve their latest mystery.
Oh my gosh, I love this series. It's truly one of the cutest books I've ever read, and when those moles armored in bottle caps and needles for swords came in, I just about fell over. I'm definitely going to read the finale in this trilogy, and I would recommend it to anyone just looking for a good, fun time.
What: Frankie by Shivaun Plozza
When: 1/3-1/7
Rating: ★★★★★
Review: Okay, take Emergency Contact, but set it in Australia and give it criminals, and there you go, Frankie. This was delightful! It was the exact kind of mood I was in, and it was so well written. It's how I imagine I would write a YA teen drama/romance with a sprinkle of felony and lots of profanity. Frankie is the story of Francesca Vega, who is cursed merely by her last name. Vega's always screw up, and Frankie is no exception. When her half-brother shows up out of nowhere, it's after thirteen years thinking she was an only child abandoned by her mother in a petting zoo and sent to live with her aunt, and now, the whole world is tipping upside down.
Man, this was good. I'm such a character writer, so I was really, really pleased with these characters. Each one was so unique, even down to Mark, and I appreciated how they each influenced the story in their own ways. Frankie was a wonderful narrator to hang out with, too, and I just loved this so much. The writing was fantastic, and so real. It felt very modern and like how a lot of excellent fanfiction is written these days, and that made it very, very relatable. It was a quick read, though it took me a few days, and I immediately wanted to go out and read more by Plozza when I was done.
What: Heartstopper, Vol. 1 by Alice Oseman
When: 1/5-1/8
Rating: ★★★★★
Review: UGH MY HEART. I just preordered the physical copy of this book the other day, and I was originally not going to put this on here because it was just a webcomic I was reading in between books, but I read the entire webcomic, and I love it so much, and it deserves to be on here because it is exactly the kind of YA LGBTQ+ teen romance I have been looking for FOREVER. It's mushy, it's gushy, it's beautiful, and I just adore both Charlie and Nick so much, both together and separately.
Heartstopper follows Charlie, outed before he was ready but coming to accept himself, who accidentally falls in love with his straight (or is he?) best friend, Nick. And it just gets better from there.
What: Rhett & Link's Book of Mythicality: A Field Guide to Curiosity, Creativity, and Tomfoolery by Rhett McLaughlin & Link Neal
When: 1/7-1/10
Rating: ★★★★★
Review: First things first, who are Rhett and Link?
Okay, seriously, if you didn't just fall down a rabbit hole and watch several more of their videos, I don't know what to tell you. I'm so addicted to GMM, it's the best. One of my best friends, Erin, originally started showing me them in college, and while I definitely thought they were funny, I would only ever watch it if she showed me. Once we graduated, I'd watched one here or there, but it wasn't until a few months ago that I clicked on one in particular, who knows which one, and I lost, like, at least an hour, maybe two. I've watched a lot of GMM since then, and I've been making it part of my daily routine lately, so I figured it was high time I finally read this.
It was so funny! I'd definitely only recommend this if you're a fan of GMM because a lot of it is inspired by a lot of what they do on the show. But maybe you just watched that video, and now you're a fan, so now you're ready to buy this book. There are tons of fun pictures of them, whether it's behind the scenes or just being so incredibly dumb. There are a ton of stories that are told on GMM explained in more detail in the book. There are activities you can do with your best friend and some of the most hilarious full page spreads ever. This was just an all around fun read, and if you're looking for a laugh that goes beyond GMMore, you've stumbled across it.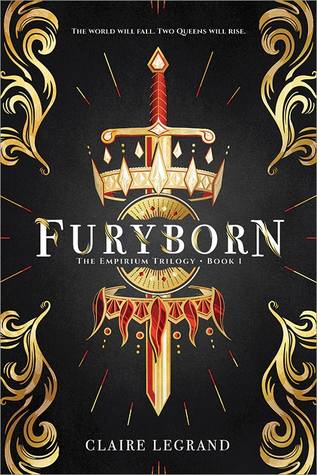 What: Furyborn by Claire Legrand
When: 1/8-1/11
Rating: ★★★★
Review: This reminded me A LOT of Daughter of Smoke and Bone, but if you took out how badass Karou is and put a couple of really derogatory sentences in there that will definitely stick with you for a week or more after. It reminded me of DOSAB because of the angels and war with demons/non-humans/whatever, and the two narrators were pretty cool–except also really not. There were times when I was totally onboard with Rielle, I was so amped for her chapters, and then there would be a scene with whatshisface, and I'd just be like hm. So this is happening. I'm not going to put it in this review, but there's one scene with–seriously what is his name? Audric? There's this one fairly explicit sex scene with Audric where he just says something so not at all what any women wants to hear ever, and it really put me off enjoying their scenes together. I also felt that way about Corien, which was weird because in the very first chapter, I really, really liked Corien. Like, a lot. And I liked him for a good long while until suddenly he got super creepy? And also, like, Rielle just letting him mind-touch her or whatever? It was weird.
And then there's the other one. God, see, I can't remember their names right now, this is not a good indicator. I struggled to like Eliana for a while, and in the end, I only liked her because she did a 180 with her personality and started being nice to Simon after she found out her whole life had been a lie and he was in on the lie and guess what there's this huge plot twist but Eliana just is like "shrug okay". This book is 500+ pages long, so you'd think we'd have time for her to take a second to be like "wow so spoilers spoilers spoilers I'm going to sit with this for a hot minute", but nah. Because! Have you read Children of Blood and Bone? (Why do all of these books have such angry titles?) This also reminded me a lot of that in that SO MUCH HAPPENS in SO MANY PAGES but character emotions? Relationships that make sense? Plot twists that even the smartest person in the world could not see coming?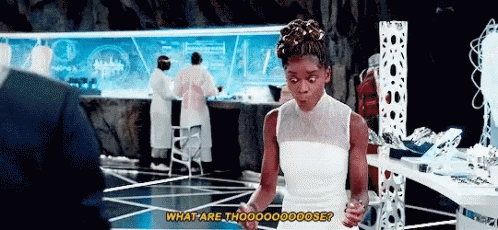 (No spoilers, but Rielle's best girlfriend. Come on. Seriously?) I read a great article the other day talking about the plot twists in Harry Potter–wait. It was a Tumblr post! It talked about why the plot twists in HP work so well, and why ones that come out of left field are just confusing.
I think I should stop reviewing this book? I liked it, don't get me wrong. I mean, I did give it four stars. There were also just a lot of things I was very hmmmm about.
What: Locke & Key, Vol. 2: Head Games by Joe Hill
When: 1/8-1/9
Rating: ★★★★
Review: The moment I finished this, I had this massively relieving feeling of yes thank god I already have the third volume at home. As you can see below, I haven't read it yet, but just knowing that I have it and can grab it at a moment's notice makes me happier because damn Joe Hill. DAMN GABRIEL RODRIGUEZ. Let's be real, Rodriguez is the real reason I'm flailing here because holy jeez that artwork, but also, holy jeez this story. We all know I'm a Joe Hill fan, okay. I could wax poetic for a long time about how fantastic his books are. (The Fireman, Strange Weather, Locke & Key, Vol. 2: Welcome to Lovecraft) Alas, I started these book reviews after I read Horns and Heart-Shaped Box, and it looks like they've all received 4 stars (with the exception of Horns), and this is pretty amazing because I don't read horror. At all. I'm terrified of Stephen King. (I'm trying to change that this year.) But something about Hill's writing has sucked me in, and yeah, I'm gonna read everything he's ever written. Also, again, GABRIEL RODRIGUEZ. GUYS.
This was a truly fantastic addition to an already spooky and excellent story. I enjoyed it thoroughly, and I'm so glad I've started out my year with a little of Hill & Rodriguez, especially because I'd like to finish up Locke & Key this year. If you're a fan of horror or amazing art, give this a go.
What: Queens of Fennbirn by Kendare Blake
When: 1/11-1/14
Rating: ★★★★
Review: This was excellent. This was honestly everything I wanted from this. I loved being able to see the queens when they were little, and I loved having the story of the Oracle Queen firsthand instead of just told in the other books. This was such a nice little dip back into the world while I wait for the next one to come out.
This book is two novellas from the world of Fennbirn. The first, The Young Queens, follows Mirabella, Arsinoe, and Katherine before they're separated to their respective houses of power, and then a little after they're each settled. The second, The Oracle Queen, tells the story of Queen Elsabet, the last of the oracle queens, who was rumored to have gone so mad that she murdered three families. This is the story from her point of view.
What: The Wish Granter by CJ Redwine
When: 1/13-1/20
Rating: ★★★★
Review: UGH THESE ARE SO GOOD. My review for The Shadow Queen, the first in the Ravenspire series, can be found here. This was, admittedly, not as great as the first one (which seems to be the opposite opinion for most people who read these, but there were dragons in the first one, so), but I still really, really enjoyed it. What I know about the Rumpelstiltskin fairytale is that he grants wishes, and the only way to have control over him is to know his true name. That's about it, so I was really excited to dive into this and see what it looked like.
First of all, the fact that she made Rumpelstiltskin a faery was AMAZING. And also so perfect! It makes so much sense that someone like him would be fae, and I really, really appreciated that twist on this. All of the lore surrounding the fae in this was excellent, as well, and it was nice to return to that world. It's been a while. But what made me fall in love with this was, unsurprisingly, Sebastian and Arianna. Sebastian is a soft, sad boy, so obviously I like him, and Arianna is a strong, kickass servant-turned-princess who does not want to be told "what princesses don't do" one more time. She's hilarious, he's adorable, and together, they're such a lovely pair that make my cold heart swell with warmth. This really was so good. I can't wait to dive into the next one. And I've already preordered the fourth!
What: The Handmaid's Tale by Margaret Atwood
When: 1/17-1/19
Rating: ★★★★★
Review: My dudes. Let me tell you something wild before I begin this review. Somehow, I've managed to avoid knowing almost everything about the plot of this book. I never read it when I was younger, and I didn't see the show when it came out. Even then, no one on my Tumblr really posted about it much, so I was going into this pretty blind, which was super interesting. The Handmaid's Tale is about a futuristic world where men are once again in charge and a woman's duty is broken into three sections–a Wife, a Martha, or a Handmaid.
We all know this story is messed up. That, at least, I went in knowing. And wow, it definitely delivered. But rather than talking about how it's messed up, I want to talk about how incredibly well written it is. Yes, it got me pretty fired up and wanting to scream about the patriarchy a little a lot, but also my goodness is this a masterpiece. I want to read so much more by Atwood now. I was drawn in from the very first chapter and released only when I forced myself to step away. This is one of those books you're going to want to be able to say you've read.
What: When Life Gives You Demons by Jennifer Honeybourn
When: 1/21-1/22
Rating: ★★★★
Review: This is the most absurd book ever, and I love it. I was reading a review for a different book today, and the reviewer said that the book, objectively, was bad, but for entertainment value, was great. That's kind of how I feel about this book. It's not all that well written. The characters are flat, the writing is mediocre, and the story is, frankly, a mess. But it's delightful, and I love it. It had me laughing a ton. Parts of it were even truly scary! Like, think 21st century Exorcist. It's ridiculous, and it's terrible, which is a great combination.
When Life Gives You Demons is about a teenage exorcist who really just wants to date the school's resident hot boy, but is afraid that he'll run when he finds out what she is. This is exactly what it sounds like.
What: The Boneless Mercies by April Genevieve Tucholke
When: 1/22-1/24
Rating: ★★★★★
Review: FEMALE BEOWULF. If that hasn't immediately convinced you to read this, then you're a lost cause. First of all, Beowulf is arguably one of the best stories ever. Secondly, genderswap everyone, but make them way more badass and add in tons of super freaking awesome lore, and you've got yourself a winner. I love this book. I also need to explain why it got five stars and not four, but FIRST. This really is female Beowulf. A group of Mercies, women who trade in death, decide to leave their old life behind and go off in search of glory–slaying a monstrous beast that has been haunting a jarldom. Guys.
This is a four-star book for me, but it is so empowering and the lore is so damn good that it gets five stars. The writing leaves a little to be desired, and I really, really would have enjoyed a map, but the characters are amazing, the story is so well done, and I just can't with the lore. Even if all you gave me were the Sea Witches and the Cut-Queen, I'd be here for it. I love everything about this. I'd read so much more in this world with these lovely people.
What: The Little Book of Witchcraft by Astrid Carvel
When: 1/23-1/24
Rating: ★★★★★
Review: First of all, this is the cutest book in the world. It's pocket-sized, and it's got adorable little graphics inside of it. It's basically stepping your toe in the water of white witchcraft, and it's lovely. It's broken up into sections, starting with history, moving through explanations of things like altars, wands, crystals, etc., and ending with different spells and rituals that one might use. It's got a lot of info packed into such a small space, and I truly enjoyed this as a beginning into research on the different types of witchcraft.
What: The Sacrifice Box by Martin Stewart
When: 1/24-1/27
Rating: ★★★★★
Review: Two things–I'm going to have nightmares about this cover AND this book is glorious. However, is it good? I mean, yes, it is, it really is. But also no? Someone described it in a review on Goodreads as a b-roll horror book and that is exactly what that is. But those are really freaking enjoyable sometimes. I likened it to Evil Dead to my dad, who agreed–it's a kind of stupid movie that makes you laugh sometimes but that can also scare you pretty bad at times. That's this book! Most of the time, I was cackling over Arkle or the murderous teddy bear, but then when the dragonflies came up or horde of dead animals, I was like nah this is creepy, I'm all set. The writing is okay. The plot is okay. The execution is fantastic, and that's what gave it five stars. Well, that and I freaking loved the characters, especially Arkle. He now has a little space in my heart.
This is about five kids who, when they're about twelve, decide to sacrifice things into a box that the main character, September, finds in the woods. They swear over the box and their sacrifices that they're going to be friends forever. But the box has rules, and after they break their promise to each other, one of them breaks the box's rules, and it's only a matter of time before their sacrifices come back to haunt them. Literally.
What: Pacifica by Kristen Simmons
When: 1/25-1/28
Rating: ★★★★★
Review: Man, this was one hell of an appropriate book to be reading right now. As I'm writing this, it's currently colder in Chicago than it is in Antarctica. My boss was like, "hm I wonder why that is" and I just quietly shouted "GLOBAL WARMING NO OTHER ANSWER IS ACCEPTED." And this? So I went into this thinking it might have magic or some kind of fantasy, but it doesn't. What it does have is one of the most realistic depictions of a future dystopian society. Why? All of the ice in the world has melted, the sea levels have risen seven feet, the shorelines have disappeared and countries are just going away, Australia is so hot you can't even sail near it, the Midwest of America is just a wasteland, and class wars have gotten so out of hand, we're on the brink of civil war again. I felt like I was reading the future.
Not only is this book excellent in regards to its topic and should be read by every single person in the world who thinks global warming is a joke, it was so well written. Everything about this was incredible. The writing itself went above and beyond, and it made everything so vivid and real that even if I hadn't believed this was where we were headed, I would now. I loved each of the characters, right down to the villains and minor ones, though I do have to admit that the romance in this kind of threw me. It came out of nowhere, but in a way that if there had just been a little more time to develop, it would have been fine. The stirrings were there. If they hadn't kissed and just acknowledged their feelings in some way, I would have been happy. But this book is five stars both for its plot and for its craftsmanship.
What: The Thief Lord by Cornelia Funke
When: 1/29-1/31
Rating: ★★★★★
Review: Though this is a reread, I cannot actually say when I first read this. I was a small thing, I know that. It was translated into English in 2002, so I would have been about 9 or 10 at the time, and the movie came out in 2006. I definitely read the book before I saw the movie because I was over the moon that there was a movie coming out. And I think I probably discovered The Thief Lord because I'd loved Inkheart, so yeah, I was a small thing, probably around 11, and here I am again, and WOW.
This is the story of a gang of thieves who live out of an abandoned movie theatre and are led by a mysterious, masked child who calls himself the Thief Lord. It's delightful and wholesome and a true joy to read.
What: The Curses by Laure Eve
When: 1/29-1/30
Rating: ★★★
Review: Alright, I'm over this series. Honestly, if there ends up being another one, don't count on me reading it. This was a straight up mess. I couldn't figure out the plot until about 250 pages in, and it's only 325 pages in total. I was definitely dazed and confused about the characters because I hadn't been with them in so long, but I also felt like they were very different than before? I don't know, especially River, I just had no clue what was going on with her. I remember her very differently. I'm still not even really sure what the plot was, or truly what the point of this book was? Most of it was just dressing in cute clothes and eating good food and lounging, and then there was, like, 50 pages at the end of action and secrets being unraveled that I had no inkling were even secrets we might need to know? It was like, oh here's a soft, slow little story about siblings AND THEN WHAM CONFLICT and okay bye we're back to having a Grace party.
The cliffhanger at the end of the first book is not worth reading this. Bringing people back from the dead is a bad idea. There, you've learned the lesson this was trying to teach you. Also, HERE THERE BE SPOILERS I don't care that Wolf was possessed by something, the level of queerbaiting in this book is absolutely disgusting.
This gets three stars because I still liked (some of) the characters, I enjoyed being in Summer's POV, and those 50 pages of plot were interesting. Other than that, I would have DNF'd if this was a first book and not a sequel.
---
When I tell you I have been thinking about my February TBR for the last three weeks of January, I'm not exaggerating. The last three and a half, really. I had half a mind to chuck my January TBR and just read what the hell I wanted to, but I'm making a solid effort to get through my monthly TBR entirely. (Which I did this month!) This is going to help me read all books I bought in 2018, so damn it, I'm following it. BUT OH MY GOSH HERE'S MY FEBRUARY TBR AND I'M SO EXCITED:
A Torch Against the Night by Sabaa Tahir
The City of Brass by S.A. Chakraborty
Daughter of Blood and Starlight by Laini Taylor
Thick as Thieves by Megan Whalen Turner
House of Furies by Madeleine Roux
Okay, so I completely realize that that is the most ridiculous TBR ever, and that I'm probably going to die around the middle of book two, but literally every single day, I've been rotating between wanting to read all five of these. It's probably a bad idea to try this many epically awesome books in one go, which is why OH LORD. OKAY. WAIT. I forgot that I'm going to be reading King of Scars by Leigh Bardugo in February. i'm going to die
Which is why I'm also pairing this month's TBR with a classic that has been haunting me for many years and that I tried to read last year and gave up on: Pride and Prejudice. IT'S TIME, Y'ALL. Jane Austen, here I come.
(I should mention in advance that there's a high chance I'm not going to like it, so if you don't want to see a negative review for Austen, don't @ me in the comments next month. I'm warning you now. However, I may end up liking it, so maybe just scroll really quick to see the verdict and then either run away or not.)
Also, and I promise I'm almost done here, I'm setting myself another goal for this year. I have a crap ton of books I want to reread this year, so I'm going to try to reread at least one book this year. As you can see above, I've already started, so hopefully I'll manage to keep with it every month. That means I've already got two books pre-selected for each month, a classic and a reread. And! For the month of February, preorders were hella crazy:
The Last Life of Prince Alastor by Alexandra Bracken
Mist, Metal, and Ash by Gwendolyn Clare
King of Scars by Leigh Bardugo
Ransacker by Emmy Laybourne
The last two are January preorders that came at the end of the month that I didn't have time to read, so hopefully getting to as many of these in February as I can. So I guess here's my entire February reading list, haha?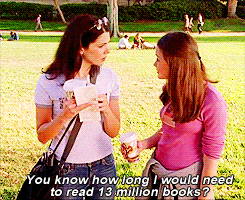 Are you guys ready for the most epic month ever?