It's the end of 2018! This year has gone by so fast, and I've read so many amazing books. I manage to completely crush my Goodreads goal of reading 100 books this by reading a grand total of 122. Thus, I've got A LOT of books to choose from. As before, there are a couple rules that I'm following:
It doesn't have to be published in 2018, just read in 2018.
Rereads don't count, and only one book per author.
Only one book per series, as well!
They're arranged alphabetically, and all of them have a five star review. Each will contain why they're in my top 10 of the 122 I've read this year. And, instead of summarizing them, I've linked them so you can just read their summaries on Goodreads, and I'm going to try to hook you with one sentence of what they're about.
Let's get started, shall we?
What: The Wicker King by K. Ancrum
Why: Oh man, I had a really wild reaction to this book. I read this in one sitting, which I both recommend and don't because I definitely want to go back and read this again. I do think reading it in one sitting helped influence my very extreme love of it because I experienced all of it at once instead of spreading out the craziness. I also think that the extras in this book swayed me into loving it a lot more than I might have without them. There are playlists for each character, police reports, drawings done by one of the characters of the hallucinations his best friend is seeing, pictures of the boys, and I think a few other things. There's just so much packed into this little book. Plus, the pages slowly go from white to grey to black, and not only is it really cool to see, it fits the story so well. Just the physical book itself is going to blow your mind.
It really can appeal to a lot of different types of readers, too. There's romance in it, but there's also a bit of a fantasy feel. It's dramatic and weird and also very scientific at times. There's a lot to this, and I think it's one of those books that I'm going to read several times. It's certainly one that I'm going to remember because I'm still thinking a lot about it, and I read it in August. It's also one of the books that's facing out on my bookshelf, meaning that it's kind of on display so that the eye is quickly drawn to it.

Hook: Two friends; one is hallucinating that he's in a fantasy world, and the other is his loyal subject, though he can't see the hallucinations.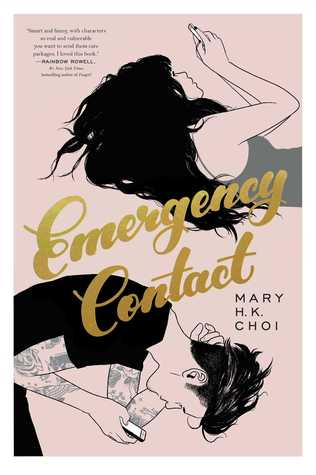 What: Emergency Contact by Mary HK Choi
Why: Man, I read so many good romances this year! If I had to pick a favorite romance, though, it would be this. I was thoroughly enamored with this book. I admit, I definitely bought it because of the cover, but the summary also definitely appealed to me. I feel like we don't get to see a lot of the college world, and Penny being in college was a definite box checked. Also, Sam has tattoos and that stupid haircut and wears all black? Yup. Check, check, check.
This is cute. That's really the most appropriate way to describe it. It's really well written, much more so than you're expecting, and it's got a very interesting story. It's not your typical love story, which made me enjoy it even more. It's really, in the end, more of a story about two people who are super unlikely to be friends somehow ending up each other's most trusted friend, and it's adorable.

Hook: Penny didn't mean to fall in love; she just wanted to be Sam's emergency contact in case he accidentally died.
What: The Death and Life of Zebulon Finch, Vol 1: At the Edge of Empire by Daniel Kraus
Why: I've had a lot of things to say about both of these books. This first one, more than the second one, may just be in my top 10 of all-time favorite books. It's like nothing I've ever read, and like nothing I think I'll ever read again, and it's one hell of a wild ride, you guys. It's long, it's weird, it's usually pretty gross, and it's unpredictable. It's not for the average reader, and it'll definitely make you uncomfortable, but it's also EXCELLENT. I think, with each review in the duology, that I've only kind of conveyed how much I enjoyed these books. I more talked about how weird and gross they were, but let me set the record straight–wow. Obviously, this is on my top 10 of the year, so I liked it, but WOW. Not only is this well written, the story is outstanding and the characters kind of leave me speechless. I really did not like Zebulon when I first started this, but I was so intrigued by him that I kept reading, and about 200 pages in, I realized I'd fallen hopelessly in love with him.
When I first picked this book up, it was after several times flirting with it. I saw it a few times while bookshopping, and thought, oh heck no, I'm not reading this 700-page monstrosity. But the title kept appealing to me, and the idea of it wouldn't leave me alone. A boy that died at 17, and was resurrected to live for 100+ years still as 17? I wanted to know what happened. Don't let the length dissuade you. It's long because it covers each of the decades that Zebulon lives through, which, if that isn't enough to convince you to read this, then I don't know, man. It was so cool to see history through Zebulon's eyes. It was also really weird, but in a good way.
This is the first in a duology. The second is The Death and Life of Zebulon Finch, Vol 2: Empire Decayed.

Hook: Zebulon Finch has been 17 for a century.
What: Summer of Salt by Katrina Leno
Why: Talk about a powerful book. Okay, think about the first time you saw Wonder Woman, and you got this tingly feeling in the back of your throat like you were about to cry, but that feeling sat with you from the beginning of the movie to the end, and then it came back every single time you watched it. That's how I felt about this book. The first half of it was really magical and beautiful, and it reminded me a lot of one of my other favorite books ever, The Strange and Beautiful Sorrows of Ava Lavender, but then that second half was like a Wonder Woman punch to the heart. I finished this book feeling not only hopeful, but empowered. It was incredible.
There are some lines in this book, and oh man, they're gonna hurt in the best kind of way. Like, lines that you read and just have to sit back and breathe for a second because wow. The language in this is so gorgeous, too, as are the characters, that drew me in so much more than normal. Just every single facet of this book was beautiful.
Hook: Two sisters, one island, and magic that pales in comparison to the female empowerment.
What: Isle of Blood and Stone by Makiia Lucier
Why: This was a super last minute decision! There was another book on this list that shall not be named that every time I looked at it, I had this meh feeling of wow that does not belong on this list AT ALL, so I knew I had to figure out what to replace it with. There were four contenders, and just one glance at my review for this book reminded me how much I was head over heels in love with this. It's got my number one favorite trope of all time: a young king. Seriously, give me a leader figure any day, but also make him young, and I am here for it.
I preordered the sequel as soon as I was able to, and it's one of my most anticipated releases of 2019. I love the adventure in this. Though it only takes place on a small island, it felt so big and grand. It felt like anything could happen, and I think, with the way this one ended, that anything will happen in the new one given that we'll be able to explore so much more of the world. This satisfied my craving for high fantasy, pirates, kings, and brothers all in one fell swoop, and it was wonderful.
This is the first in a duology. The second is Song of the Abyss, out August 2019.
Hook: A conspiracy hidden inside a map has the ability to destroy everything.
What: Vicious by VE Schwab
Why: Every single character in this book will punch you in the face, but you'll thank them for it. Like, punch you in the face with feels, but also physically in a they were trying to actually hurt you kind of way. Either way, you're going to be grateful it happened. PHEW. THIS IS A BOOK. When I first found this book and heard Schwab's tagline for it–villains as main characters–I was sold. And even though the main characters are villains, gosh you'll love them. Victor Vale has my heart for the rest of eternity.
I'm definitely going to recommend the second one, too, because it absolutely knocked my socks off, and going to see Schwab talk about it totally blew my mind, so like. Just read everything she's ever written. Do yourself this favor.
This is the first in a duology, potentially a future series. The second is Vengeful.

Hook: Victor Vale is not a sidekick, but he is occasionally a mass murderer.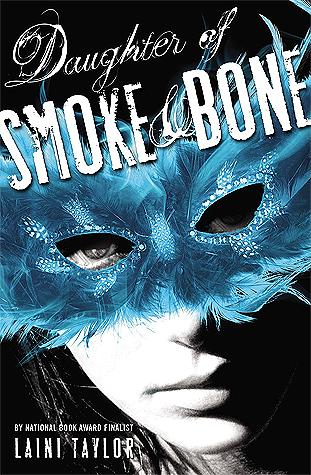 What: Daughter of Smoke and Bone by Laini Taylor
Why: LAINI TAYLOR, YOU GUYS. I feel like this whole top 10 has just been me screaming nonsense? I read a lot of really meh books this year. A lot of books that were okay, that I enjoyed, that I'm not mad I read. A lot of books that made me a little furious, or that I look back upon with an ugh why mentality. There were only a few really excellent books, and most of them are on this list, but even more rare were the ones that just sucked me in, mind body and soul. Vicious was one of them. This was the other. I knew I was going to like this. There was no surprise for me that I was going to like this. I love the Strange the Dreamer duology more than I will ever possibly be able to describe. What I did not expect was to love this book almost as much as the duology but WOW YES THAT HAPPENED.
First of all, it takes place in Prague. Second of all, there are angels and demons. Third of all, Karou is my spirit animal. There is literally nothing that I do not love in this book. ALL of it is amazing. It's magical, it's exceptionally well written, and it just leaves me in awe. Laini Taylor is a goddess among writers. That's just the end of it.
This is the first in a trilogy. The second is Days of Blood and Starlight, and the third is Dreams of Gods and Monsters.

Hook: When an angel tries to kill her and her demon family disappears, Karou will stop at nothing figure out what the hell is going on, even if that means wishing for wings so she can fly to an alternate universe.
What: Song of the Current by Sarah Tolcser
Why: Without a doubt one of my favorite fantasy reads of the year. I was so in love with each of the characters, and I adored the way they developed over the duology. Caro is probably one of my favorite protagonists in a long time, and I would read eight hundred more novels with her commandeering the high seas. SHE WAS SUCH A GOOD PIRATE. Oh man, and don't even get me started on the mythos in this book. I was legit jumping up and down at certain points with excitement.
And I know this is supposed to be about the first one, but I truly enjoyed the second one, as well. A lot of times, sequels can be a little bit of a letdown, but it hit my expectations and then went beyond them. It was just a great duology, guys. I'm so impressed with this story.
This is the first in a duology. The second is Whisper of the Tide.

Hook: Caro intended to spend her life on her wherry floating down the river, but fate–or pirates and princes–have something else to say about that.
What: Bad Call by Stephen Wallenfels
Why: I read this in one sitting. And I'm not talking like in one day, but with breaks–no, in a single sitting. I sat down on the couch with my tea, and the only time I got up was to go to the bathroom. I literally could not put this down. It captivated me in a way that few books have that don't have magic in them. If a book has magic, I'm pretty much guaranteed to be doing the big eyes of wow at it, but without magic, unless it's romance, it takes some elbow grease, but this thing sunk its claws in and held on for dear life. It was scary, romantic, intriguing, and really well done. We're expected to feel for these characters pretty quickly, and Wallenfels nails it on the head. With only a quarter of the book, I think, devoted to before the hike, we need to figure out these characters, decide if we like them or not, and then either pray for their survival or hope they die. That's a short amount of time to be looking for basically life or death.
This was just really, really well done. When I originally had this post mapped out, there were 13 books on here, and this one went up against a fantasy YA, but I enjoyed this so much and was so swallowed whole by it, that it definitely comes out on top. If you're looking to get a little scared in the woods, definitely give this a shot.

Hook: It was meant to be a simple, fun hike in the woods, one that did not include a body count.
What: The Thief by Megan Whalen Turner
Why: If you follow along with my reviews each month, you're not even kind of surprised that this made it into the list. This is also, coincidentally, the only 4-star review in this list, but all of the subsequent books have gotten 5-star reviews, and I'm actually currently forcing myself not to read Thick as Thieves until closer to the release date of the new one. Because yeah. I love this series that much. This is definitely not a series for everyone, either. It's a lot of politics and telling stories and just hanging out, no real action happening, but damn it's good. I love stories where not a lot happens, but you're so invested anyway. That's usually because I'm a very character-driven writer, so I enjoy well done characters immensely and WOW.
YES.
Eugenides, everyone. Even if you don't like the story all that much, you have to admit that he's kind of the best ever. He makes me laugh even when he's not in the scene. Even when they're not directly talking about him! He's such a little punk, I love him. Eugenides is definitely why this is one of my favorite reads of this year, too.
This is the first in a series. The second is The Queen of Attolia, the third is The King of Attolia, the fourth is A Conspiracy of Kings, the fifth is Thick as Thieves, and the upcoming sixth, to be released in March 2019, is Return of the Thief.

Hook: Eugenides can steal anything, including the Queen's seal out of her bedchamber.