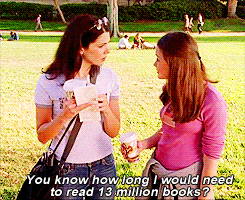 Alright, I'm not lying when I say I am Rory Gilmore. You know that scene where Rory's packing her backpack for school, and she can't fit all of her books? This scene. I'm seriously not even lying–this is me. When I go away on vacation, I always bring, at minimum, three books, and that's only if I know I'm going to shop for books while I'm away. If I'm not book shopping, I make sure to bring usually around five. FIVE. That's so unnecessary.
But, here's the thing. That scene is so dead on. I'm definitely going to want a YA with me, so might as well bring one of those. But what if I'm suddenly in the mood for something more sophisticated? Well, I should probably bring adult fiction, too. But, I might suddenly want to read an astronaut biography, and I've always got some on hand, so should probably bring one of those, too, as well as my collection of Rilke because you never know when the poetry inspiration will strike, and only one YA? Am I crazy? At least two, always bring two YA.
Does this all sound very familiar? Well first, I already posted about this feeling once, and second, don't lie to yourself. If you're a reader, this has definitely happened to you.
This time, I'm not feeling this way about writing, thankfully, though I do realize that I haven't posted about writing in a while. I'm working on edits for the third draft of the Pen boys, and it's very slow going. There are a lot of things that are changing, and a lot of rewriting that's happening. I'm removing whole subplots, the general arc of the story has been changed, timelines have been messed up, characters are getting switched around, and it's just–a lot. Though, honestly, the most difficult part about any of these edits is literally any time James was not living in their room (he is in the new draft) and having to fix that.
But that's pretty solid. I'm happy about editing the Pen boys again. It feels good to be back here. And when I'm done, I've got a few different directions I could and want to go in, and I'm definitely going to choose one of them. This revision is not going to happen quickly like all my others, though, and is realistically going to take a couple months just due to the sheer amount of work that needs to happen to get this ready for agents. And after, I'll probably dive into Chelsea's edits for Saints and start working on that revision or perhaps write one of the three novels that I started and stopped before I jumped back into the Pen boys.
But my reading? It is seriously all over the place, and it's annoying! Don't get me wrong, this month for reading is going splendidly. I've already got 7 books on the wrap-up review, and I'm planning on reading quite a few more. I mean, it's only the 17th! I've got so much time left. However, my reading desires are so scatterbrained right now that I keep starting and stopping books. I don't know what it is, but I'll have it in my head that I want to read something, get 50 pages deep (sometimes, not even that), and then suddenly I'm craving something else.
I started Tess of the Road last month, and I stopped about 70 pages in both because I wanted something else and because it was hard to get into, but then I started Wonder Woman: Warbringer before the weekend, and yesterday, I took it out of my bag before work and put in something completely different–a biography! Yes, I'm enjoying the biography immensely, but I would probably be farther along in it if I hadn't also decided that I wanted to read a different YA. And that doesn't even start in on the fact that not only did I put Letters to a Young Poet in my bag this morning (which I've already read!), but I also have the next ASOUE next to my bed and an Oscar Wilde. Seriously, what is going on?
Last night, as I was driving home from work, I was thinking maybe I was in a Shakespeare mood and maybe I'd read one of his plays this week.
Oi.
I have no time for this. Do you ever have so many things going on at once that you just freeze up and read books instead of attending to your responsibilities?
Hi, that's me right now!
I literally have so much to do. I'm teaching kids yoga for the Peabody Rec Department at the summer programs tomorrow. I'm organizing Harry Potter, Lord of the Rings, and Disney workshops for Barefoot. Erin's bachelorette party is next weekend, and then her wedding is just a couple weeks after! I don't even want to think about the fact that I still need to write my MOH speech, but I'm so focused on the bachelorette weekend that I just can't make myself work on it. And not that concerts are things that I have to do, but they do take up time, and I have so many coming up that I'm just a frazzled little mess right now, so instead of doing literally anything I'm supposed to, I've been reading.
I need a day off. Or a few days. Hell, I need a week to just do nothing and calm down.
Since that's not going to happen anytime soon, I'm going to keep reading several books at once since I can't decide what I want to read.