This has been a slow month, both for reading and writing. I haven't been posting much, either, because just not a whole lot is going on in my creative life right now. I watched the first season of Lost in Space, binged YouTube consistently, and pretty much fangirled about space for a few weeks in a row. I have a lot of different stories on my mind, which I think showed in my reading, which was literally just all over the map, so don't get too lost below.
---

What: Children of Blood and Bone by Tomi Adeyemi
When: 5/31-6/9
Rating: ★★★★
Review: I was really excited about this book, and I'll admit that a medium-sized part of that was due to the title and cover. However, the summary was also amazing and right up my alley, so I knew I had to pick this up. This follows the story of Zélie, who lives in a world where magic is not only forbidden, but gone. After the current king found a way to destroy magic and slaughtered all those still in possession of it, Zélie was left without a mother and still with the telltale sign of a child who should have eventually awakened into her magic–white hair. Now, as a young adult, the taxes are being raised on those with magic, and her father can't afford it, so Zélie travels to the capital to trade valuable fish. While there, she stumbles into a revolution quite by accident, and ends up leading the world into a new and wild time.
I want to start by saying that I really enjoyed this. The characters were really well-developed, and I was anxious about their survival. I loved Zélie and her different dynamics with the other characters, and I really enjoyed having her as a protagonist. The setting was outstanding. The world was very carefully figured out, and there was so much culture to it. The message, too, was something I am 100000% behind, and I really, really loved the author's acknowledgements at the end addressing why she wrote this particular story. This is definitely a book that we need right now, and it was very cool to see these topics covered in the fantasy world. All that said, I think this could have easily been 100-200 less pages, and the insta-love kind of bummed me out. I really started dragging my feet with this book during different parts, and toward the end, I was wishing this had been chopped in half. Zélie and her love interest also went from enemies to kind of tolerating each other to I WILL MURDER EVERYONE TO SAVE YOU. There was no smooth transition. I kept waiting to find out that something had happened to the love interest, something that had affected him. It was just so wildly out of character so fast for him to fall in love with her like that, and that was a little frustrating considering how well-developed the relationships were with everyone else. Still, I did really like this book, and I'll definitely read the next in the series.
What: Althea & Oliver by Cristina Moracho
When: 6/11-6/13
Rating: ★★★★
Review: Guys, this book messed me up. Beware: this is not what you think it is. This is not a love story. I'm not even sure what kind of story it is. But it sounds like a love story, and it's so very, very not, so please go in knowing that and don't be like me who was just totally dumbstruck in the middle of the book. There's some serious consent issues in here, too, that I was so not expecting and that doesn't even seem like a remote possibility right up until it's happening. That said, I did enjoy reading this. It was a very weird, very well done, very interesting and unique story. I have definitely never read anything like this before.
It follows the journey of Althea and Oliver, best friends since children, who basically live at each other's houses. They're trying to navigate their relationship as teenagers, but there's two pretty big hiccups–Althea is in love with Oliver, and Oliver has a rare disease that makes him fall asleep for weeks at a time. I guess I'd say this a novel about self-discovery and figuring out your shit. Yeah. Have fun, but prepare yourself.
What: Wildwood by Colin Meloy
When: 6/10-6/24
Rating: ★★★★
Review: This took me forever and a day to read, and I wasn't in the right frame of mind to be reading it. For a while, I was craving middle reader, and I still kind of was when I started this, but then all of the books I was reading this month (with the exception of the ones below this) were pretty lackluster when all I wanted was to be swallowed up by a story, so I ended up spending half of the month trying to get through this. Don't get me wrong, it was very cute, and I'm definitely going to read the sequel, just need to make sure I'm ready for a 500-page adventure with preteens before I dive into the next one.
Wildwood follows Prue and Curtis, a pair of unlikely friends that embark upon the Impassable Wilderness when Prue's baby brother, Mac, is abducted by a murder of crows. The Impassable Wilderness is said to be dangerous and the center for many cautionary tales, so the two have no idea what they're up against when they step foot inside, but talking animals? Coyote soldiers? Bandits and evil queens and bloodthirsty ivy? Neither of them saw that coming. And you know what I didn't see coming? The exceptionally high death toll. Meloy just quickly glossed over the gory bits by dazzling you with the wonder of the world, which worked really well, but man, a lot of people died in this book. Overall, the writing was great, the characters were likeable, and I really enjoyed the story.
What: Whisper of the Tide by Sarah Tolcser
When: 6/14-6/17
Rating: ★★★★★
Review: HOLY YOU GUYS THIS WAS SO GOOD. This was everything I wanted out of the sequel. This was ten stars. Like, seriously, I loved this so much. My review for the first book in this duology, Song of the Current, is here. This picks up where that left off, with Caro still in Valonikos with Markos, the sea god whispering in her ear, and Vix firmly in her possession, and none of those three things are mashing well with another. Caro must make a decision–does she want to become the Emparchess purely by default of loving Markos, does she want to sail the high seas as captain of his royal navy, or does she want to bend to the whim of the sea god? None of those things, actually. Caro just wants to belong, wants to figure out what home means to her now, and it'll take a swashbuckling adventure looking for lost treasure, several run-ins with an assassin, and a hell of an interesting cast of characters.
Like seriously, do yourself a favor and read this book about pirates and sea drakons and boys who don't want to be kings and the most badass female protagonist freaking ever. Five stars to Caro alone, the other five to the story in general. I just love this series so much, and though I'm happy that it's remaining as a duology, I would read approximately 87 more books in this universe. I want a series purely for Nereus alone. Hell, I want one for Diric Melanos, both pre-Caro and post-Caro. I want one for future Daria, who is totally going to end up ruling the world. And definitely one exploring the shadowmen. And just like–ugh, I love this series so much. I really, really do. It's such a good adventure story.
What: The Archived by Victoria Schwab
When: 6/26-6/27
Rating: ★★★★★
Review: All month, I've been lamenting that I haven't read a book that just swallowed me whole, and boy, the universe listened. My last two books of the month were ones that I absolutely devoured. The first is officially the last series I haven't read by Schwab, and I'm so sad about that. Luckily, I still have the sequel to read and Vengeful comes out soon, but damn. There is a reason I've read literally everything she's written. Schwab's style of writing gives you no choice in the matter–you are pulled in, hook, line, and sinker, and you're only allowed a small breath at the end before it's plunging back into a new one. She creates these incredible worlds with characters that I want to be friends with and protect. She is truly one of the great YA writers.
But what the heck is this book about, you ask? Brace yourself. So, there are three worlds–the Outer (that's our normal reality), the Narrows (the place between worlds), and the Archive (where the dead are kept). What?! Okay, so when you die, your physical body gets stored in the Archive (you're called a History now) and LIBRARIANS watch over you. Unfortunately, sometimes Histories escape into the Narrows, and that's where our main character comes in. Her job as a Keeper is to return Histories to the Archive and make sure the Outer stays safe. Like, guys. Holy, this is so good and weird and interesting, read it right now.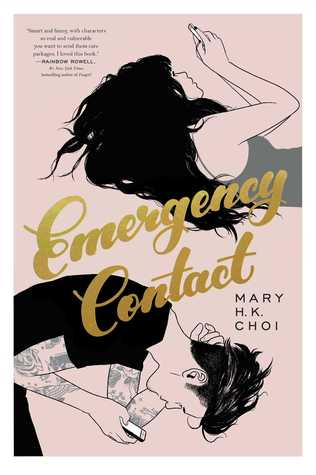 What: Emergency Contact by Mary HK Choi
When: 6/28-6/29
Rating: ★★★★★
Review: This book tried to ruin me, and completely succeeded. If you like Eleanor and Park, read this. If you like teen romance, read this. If you like happiness, READ THIS. This gorgeous little book follows Penny, trying to figure out this whole college thing, and Sam, trying to figure out this whole adulting thing. When their worlds collide, it's in the most unpredictable away and should really come with a warning label that spontaneous combustion from cuteness overload is imminent.
10/10 will recommend for the rest of my life. I LOVED THIS BOOK. I'm mad I didn't write it. This has everything you want in YA teen romance, and then some. The writing was stellar, I was absolutely head over heels for Penny and Sam both, and though I knew they were going to end up together, I was actually dying watching it all unfold. This was beautiful, and I'm going to reread it 1000 times.
---
And somehow that's a wrap on June! Like I said, it's been a very slow month. I've officially stuck Saints at sea on hiatus, and I'm working on edits for the third draft of the Pen boys. I'm hoping to read more next month, though, particularly seeing as I just bought 17 new books last weekend, which is absurd, I know. Thus, I've got high hopes for the month of July, so here are my hopefuls:
Caraval by Stephanie Garber
The Bone Sparrow by Zana Fraillon
The Invasion by Peadar Ó Guilín
The Letters of Abelard and Lily by Laura Creedle
The Queen of Attolia by Megan Whalen Turner
Carrying over Caraval from last month, and The Bone Sparrow is one of my last middle readers. The others are all ones that I've been eyeing, and there are a few more that I'm definitely hoping to get to, one in particular that I bought this month that I'm hoping to read next (fun fact: I wrote that line a few days ago when I was getting this post ready BUT I ALREADY READ THAT BOOK SO YOU KNOW IT WAS CLEARLY THE BEST THING EVER yes it was emergency contact), so sending out lots of good vibes that next month's wrap-up review post will be ten or more books!