What a month this has been! I've done a lot of reading and writing both, and I'm very pleased with where I am in both aspects. I'm finally not behind on my Goodreads goal again, and Saints at sea is coming so easily. I don't have a lot of rambling to do, so without further ado, here's the reviews for my May books!
---

What: The Alchemist by Paulao Coelho
When: 5/2-5/3
Rating: ★★★★
Review: First, can we talk about how beautiful this book is? I mean, damn, look at that cover. And the back is just as gorgeous, too! This was such a sweet little story. It followed Santiago, who is almost solely referred to as the boy, on his journey to discovering his Personal Legend, which is really just a fancy phrase for living out his best life. It was a quick read, and just really sweet. I already said that, but I can't think of another word to describe it. That said, I'm not sure I would actually recommend it to anyone? This was gifted to me, so I read it, and while I really enjoyed it, I don't think it's something that would necessarily come up when someone asked for a book rec.
What: Strange Weather by Joe Hill
When: 5/2-5/8
Rating: ★★★★
Review: GUYS. Joe Hill did it again. I'm such a sucker for Joe Hill, and I've steadily been working my way through his bibliography for awhile now. I started with Horns, and currently, I only have NOS4A2 left to read. I don't usually enjoy horror, but there's something about his writing that really pulls me in. If his name is on it, it's a pretty safe bet that I'm going to read it. Strange Weather is four short novels (which, what an idea, I'm going to have to try that sometime) that each have weird weather events as their either background or foreground of the story. In Snapshot, dead birds fill the streets; in Loaded, there's a wildfire; in Aloft, the protagonist gets stuck on a cloud; and in Rain, it literally rains crystal nails.
Each story was horrific and graphic and terrible, and I loved it, which is just awful to say, but Hill does it really well. It's not too much, but it pushes the envelope just a little bit. Overall, I definitely liked Loaded the most. The characters were really well-developed, and I enjoyed watching them unravel. Plus, Hill always manages to develop his villains in a way that still makes you hate them, but also gives them as much screen time as his protagonists, which doesn't happen in a lot of writing, and I really appreciate it. Snapshot was my second favorite, and perhaps the scariest of all four, and even maybe the weirdest. It was certainly the most clever. I also really enjoyed Rain, though it felt a little lacking. I would have liked more, but that's what I always want. Aloft was the only one that I didn't fall in love with, and I can't really pinpoint why.
Definitely an excellent read, and definitely great for Hill fans. I'd say don't start here if you've never read anything (I still stand by Horns being the best first choice to get into him, and that's only because The Fireman is 700+ pages long), but definitely read this eventually.
What: The Slippery Slope by Lemony Snicket
When: 5/8-5/10
Rating: ★★★
Review: You know, this could have been good. I was actually really getting into it for a little bit, and was so pleased when something actually surprised me, and then it just–bleh. Same old story every single time, and I'm just so over it. I think I've made it pretty clear how I feel about these books in the past, so I'm not going to do it all again because it's just the same review, different book, just like the plot.
What: One Dark Throne by Kendare Blake
When: 5/9-5/10
Rating: ★★★★★
Review: YO, WHAT. I expected none of the things that happened in this book, and it blew my mind. This is the second in a series, and it continues following the story of the three queens–Arisone (my personal fave, whoops), Mirabella (though I really want her to be queen), and Katharine (yo she scared the heck out of me) as they duke it out for the throne. The plot for this is just unlike anything I've read before, and I'm so excited about this series that I literally just went and preordered the third book. There are five different types of a queen you can be–poisoner, naturalist, elemental, war, or oracle. The war gift has faded out, and oracle queens are killed at birth because they go mad, so that leaves queen who cannot be poisoned, queens who can basically control animals, and queens who can control the elements. JUST. Ugh, these books are so good.
For the last one, I gave it 4 stars because the present tense really bugged me, and this time around it did, too, particularly because the severe lack of contractions was also driving me nuts, but this was so well written that I gave it 5 this time around and just ignored those little things. Like, damn. Every chapter was a surprise. Arsinoe was amazing. Mira was so not what I was expecting. And Kat was so freaking scary. This was just a really, truly well done sequel.
What: Eleanor & Park by Rainbow Rowell
When: 5/11-5/14
Rating: ★★★★★
Review: This book. I just wanted to lie down and weep every 50 pages or so, and I mean that in the absolute best way possible. I just love this so much, and reading it made me want to buy and read every single other thing Rainbow Rowell has ever touched. So far, I've only read this and Fangirl by her, and I'm just in awe. This was beautiful. Truly, honestly beautiful.
It followed the lives of Eleanor and Park, who fall into one of my favorite tropes ever–enemies to friends to lovers. Eleanor is the new girl at school, and she also has big, red hair, which everyone decides is going to be the starting point for their bullying. Park, in a moment of heroism, tells Eleanor she can sit next to him on the bus, and the rest is history. It's just so good, guys. So damn good. I love it so much, and it doesn't even have the happiest of endings, so that's a lot coming from me. Just–wow. Read this. You won't regret it.
What: A Swiftly Tilting Planet by Madeleine L'Engle
When: 5/14-5/16
Rating: ★★
Review: Ugh. This was such a struggle to get through, so this review will be short. The third, and final, installment in the A Wrinkle in Time trilogy fast-forwards several years. Meg is now married to Calvin and pregnant, the twins are off doing incredible things, Mr. Murry has been returned with no fuss, no muss, and Charles Wallace is now a teenager. Meg doesn't do a whole lot but lie in bed and commiserate that the world is going to end, and her brother is off with a–oh, honestly, I forget what it was this time. I don't think it was dragons, but I can't remember. A unicorn? Basically, the entire novel was Charles Wallace traveling through time, except we probably only get about 50 pages out of nearly 300 with him, and the rest is the life stories of the people he was time traveling to and inhabiting their bodies, and at the end of it, somehow they'd avoided a nuclear war. Sure. I'm so glad I'm done reading these.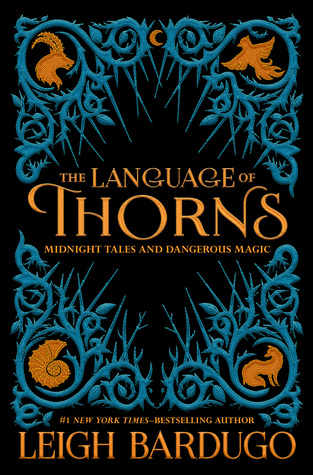 What: The Language of Thorns by Leigh Bardugo
When: 5/15-5/18
Rating: ★★★★★
Review: This book is stunning. This is a collection of short stories that act as a prequel to the Shadow & Bone trilogy that is part of the Grishaverse. Going in, I thought these were going to be short stories about characters we knew, but oh no, it's so much better than that. It's the legends and fairytales that the characters we know and love have grown up hearing, and it's freaking amazing. You could honestly read this even if you hadn't read anything else in the Grishaverse because they are just fairytales, but spoiler alert the Darkling is in one of them, though he's not called that yet.
Nikolai Lanstov is not, though, and I am a little sad about that because I held out hope for the entirety of The Too-Clever Fox.
Why is this stunning? Writing aside (because come on, we've listened to me wax poetic about how much I love Bardugo's writing for the last half year), every story contains artwork. And not just a two-page piece of art at the end of the story, but artwork that is added to and changed EVERY SINGLE PAGE. Good lord, this is a beautiful book. This is what I strive to attain someday, this level of awesome.
What: The Thief by Megan Whalen Turner
When: 5/18-5/21
Rating: ★★★★
Review: This was SO GOOD. So unexpectedly good, too. I kept seeing the King of Attolia while I was out book-shopping, and the covers for this series are just downright stunning, so I kept looking for The Thief whenever I was out. I know, I could have just ordered it on Amazon, but my TBR shelf is so overwhelmed with books that I can't fathom doing that. That all being said, I'd never actually read the summary? I just thought it looked pretty, and the title sounds like something I'd like, so sure, let's buy it. I know, I understand if you're shaking your head at me. But it worked out! The Thief follows a thief, Gen, who has been imprisoned in the king's dungeons after loudly flaunting that he stole the king's seal. Now he's off on an adventure that only the best of the best can thieve their way out of, and oh my god, that plot twist at the end. 100% did not see any of that coming.
This was really excellent. Like, I truly enjoyed it a heck ton. I didn't even realize I was enjoying it until my last day reading. It's slow at the beginning, and so I was only reading 25 pages or so the first three days, and then BAM, yesterday I started reading on my lunch break, and I could not stop. When I got home, I wanted to just get to page 200, and suddenly, I looked up and it was 10:30PM and I was only 20 pages from the end, like what? When did that happen? This was just so much fun. It was such a cute little adventure, and it was overflowing with awesome Greek-inspired mythology. I definitely bought the other four in the series last night, and I am so excited to read the rest of them. (And take a picture of all their gorgeous covers together, duh.)
What: Isle of Blood and Stone by Makiia Lucier
When: 5/22-5-25
Rating: ★★★★★
Review: Guys, this book is so damn good. Do you want adventure, romance, murder mysteries, and a wild plot all in one? Read this book. And then weep that the sequel isn't out yet. Though I have no idea what the sequel is going to be about since this felt like a complete story, I don't even care, I just want more of these characters and their world. This was SO GOOD! I honestly couldn't put it down. I found myself reading 100+ pages every day because I just had to know what was going to happen. The writing was excellent, and in a really specific way. I felt like I was part of the story, that I could see all the pieces coming together one by one, and I was still left shocked at the end. It felt like I was sitting in front of a fire with some wise old oracle spinning a tale. It was amazing. And the characters! Gods, I loved them so much. So much. I can't even begin. My favorite, FAVORITE, trope ever was in this–19-year-old king who is still best friends with his childhood friends despite wearing a crown, occasionally ditches his guards and goes gallivanting on wild adventures, and is snarky as heck when he wants to be. UGH. I can't. This is my trope, you guys. It's my favorite one in the whole wide world. I love me a good king or leader character, but then make him in his late teens/early twenties PLUS he's still a little shit, and I am all over that. Besides Ulises being the greatest ever, I also fell head over heels in love with Elias, which I expected to, but then was still blindsided by when he's hurt, both physically and emotionally. Like, I knew I was going to love him, but still felt shocked that I was reacting so much to him. He was just so wonderful, it makes my heart hurt a little. I also expected to love Mercedes because, hello, badass girl always saving the dumbass boys, but at the beginning, I wasn't sure about her, so it was like this overwhelming tidal wave of YES GO MERCEDES GO when I finally fell in love with her. I just–I love this book so much, I want to read it again.
What is it about, you ask? Nearly twenty years ago, there was a terrible tragedy in which several guards, two princes, and some important people at court were murdered. Now, two maps have surfaced that hold clues that may or may not say this was all an arranged job from within. King Ulises, mapmaker (I can't, it was great) Elias, and kickass warrior Mercedes are hell-bent on finding out just who exactly killed everyone and what that might mean for them now. And damn, you're gonna be shocked no matter what you predict is going to happen.
What: Valerian: The Complete Collection, Volume 2 by Pierre Christin & Jean-Claude Mézières
When: 5/3-5/26
Rating: ★★★★
Review: This was a really fun continuation of the first three comics. It took me nearly all month to read it, but that's because I'd read one and then take a week or two off, and then read the next one. I've been trying to stretch these out so that I don't finish volume 3 when volume 4 hasn't come out yet. The plots were really interesting for all three comics, though I did find that the beginnings of each one kind of just plunged in right away with no chance to get my bearings. I gave this four stars because of that, but also because Laureline seemed to be playing the damsel in distress role a lot. She's not normally like this, so that was kind of a bummer to see. Overall, though, the artwork was gorgeous, the stories were interesting, and I'm excited to dig into the next one!
What: Bad Call by Stephen Wallenfels
When: 5/27
Rating: ★★★★★
Review: I'd like to take us all back to my first ever wrap-up post of book reviews: August Reads. If you'll draw your attention to the review for This is Our Story by Ashley Elston, that's pretty much exactly how I felt about this book. I was really hoping I was going to get another crazy story like with Elston's, and I was not disappointed. This has the same kind of mysterious plot, basically four go in, three come out. I mean, look at that cover. You know someone's going down. The story itself follows the journey of four high school seniors who go hiking in Yosemite, but all of whom lie about where they're going, so when a massive storm descends on them, no one knows where they are to save them.
It's got all of the trappings expected in this kind of book–fighting, building shelters, romance, secrets, murder mystery (whaaaat), and it's so goddamn good. I loved every second of this book. I read it in one day, both because I wanted to and because I could not put this down. It was so amazing. I just want so many more stories about boy friendships who have all these complex layers in them. Give me Raven Boys but stripped of magic on repeat for the rest of my life. Which is basically what this book was. I texted Erin halfway through and said, "There's a Ronan character in this, and it's wonderful." Even beyond my favorite kind of characters and the really enticing plot, the writing was great. I was just impressed on all fronts by this book.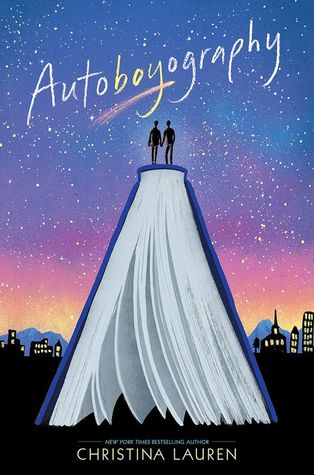 What: Autoboyography by Christina Lauren
When: 5/29-5/30
Rating: ★★★★★
Review: For some reason, I was dragging my feet with this book. I kept wanting to read it and then not actually doing so, and even when I started, I only read about 25 pages before I went to do something else. But Wednesday night, I told myself to just sit down and get to at least page 50, and suddenly it was 11PM and I was past page 100 and OH MY GOD SO GOOD. This beautiful little story follows Tanner, originally from California and newly out as bi, who has moved to a small town in Utah where most of the residents are Mormon, so he very quietly doesn't tell anyone he's bi, but whoops, he accidentally falls in love with the bishop's son.
GUYS. When I tell you I felt like I was reading fanfiction, I'm not kidding. It had everything that I love about fanfiction, and it was one wild ride. This was such a sweet story of romance and of self-discovery and of love! Oh, the love. It was beautiful, and it hurt, and this is in my favorite books of all time. I just adored every second of this, and I wish I could watch it all unfold again for the first time ever.
Also, I'm in desperate need of some amazing young adult gay romances, so if you've got any good recs, send them my way!
---
And that's May! I can't believe I read 12 books this month. Like, what? I'm currently 3 books ahead of my Goodreads goal, I've finished part one of Saints at sea, and life is damn good. However, out of the 5 that I had hoped to read this month, I only ended up reading 1 (Autoboyography), and I'm a little ashamed at that. I have these grand plans sometimes, guys, and then I just–read whatever the hell I want. I'm still going to try to pre-plan 5 books to read, but I'm going to start not putting rereads on there since that really is just whenever it strikes my fancy.
So, for the month of June, I am going to really try to read and review these 5 books:
Wildwood by Colin Meloy
The Archived by Victoria Schwab
Whisper of the Tide by Sarah Tolcser
Pip Bartlett's Guide to Sea Monsters by Maggie Stiefvater & Jackson Pearce
Caraval by Stephanie Garber
I'm cheating a little because Whisper of the Tide is a preorder that I am pulling my hair out waiting for, so I'm reading that as soon as it comes in, and Maggie's is another preorder that I'll probably read pretty quickly. I plan on it being another great month for reading and writing, though, so stay tuned!