Well, we are officially into 2018 now, and I am starting out strong. I've been a busy little bee this month in all aspects of my life, including reading, so there are quite a few book reviews down below for you. Next month, I'm heading up to Maine for a long weekend, so I'll be book shopping with Erin, which means many more goodies to add to my TBR. I'll hopefully be back to writing very soon, as well, so lots of fun coming.
What: Gypsy Wisdom, Spells, Charms, and Folklore by Denise Alvarado
When: 12/31-1/1
Rating: ★★★★
Review: This was a quick, fun little book. I've been wanting to add some elements of gypsy culture into Saints, so I picked out a couple of books that sounded interesting and ended up finding a lot more than I set out looking for. This was lovely because it was so practical, but also so informative. The spells contained in here were actual spells that I could very easily attempt, and the information on the lore was just wonderful. I do wish it was a bit longer so that it could expand more on the different bits of culture we were given, but as my first foray into the world of gypsy culture, this was a great start.
What: The Dreadful Tale of Prosper Redding by Alexandra Bracken
When: 12/28-1/1
Rating: ★★★★
Review: This is one of those books that I bought because of the title and the cover, and also one of those books where I didn't realize it was part of a series, damn it, until I got to that cliffhanger ending. I'm definitely glad I bought it, though. It was such an adorable, quick read. The story follows Prosper Redding, whose family is cursed by an ancient demon. Said demon rears its ugly head in Prosper, and they spend most of the book together with Prosper trying to ignore the demon and the demon trying to trick Prosper into making a deal.
It's a middle reader, so prepare yourself for a young narrative, but it was also just so lovely. There were a lot of twists that I wasn't expecting, and a lot of really great magic that I don't often see in books. I was convinced, right up until the end, that I knew how this was all going to play out, and then BAM. Boy, was I wrong. I enjoyed the writing and the characters for this, and I'm definitely going to read the next one when it comes out.
What: The Martian Chronicles by Ray Bradbury
When: 1/2-1/3
Rating: ★★★
Review: This was such a strange book. I didn't dislike it, but I'm still not sure I liked it, either. There was really no smooth start–you were just right away thrown into space. I think? I don't know. The setup of this was very odd. I think that we were always on Mars, and I could follow the timeline of Earth, but some of the chapters just kind of felt like I was reading along the edges and had no idea what the middle looked like?
I was also fairly mad when I got to one of the last chapters and realized that I'd read it before in high school, but my teacher had told us that it was a short story. This chapter makes so much more sense, and has so much more of an effect, when you read it with the rest of the book!
I'm not saying I didn't like this book. I'm just saying I didn't understand it always. I enjoyed the writing, and I enjoyed Bradbury's very bizarre ideas. I just wish I'd been given a little more detail along the way.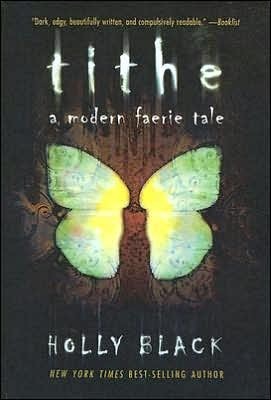 What: Tithe by Holly Black
When: 1/3-1/4
Rating: ★★
Review: This review will be short. I've been very excited about this book for a long time. Holly Black is the faerie queen. She writes about faeries all the time, and I was fully prepared to find myself buying everything she's ever written. I asked for this book for Christmas last year (2016), and then never read it because I'm the worst. But, I was starting to get Mason vibes again, so I decided I'd finally dive in.
One of the two stars is because this was about faeries, and there are so few books out there that do that. The other star is because the lore around the faeries was actually really well done, and tied in nicely with the knowledge surrounding faeries that I already have. The writing, however, left a lot to be desired, and the characters were poorly executed. I will not be reading anything else in this series, and I haven't yet decided if I'm going to loop back around for a different Black novel.
What: Secrets for the Mad: Obsessions, Confessions, and Life Lessons by Dodie Clark
When: 1/5-1/8
Rating: ★★★★★
Review: THIS BOOK. Every young girl in high school needs to read this. I wish I had had this at ages 14-17 to tell me that I wasn't going crazy, that these feelings were normal. YOU ARE NORMAL. Holy magic! I'm normal, guys. Other people experience this wild, uncontrollable whirlwind of emotions. Sure, Dodie experiences them in high extremes, but still. STILL! If you're looking for a gift in the coming year to get a young girl, get her this. She needs to read it. It will make her feel so much better. I even wish I had it in college. I just wish I've had it for my entire life.
What is this magical book about? Just Dodie's life. She's a YouTuber that Erin introduced me to, and this is the story of her life through all of her emotional trials and tribulations. She walks us through what her mental illness looks like on a daily basis, and just how long it took her to figure out what was going on in her head. She talks a little about her life now, going on tour and performing in front of thousands of people, but mostly she talks about learning how to survive with herself. It's an inspiring, beautiful novel, and everyone needs to read it.
What: City of Bones by Cassandra Clare
When: 1/8-1/12
Rating: ★★★★
Review: And so begins my TMI reread! I've been wanting to reread these ever since I first read them (all the way back in 2012), which was a furious month spent reading books 1-5 in an absolute frenzy. I would say to expect probably at least 1-2 reviews per month with this series as I'm going to be rereading not only The Mortal Instruments, but also finally diving into The Infernal Devices, The Dark Artifices, and some of the companion novels.
City of Bones is the first in The Mortal Instruments series, and follows Clary Fray on a wild adventure. Though Clary's grown up believing she's a normal, mundane human, her eyes are about to opened wide. There is a whole other world out there–vampires, demons, werewolves, faeries, angels, demon hunters. You name it, the Shadowhunter world probably has it. And that's only the tip of the iceberg.
When I first read this book, I gave it four stars, and I stand by that rating again. I love the incredibly vast and well-developed world Clare has given us. It's possible for her to write so many different series set in one universe because there's so much rich history for her to play with. The characters are amazing (I almost Instagrammed when I got to Magnus's chapter, I was that excited), the political and social elements are very well done, and the story itself is just so captivating. That being said, I think these books are always about 100 pages longer than they need to be, and while I do enjoy a good, overstuffed book, sometimes I find myself drifting in chapters.
What: Buckland's Book of Gypsy Magic: Travelers' Stories, Spells, & Healings by Raymond Buckland
When: 1/11-1/15
Rating: ★★★★★
Review: This was such a great read! This was exactly what I was looking for in the first gypsy magic book that I got, and I'm so pleased with it. The spells in here were well-detailed and very practical. I found myself thinking about the little bits of lore (like finding something red on the ground meant love was in your future) as I went through my day. I earmarked charms that I wanted to try later, highlighted information that I could both use as research for Saints and just for myself, and overall, just found this a very informative, incredibly well written book. There was such a wealth of knowledge in these pages, and I'm definitely marking this as a favorite.
What: Carrying the Fire: An Astronaut's Journey by Michael Collins
When: 12/21-1/18
Rating: ★★★★★
Review: I love this dry, hilarious little book. This is definitely not for the casual reader. I think if I'd started with this book, I might have ran away from reading about astronauts altogether. It's a lot packed into one book. The writing can be really dense and dry at times, but I think since I've read so many astronaut bios by now, I actually found most of this either super informational or an outright knee-slapper. Collins led a very interesting life that was often full of hard-working, exhausted moments, but also full of beautiful, unexpectedly inspiring passages. When he finally gets the chance to go to the moon, all he could talk about was the Earth, and I just love so much how truly astronauts adore our planet. Here they were, Mike, Buzz, and Neil, on their way to the most incredible journey of mankind ever, and all they could think about was going home to their big, blue, beautiful planet. Like with Chris Hadfield's An Astronaut's Guide to Life on Earth (I'm going to keep recommending this book until the end of time, so it's linked there), this really changed the way that I looked at the world. Not in this overwhelming, my life is brand new kind of way, but more of a stop and pause, and go, huh, well would you look at that. I'm alive, and it's amazing. Thank you, Earth. It just makes me think sometimes.
For my, a 5-star rating is really about the timing of this book. Again, if I'd read it first or even toward the very beginning of my space-loving career in reading books, I might have given this 4, or even 3, stars. But, after having worked my way through Hadfield, Mullane, Smith (not an astronaut himself, but wrote about the 12 men who went to the moon), Roach (again, not an astronaut herself, but wrote extensively about space flight), and several other, albeit fictional, moon-related or YA space books, I was definitely ready to take on the massive, almost 500-page, tome that is Mike Collins's fantastic life story. Next up: John Young.
What: The Memory Trees by Kali Wallace
When: 1/19-1/23
Rating: ★★★★★
Review: Oh, this was so lovely. I read Wallace's other novel, Shallow Graves, at the beginning of 2017 when I was just beginning my journey back into the world of reading and YA. It was one of the first books I picked up in a book haul, and I absolutely adored it. When I saw that she was writing a new one, I was all over that. And this was, hands down, a truly beautiful second novel. Wallace's language was just–wow. It was so gorgeous. I felt like I was reading a Stiefvater novel. I was so drawn in by the way she handled words that sometimes I forgot what the story was and just felt myself floating, absolutely content and reading at an absolute snail's pace so I could linger in the words a little longer.
That is about 75% of the reason this got 5 stars. The other 25% is the story. I kept thinking there was going to be witchcraft in here somewhere, and while there wasn't directly, I feel like there was a little something going on in the background. The Memory Trees follows the story of Sorrow Lovegood (WHAT A NAME) as she journeys back to her childhood home in Vermont following an eight-year absence after her older sister died. Sorrow is missing pieces of her memory surrounding her sister's death, and is hopeful that returning to VT will help her remember. What unfolds is much more than I think Sorrow, and definitely me, ever expected.
What: City of Ashes by Cassandra Clare
When: 1/24-1/29
Rating: ★★★★
Review: Oh, this book. This is a book that will leave you feeling uncomfortable, and I'm not going to tell you why because it spoils the end of City of Bones. This is the second book in The Mortal Instruments series, and I originally gave it 5 stars, but I'm docking one now that I'm not reading it at breakneck speed and can actually pay attention to more than just the plot. Also, and this is terrible, but I vastly prefer the beginning of Magnus and Alec's relationship in the show to the book, and it bummed me out seeing how it was handled here. I'd forgotten how Clare did it, and wasn't overly impressed.
The writing is good, and unlike COB, I actually think the length is pretty dead-on. A lot happens in this book, and there are a heck ton of twists that I did not see coming. Valentine, for me, is still a pretty meh villain, and I can't wait to get to Sebastian, but my love for Clary continues to grow yet again, and that's what matters in the end considering she's our protagonist. A fun read if you're looking to escape for a little while into an action-packed, drama-filled, all sorts of weird romance (this is the uncomfortable part) tale.
And that's a wrap on January's books! Somehow, even after reading 10 books in one month, I'm only 2 books ahead of my challenge of 100, which is mildly stressful, but I'm excited to keep digging through my TBR stack. Here's to hopefully another month of 10!