Oh man, am I excited about this blog! This is going to be so hard to narrow down to just 10 books, but I'm going to give it my best. There are a couple rules that I'm going to follow:
It doesn't have to be published in 2017, just read in 2017.
Rereads don't count, and only one book per author.
Only one book per series, as well!
Alright, let's do this. They're arranged alphabetically by author's last name because no way am I trying to order them by favorite. All of these are five star reviews, and all of them will contain why they're in my top 10 of the 82 I've read this year. Instead of detailing what they're about, I've linked them so you can read their summaries on Goodreads, and I'm going to try to hook you with one sentence of what they're about.
What: Six of Crows by Leigh Bardugo
Why: It seems very fitting that this is the first book on the list. This book completely took over my life when I started reading it. Normally, I read here or there, and it takes me a week or two to read something of this length, but every single day when I got home, I would read anywhere between 100-200 pages in a sitting. I was so absorbed in the story that I couldn't put it down.
It was not just one thing about this book that hooked me, either. I loved the characters in a kind of all-consuming, soul-crushing sort of way where I pored over fanart for hours, dreamt about happier times for them, thought about them when I couldn't read, and then woke up one morning with an entirely new novel that I wanted to write that was drawing inspiration from this. The story, too, was just–incredible. There are not really enough adjectives to describe how much I adored the story. The plot itself was very well crafted, but it was the stories of the characters, too, and the little stories woven into the bigger one, that I loved just as much. The world is phenomenal. I want to live in that world so much that I've got the Grishaverse trilogy coming to me in the mail right now so that I can dive back into it. It's just a truly stunning work of art. The writing is gorgeous, and I am so envious of Bardugo's skill.
This is the first in a duology. The second is Crooked Kingdom.
Hook: The king of thieves, a tightrope walker, a soldier, an artist, a sorceress, and a gambler walk into a high-security military stronghold, and try to walk back out again with something that doesn't belong to them.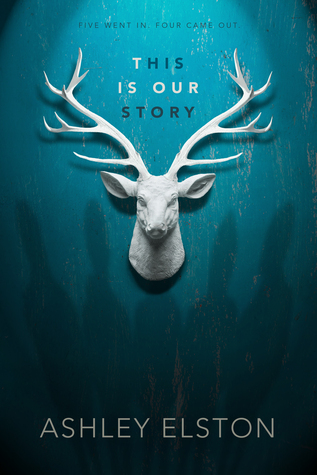 What: This is Our Story by Ashley Elston
Why: If you like Riverdale, you'll like this. Or Pretty Little Liars. This book has a crazy ass twist at the end, and I was completely blindsided by it. I really enjoyed a lot of little things about this book. There are chapters in between the regular ones which are told in a first person POV, but you don't know which of the four remaining boys the POV is in. There are no names, so you're left guessing right up until the end who it could have been, and let me tell you, I was dead wrong. The romance in this is really subtle at first, too, and really sweet once it finally comes out. It's not big and in your face like I expected, but honestly, very realistic. I was very, very pleased with the main character's reaction to everything.
I'll admit, I picked this book up because of the cover and that line at the top–Five went in. Four came out. I mean, damn. And I'm sure as heck glad that I did. This was very enjoyable, very well written, and kept me guessing the whole way through.
Hook: Five boys went into the woods one day, and of the four that came out, one of them was a murderer.
What: Rebel of the Sands by Alwyn Hamilton
Why: Guns. Desert. Magic. Adventure. Kissing. What more could you want, am I right? Not only is this book gorgeous on the outside, but it's outstanding on the inside, as well. Right from that very first chapter, I wanted more. I wanted more of the characters, of the world, and of the story. Hamilton did a really excellent job of weaving old mythology into a new, exciting world and bending that mythos a little to create something a little bit wild. I loved the different secrets that each character held, sometimes ones that even they didn't know, and I really appreciated how those secrets finally came out. The main character was so strong and so well-developed, and I wanted so much for her.
There's just so much packed into this novel, but it doesn't feel overstuffed. Hamilton has a very clear grip on both her characters and her story. She is an excellent storyteller, and manages to interweave so many different elements in a way that felt cohesive and thrilling. I could not wait to pick up the next book after I read this, and I might actually be dying while waiting for the third. And really, how the heck is this her debut? Damn, girl.
This is the first in a trilogy. The second is Traitor to the Throne, and the third, Hero at the Fall, is due in March 2018.
Hook: A blue-eyed bandit whose gun is an extension of her arm, and whose true name is a secret.
What: I'll Give You the Sun by Jandy Nelson
Why: This book is like music put into words. Like if you took actual notes and translated them into words. It's just beautiful. The writing in this is like nothing I've ever seen, and I loved it so much that I immediately went out and bought Nelson's other book after reading this. It's heartbreaking, romantic, full of loss and love and tragedy and triumph, and just so well written. There's nothing about this book that I don't love.
It's told in a really interesting way, too. One of the twins is in the past, and one is in the future, and there was this terrible thing that happened between them to push them apart that we don't find out about until the two stories collide. It's such a beautiful, sad story about the very specific bond between siblings, and it'll make you cry and laugh all at once.
Hook: Twins who cut the world in half, and make deals in love.
What: The Someday Birds by Sally J Pla
Why: I honestly want to recommend this book to everyone. I read it in one day, which very rarely happens, but I just couldn't put this down. There is so much to love in this book. First: the story. I did say I was only going to do the one-sentence hook, and while I still am, there was a very specific reason I picked up this book. Well, two. The cover was gorgeous, so I immediately picked it up, but then I found out that main character was autistic, and it was an automatic buy. I was kind of, like, distantly aware that most novels don't have characters with disabilities, and if they do, they're certainly not the main character. I've been more closely aware of it lately, though, and so I've been trying to buy and read more books with characters with disabilities as either the main character or one of the main secondary characters. Even beyond the autism, though (which Pla handles amazingly), the story itself is just beautiful. I found myself laughing and crying equally in this one-sitting reading.
Second: the characters. Every single character in this was unique, and had a really interesting personality. It wasn't just a quirk to their personality, either, that made them stand out, but just themselves overall. They were just so well-crafted. And third: the language. Pla is an outstanding writer, and I am very, very eager to read what she writes next.
Hook: A boy on a cross-country journey to find the secret to happiness for his father.
What: A Darker Shade of Magic by VE Schwab
Why: I was introduced to Schwab through one of my dear friends. It's been a long time since I had someone in my life who read the same kind of books as me, and who I was able to share recommendations with. Patrick was adamant that I read this, and I'd already picked up ADSOM and This Savage Song in a book haul, so I finally dug in. Wow. It took me about two and a half weeks to read the entire series, and since that fateful month in July, I've read two more Schwab books and purchased another two. The way she combines magic, fantasy, realistic characters, gorgeous words, and story is just out of this world. Schwab is a master storyteller. This is the perfect kind of book when you've read Harry Potter a million times and want to read something similar, but with more stakes and more of an adult world.
This is the first in a complete trilogy. The second is A Gathering of Shadows, and the third is A Conjuring of Light.
Hook: Once, there were four Londons, but that was before magic tried to eat one of them whole.
What: Moondust: In Search of the Men Who Fell to Earth by Andrew Smith
Why: When I was creating this list, I wasn't sure if I was going to include a nonfiction, but I really, truly enjoyed this biography. I've been slowly working my way through astronaut biographies, though, strangely, they've only been ISS explorers and not moonwalkers. So, this was my first foray into the world of the incredible men who walked on the moon, and my, what a wonderful introduction it was.
Smith manages to create a story that is both magical and informative, and I walked away from this feeling like I'd not only really, truly learned something, but maybe also understood a little better the beauty of seeing the Earth from so far away. Each chapter was dedicated to a different moonwalker, and each chapter was told in such a different, odd way. I'd like to think that each chapter was true to the moonwalker's personality. It was very enjoyable to see all of them in such a light, and to watch Smith's own boyhood excitement about space unravel each time he met a new one. This is definitely one of my top 5 astronaut biographies so far.
Hook: Only twelve men have ever walked on the moon, and these are their very strange stories.
What: The Watchers by Jon Steele
Why: This was one of those books that I shelved on Goodreads a long time before I started reading it. I asked for it on Christmas because I kept buying YA books instead of it, and even after I got it, I was wary about starting it. It takes a really excellent adult novel to pull me in these days. I blame that entirely on David Mitchell, but I just can't get into an adult novel unless it's got one hell of a story. This is, weirdly enough, not the same for YA, and so, going into this, I was a little hesitant to start it. And let me tell you, damn. Though the entire trilogy took me about three months to read, it was mostly because I didn't want it to end. Quite frankly, I want to reread it. It was so superbly crafted. The story is just–I've never seen anything like it. The characters were all flawed and well-developed, and continued to change over the three books. They each had their own big journeys to overcome, as well as basically saving the world together.
They were also hugely inspiring. My interest in Western religion was reignited, and I started researching Christianity again (translation: reading the Bible). Much later in the year, it would be one of the main inspirations for one of my novels, and continues to stand out in my mind. The writing style is definitely not for everyone, but I found it engaging and almost Tolkien-like. This felt like a grand adventure.
This is the first in a complete trilogy. The second is Angel City, and the third is The Way of Sorrows.
Hook: Michael the Archangel, but with guns and cigarettes.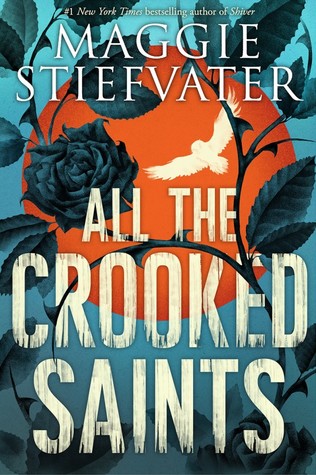 What: All the Crooked Saints by Maggie Stiefvater
Why: I will admit, I almost didn't put this on here. This was in a three-way tie with Starfall and Into the Dim. In the end, Maggie's writing won out. I still think I need to read this one or two more times to fully sink into it, but for the first time out of the gate, I adored this novel's language. I also enjoyed the story and characters, but really, in the end, it was her mastery with words that made this one of my favorites in the year. I would not recommend it as a first novel to read by her, or even really a second, but once you've started to sink your teeth into Stiefvater, crack this open and get ready.
This is so short because it's so hard to explain, but also because there are not enough words to do it justice.
Hook: What would you do if someone offered you a miracle?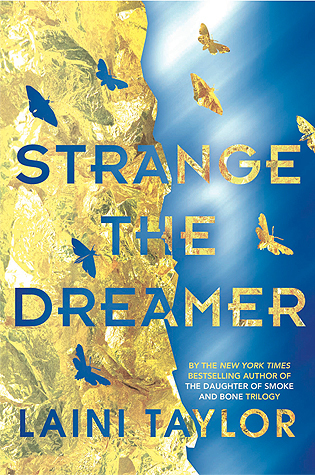 What: Strange the Dreamer by Laini Taylor
Why: I talked about my journey with this book when I reviewed it, so I'll just quickly summarize it here–this was one of those books that I wasn't sure about, and that hooked me straight through the heart and didn't let go. Overall, I was just so in love with the story and the world. It's one of those epic adventures stories, and the pacing of the novel really lends to that. It moves slowly, but it packs a big punch. The world is so full, too. There's so much tucked in between these covers, and it's just–I don't know why, but the word luscious keeps coming to mind when I think of this book.
In the end, though, it was the main character, Lazlo Strange, that made me fall in love. From the first time we meet him, I was drawn straight into his orbit, and I didn't want to let go. I was so upset when the story came to an end, and I cannot wait for the next one. I can't wait to see what Lazlo becomes, what happens with Weep, and how that whirlwind of a story concludes. It's full of magic, romance, adventure, and big, bright, beautiful moments.
This is the first in a duology. The second, The Muse of Nightmares, does not yet have a release date.
Hook: The name of a beloved city was plucked from a librarian's mind, so he travels to the city to find out why.