Happy best month of the year! I'm partial to November because it's when Alex was born, and it's the perfect temperature of cold (although this November has been particularly chilly), and it just feels like a really good month. It's post Halloween, but pre-Christmas, and everything is just twinkly lights and peppermint and scarves and wonder and joy.
This wrap-up for November books is coming at you a day early because I'm currently reading The Fireman by Joe Hill, and there is no universe where I successfully read over 500 pages by the end of tomorrow. I'm happy to be finally reading it though since I started it in May, and then abandoned it for several months of YA novels. So, without further ado, here is a very small list of books compared to last month.
What: The Scorpio Races by Maggie Stiefvater
When: 11/1-11/8
Rating: ★★★★★
Review: A few things, first. This is a reread, and though I thought I'd read this more than once already, it appears the last time I read it was when it came out in 2012. I'll also be rereading another of Maggie's books next month (Shiver), because tis the season. And third, I actually recently saw Maggie at a signing in Wellesley on her All the Crooked Saints tour. During her talk before the signing, she answered three questions–when she started writing the novel, why she wrote it, and what it was about. It was this last question that interested me the most because, honestly, every time someone asks me what All the Crooked Saints is about, I give them a different answer. She prefaced this question by saying that she understood how difficult it was to describe her books when put on the spot, and even when not. She said that she knew that trying to describe one of her books accurately meant you were probably lying a little, and even if you got close to the truth, you just sounded like an insane person. Up until The Scorpio Races, however, it had generally not been all that weird describing one of her books. But alas, then it came to describing a book about horses that come out of the ocean, but really it's not about that, it's about the race that the citizens of Thisby ride these ocean horses in. No, the horses don't eat people, though they will kill you if you don't handle them correctly. But it's also kind of about Puck and her island pony, and how she wants to prove a point that she's as capable as any of the other male riders on the island. So, really, it's kind of about feminism. But also family. But also this really crazy myth where you have to spill blood on a rock because the island requires a sacrifice to survive?
Listen, just read it. You won't be disappointed. The Scorpio Races is one of my favorite Maggie books. Even though I knew, going in, that everything was going to end up okay, I still found myself holding my breath, crying like a loon, and gasping at all the appropriate parts. I also found myself falling in love with Finn all over again. He's such a lovely side character. Lovely is such a good word for this book. It's just lovely. It's full of magic and love and sacrifice and strength and Corr. I never knew my favorite character in a book could be a horse, but here we are.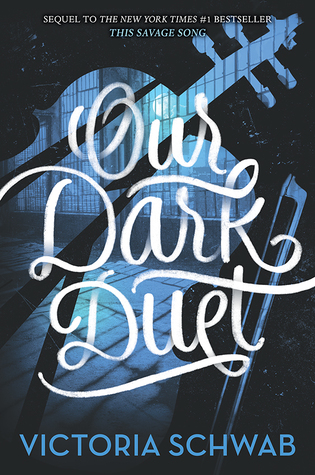 What: Our Dark Duet by Victoria Schwab
When: 11/9-11/14
Rating: ★★★★★
Review: My review for the first book in the Monsters of Verity duology can be found here! I actually purchased this book while I was only halfway through This Savage Song because I just had to know how it all ended up. Our Dark Duet follows Kate Harker and August Flynn as they embark on this new, dangerous world they're living in as a sinner and a monster. We get to see a little more of Schwab's fantastically dark world, and are introduced to a new monster. There are even monster POVs in this one! I honestly can't remember if there were in the other one, but I don't think so, and I really enjoyed seeing through Sloan's eyes. August just about broke my heart even more, which I didn't think was possible, but here we are. AND OH, THE ROMANCE. I was not upset that there wasn't romance in the first one, and I was doing just fine without it in this one, but then it came along and made me weep. It was beautiful.
The only thing that bummed me out about this book was the lack of closure given to Kate's friends. I understand it would've been difficult to achieve that, but I felt really gypped out on their ending, and that was unfortunate.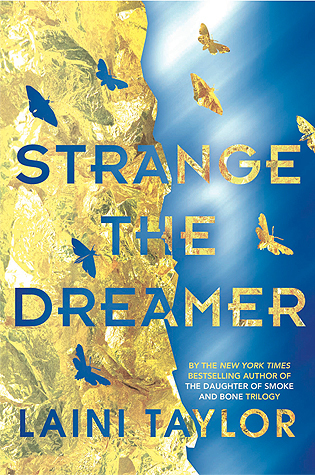 What: Strange the Dreamer by Laini Taylor
When: 11/15-11/22
Rating: ★★★★★
Review: I realize that most of my reviews are five-star ones, but my dad has always said that I can't be trusted to judge things appropriately. This is probably true, but if any novel deserves five stars this month, it's this one. Let me tell you a story about my journey with this book. I originally bought it in August during a book haul with Erin. I'd been hearing some buzz about it, and kept seeing the title floating around. Strange the Dreamer. I mean, what a title. Already, I wanted to read it, just for the title. And then, when I picked it up in the bookstore, I was so dazzled by the cover that I read the summary without really reading it, and just bought it for the cover and title. These things happen, okay, give me a break. But then, fast forward through the next few months, and I kept going to pick it up, but the summary just wasn't doing it for me. Again, I wanted to read it because of the title, but the summary was so weak. It just felt like a million things were happening, and there wasn't a real focus, and I wasn't hooked by it. But, I bought or was gifted a number of books this year, and I wanted to finish them before year's end, so I buckled down and finally read it.
Oh my god. THIS BOOK. I didn't even realize I was as in love with it as I am until about page 80, when I was holding my breath and cheering Lazlo on, hoping and wishing and praying that he would be able to go to Weep. I had just fallen down a Wonderland-sized hole of love for Lazlo and this beautiful world he was in love with. And then, AND THEN, when they got to Weep, wowza. I was already biased to love it because Lazlo had painted this beautiful, wonderful picture of it, but the real thing was just so much better than I could have possibly imagined. The characters were so real and flawed and well-rounded, and it certainly didn't hurt things that Lazlo was a book-lover. Everything was so great about this book. The plot, the characters, the setting, the writing, the romance, the mythology–all of it. Every fantasy fan needs to read this.
I just realized I gave no indication what it was about, either, so that doesn't help. Strange the Dreamer is about Lazlo Strange, a dreamer set on one day finding the Unseen City of Weep, a place that has been long forgotten, but that he has studied for years and years. When, suddenly, an ambassador from Weep shows up in Lazlo's city, he does everything he can to return with them. He manages it, too, and it's here that we're introduced to the reason why Weep has fallen away from the world. There is a citadel hovering above the city, casting it in shadow, where four goddesses and one god, saved children from a massacre, are hiding. Oh yeah. It's awesome. Sadly, there is not a release date for the sequel yet, but you can bet your bottom dollar, I'm pre-ordering it as soon as there is.
What: The Girl at Midnight by Melissa Grey
When: 11/23-11/26
Rating: ★★★
Review: I want to like this book so bad, and truthfully, I do, but not enough. I really, really enjoy the plot, the characters are very interesting, and the mythology is phenomenal. So why only three stars? Man, that writing. It's–not great. It leaves a lot to be desired. Much of the time, it's just a chapter full of dialogue, which is fine, but I have no idea where these characters are, what they look like, how they're reacting to things, and what might happen next via context clues. There's this other thing, too, that I know I do as a writer and I've seen in countless novels, and sometimes it's unavoidable, but there would just be chapters and chapters of not a heck a lot of things happening, and then HI THE BATTLE IS HERE AND IT'S ONE CHAPTER LONG AND NOW WE'RE DONE. Just like that. Like, six full chapters at Jasper's loft apartment, and then one for the final battle of the book. This had so much potential! I really think this book needed to be, like, 200 solid pages longer. I'm still trying to decide if it's worth it to read the sequel, but I'm leaning toward no.
This book, for those of you who are interested, is about the mythical firebird. The firebird is said to be the end of wars. Whichever side controls the firebird can use it to stop the war, in whatever manner they see fit. The story follows Echo, a human, living among Avicen, who are like immortal humans but with feathers?, and Caius, a Drakharin, which are also like immortal humans but with dragon scales. Badass, I know. I'm definitely team Drakharin. Both sides have been at war for centuries, though I'm not quite sure why, and while Caius, the Dragon Prince, wants to end the war with the firebird via peace, and most of the Avicen also want that, Caius' twin sister, Tanith, wants blood and fire and doom, much like the general of the Avicen, Altair. Of course, Echo and Caius end up on the same side, trying to find the firebird to unite their races, and while much of what happens with them is very predictable, I still loved it. The side characters in this are excellent, and we've even got a little Magnus Bane of our own in Jasper (the blurb on the back of the book said catnip for Cassandra Clare fans, which just makes this book seem way cooler than it actually is). All in all, it's got great elements, but the writing has left me not wanting to read the next one.
And that's November! I told myself I was going to read the last 12 books of the ones I was either gifted or bought this year, but then I bought myself more books on Black Friday (listen, B&N was doing 20% off total orders, and I needed to Christmas shop, so I added some in for myself), so I'm doing my best. Ha! I've gotten a lot better at reading books instead of just putting them on my shelves, so 12 out of 62 feels pretty damn good.
Happy almost December!