Happy October! Like an idiot, I went into Salem yesterday because I've been craving Life Alive for a few weeks now, but yesterday was the first day of Halloween, so I spent an hour driving around Salem trying to find a parking spot before ultimately giving up and going home to drink my weight in tea. This weekend was a big ole lazy nothing. I suspect I might have caught what my roommate and parents had, and so was feeling very lethargic, and thus was trying to just nip it in the bud real quick by drinking copious amounts of tea and orange juice and binge watching Shameless all weekend. I'm on season seven (finally), but I was so lazy that I didn't even write September's book review blog. So hello! Here we are, and let's dive right in.
As a quick note, I'm also going to be linking the titles to their corresponding Goodreads page from here on out so that you can easily find them.
What: The Amulet of Samarkand by Jonathan Stroud
When: 8/30-9/7
Rating: ★★★★
Review: Funny story about this book. Erin gave this to me for Christmas or my birthday about two years ago (?), and I'm the worst, so I didn't read it until right now. I always feel so pressured when people lend me books, which should mean that I read them right away, but that turns into waiting months (or years, whoops) to read them. And boy, I'm mad I didn't read this sooner! This story follows two protagonists–Nathaniel, a budding magician, and Bartimaeus, a demon. After a rather embarrassing spectacle with a grown magician, Nathaniel summons Bartimaeus to help him wreak havoc on Simon Lovelace's life.
It's as funny as it sounds. Bartimaeus is hilarious. I really always appreciate when demons are just ridiculous and do/say whatever they want because come on, if you'd been alive for several centuries, you'd have it up to here with the human race, too. My favorite chapters were Bartimaeus's, though I do have to note that, at the beginning, I kind of rolled my eyes at his footnotes until about the sixth one, and then it became quickly apparent that they should be footnotes, and were much funnier because they were. It took some time empathizing with Nathaniel, but by the end, I wanted him to win just as much as he did. It was a story of adventure and magic that requires hard work, and it was really very enjoyable.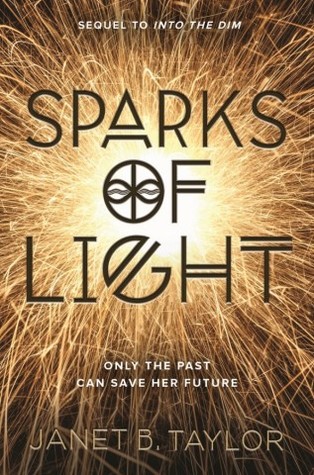 What: Sparks of Light by Janet B Taylor
When: 9/8-9/13
Rating: ★★★★
Review: Oh man, let me tell you about THIS BOOK. I've been waiting for this book to come out forever. It's the second in a series (the first is Into the Dim), and I was so excited when this finally came out. Instead of pre-ordering like a smart person, I kept looking online to see if it was out yet, and totally forgot about it until I was at B&N with Erin on a book haul, and there it was. Sparks of Light is about time travelers in 21st century Scotland. Into the Dim sees them in 12th century England, and Sparks of Light finds our heroes in 19th century New York, featuring the one and only Nikola Tesla. Via science provided by Tesla, the characters are able to travel into the Dim, though only at certain times and for three days at a time. Of course, the Timeslippers (antagonists) are going against all time traveling rules, and must be stopped at all costs.
I gave this four stars because of my own faults. I didn't remember a lot of the end of Into the Dim romantically. I remembered the plot easy enough, but couldn't really remember where we left off with Hope and Bran because I was shipping Hope and Collum so heavily in the beginning of Sparks of Light. This left me confused intermittently throughout the book since the romantic subplot is pretty prominent, and I kept pausing to wonder if I'd missed something. Otherwise, though, this book was stunning. The descriptions are beautiful, the plot is so well done, and the characters are really, truly wonderful. I love each and every one of them for different reasons, and I feel like they're actual friends of mine. It's so interesting to see Taylor play with time, and the things she adds to whatever time period they're in. The details surrounding the time traveling are so finely honed, too, that I absolutely believe everything she's selling. It's just a really well-crafted story, and I can't wait to see what she does next.
What: Moondust: In Search of the Men Who Fell to Earth by Andrew Smith
When: 9/14-9/24
Rating: ★★★★★
Review: Look at that, our first nonfiction for the blog. I don't often read nonfiction, and when I do, it's normally related to space. I've only read a few astronaut memoirs, and while this one is not my favorite (that would be An Astronaut's Guide to Life on Earth by Chris Hadfield, and I'm linking it here because everyone should read this regardless of whether or not you have an interest in space), it was excellent. Smith takes on the daunting task of interviewing the surviving nine men who went to the moon, though he takes on a different approach than most. Rather than asking what it felt like to walk on the moon, his interest lies in the question we're always wondering–what next?
This was not only well written, but engaging. I find that, often times, nonfiction can be a bit dry, and while there were some parts in here (Ed Mitchell) that I was nodding off during, there were others (John Young) that I couldn't put down. Smith is not only having a conversation with these astronauts, but with himself, and sometimes with the reader. You feel like you're part of the journey. I really appreciated how much time he spent with each astronaut, as well, and how he described them, both his initial meetings and the sort of pre-meetings he obtained through colleagues' and friends' descriptions. I was a bit bummed that the bathroom in space topic came up because I'm sick to death of reading about it, but it was short enough (not a whole chapter–I'm looking at you, Mike Mullane) that I only rolled my eyes once. The hunt for Neil Armstrong was nicely woven throughout the story, too, and I really like how it happened when it finally did. This is certainly a book for those interested in astronauts and the space program, but overall, a very lovely read.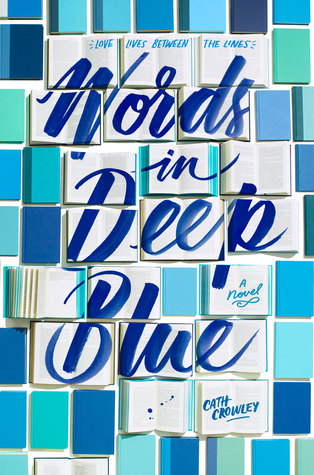 What: Words in Deep Blue by Cath Crowley
When: 9/20-9/25
Rating: ★★★★★
Review: I don't often read two books at the same time anymore, but whenever I'm reading nonfiction, I just need something else to balance it out. And this book. How I managed to stretch reading it over the course of five days, I have no idea. It follows the story of Rachel Sweetie after the death of her brother, Cal. She's moving back to her old hometown, and is forced to work in close quarters with Henry Jones, the boy she loved and who broke her heart.
This is a book for readers. Rachel and Henry work in an independent bookstore, and there's this thing called the Letter Library. People are encouraged to leave books in the Letter Library with notes or highlighted lines, or even with letters in between the pages. Strangers write to one another in different books, or sometimes leave letters to the ones they've loved and lost. There is a plethora of good book referenced (Cloud Atlas, yay!), and I had to keep jumping to Goodreads every other chapter to check out a handful of new titles that had been dropped between the pages. The romance in here is very subtle, and really isn't what the story is about. It's not even really about Henry or Rachel, though they're the main characters. It's about the love between siblings, and how deeply that runs, and how books can be intertwined endlessly with that love, and it's beautiful.
What: The Suffering Tree by Elle Cosimano
When: 9/26-9/27
Rating: ★★★★★
Review: Oh, I loved this book! Clearly. This was another one of those books that I picked up because it had a gorgeous cover and an interesting title, and then, voilà, an intriguing summary. The Suffering Tree is about a broken girl and a dead boy. Tori has recently moved to Chaptico, Maryland following the death of her father, a suicide attempt, and being evicted from their old home in DC. When she arrives in the small town, it's made abundantly clear that her family isn't welcomed. She finds peace in the woods surrounding her house, and stumbles upon an old tree one night when the world is too big and too loud. She accidentally awakens an old curse, wakes Nathaniel from the dead, and incites a war all in that one night. What follows is like nothing you'll ever expect.
I couldn't put this down. I read it in two days, and even then, given the time, I would have read it in one. Right from the beginning, things are wild. Tori wakes Nathaniel in chapter two, I think? Very close to the beginning, if not. And it just doesn't stop from there. There's definitely a stereotype at work here with the old curse and family name that's been around forever (Slaughter), but there's also very grounded, spooky dark magic going on, and more twists and turns that I was ready for. This was one wild, wicked ride, and I loved every second of it.
What: Lucky Few by Kathryn Ormsbee
When: 9/28-9/29
Rating: ★★★★
Review: This was just such a feel good story. Following three friends–Stevie, Sanger, and Max–during the spring, it's your typical three unlikely people coming together in a very atypical fashion. I think this is possibly the first time I've ever read a book with a homeschooled protagonist, and it was really interesting to dive into that culture and see how it differed from standard high school. This is about Stevie and Sanger, who are homeschooled, their friendship with Max, who has recently moved to Austin, and the list of 23 Ways to Fake My Death. Max, who had two near-death experiences, is trying to overcome his fear of death by faking it. Stevie, who is also the first diabetic protagonist I've read, is hell bent on making these last couple months extraordinary because Stevie, her best friend since eight, is moving to Pennsylvania.
No magic, no frills, just friends defying death. It's a weird, but intriguing plot, and it had me hooked. It was easy to read, and easy to like. The characters are very well-rounded, are flawed in very noticeable ways that they're forced to acknowledge, and work really well together. Each individual story is interesting enough on its own, so putting them all together made for a fun, exciting story. I gave this four stars because of little things that all piled together to make a bigger thing. Dialogue tags were a thing to be desired. I was constantly having to look back and count dialogue to figure out who was talking. There wasn't a ton of description, and when there was, it was a sudden big block of text after lots of conversation. I also didn't really know what Stevie or Sanger looked like other than one was definitely super pale and the other was a POC. (I think? Or just really tan? It wasn't clear.) The plot, and the little added subplots, were really great, though, and definitely stood out over these small things.
And that's that! Another six books read in the month of September, which I'm considering a pretty high number still. I haven't been writing a lot lately, which may explain why I'm reading so much, so that might go down in the future. As always, I'm on Goodreads if you're curious what I'm currently reading or interested in, and thank you for checking this out!